Offices are in some stage of reopening all over the world as companies welcome employees and clients back in the ways that work best for them.
InnerSpace developed a new guide called The Future of Work(Place) for which we asked industry leaders in technology, change management, HR and real estate what they thought the best type of strategy, that could fit different businesses, could be.
With those conversations as a guidepost, we've formulated the top-5 questions we think are most urgent for companies determining how a return-to-the-workplace plan is best deployed.
What is the purpose of your office(s)?
Offices must now be prime places to foster collaboration, productivity, health and wellness, and serve the specific needs of its employees. This means companies must take a close look at what their work environments should look like to meet changing needs.
To decipher the purpose of your office in the era of flex work, know that employees will visit for particular reasons, and no longer because that's where work is done. Experts agree, as this January 2021 PwC survey shows, that most U.S. companies are headed toward a hybrid office workweek.
Think of the office as not a vessel to house employees, but as a space with purpose-built resources, services and collaboration opportunities that people want, when they need them. A permanent shift to your office's role will be driven by the changing nature of how we work.
Are the right departments working together on a return-to-the-workplace plan?
Transforming a workplace requires such elements as new policies, resource allocation, investments in tech and growth strategies. Pre-pandemic, departments leading such efforts tended to operate their programs independently.
It's time to break down silos. The return-to-the-workplace requires HR, Operations, Facilities Management, IT, Corporate Compliance and Health and Safety to work in tandem for companies to reap the benefits of new workstyles, foster productive workplace cultures and transform operations. These professionals must collaborate to implement the data, technology and services needed to design a changing office to serve the specific needs – and varying workstyles – of your employees.
Mark Lang, the HR and workplace transformation expert we spoke with for our guide, offered this tip: Build a strategy based on a certain portion of employees expected to work in-office, mobile, or mostly at home moving forward. Your technology, HR and real estate/facilities teams can then model the office and experience around this.
Have you accepted new digital solutions born from the pandemic?
COVID broke stagnancy around adopting new technology as companies everywhere rapidly deployed software necessary to enable people to work from home. Digital solutions have erupted, ranging widely from mobile VPNs and video conferencing to Microsoft Teams Rooms, occupancy sensors, AI-driven automation and indoor location analytics.
According to one global survey, companies have accelerated their adoption of digital products by seven years. Alan Nicholas, founder of Vada Digital and another expert we spoke with, says what was a 10-year trajectory widespread adoption of collaborative technology has shrunk to just one year.
The tech is here to change how we work. As economies reopen and companies drive into the future, it's important to keep this newfound acceptance of new technological solutions. Employees have embraced these new systems and tools, and will continue to use them.
Stay ahead of the curve and deploy flexible digital solutions your teams need to work in a manner that works best for them.
Will the way you manage employees still work?
COVID meant managers had to shift to managing employees based on performance against objectives (PAO). This proved a cultural shift for many, diverting away from traditional ways of management. Do you return to those ways, or keep the new system of accountability?
For flex work to stay, we must fundamentally change how we define roles, set expectations, conduct work, and recognize employees. It starts with planning the right system and reviewing all existing programs for whether they meet a PAO culture. It means gaining executive buy-in; decoding how it will boost employee experience while supporting business sustainability.
It also requires trusting mobile-first workers. Companies that trust employees to design their own workstyles to be most productive and effective are most likely to be rewarded by commitment and hard work.
How can you determine who should work where?
The more freedom of choice that employees have, the greater a flexible workstyle approach is likely to work. It's hard to determine who should work where because not everyone wants to work the same way.
Consider allowing employees to choose from a specific menu of options that makes sense for your company. The four overarching options are resident (in office), mobile (in office half the time), tele (mostly out of office) and home-based work (never in office).
Mark Lang, in building the successful TELUS "Work Styles" program long before COVID, took this approach by going open-concept and dropping assigned seating. Productivity and employee satisfaction went up, and staff engagement rose from 53 to 85 percent. One takeaway is to not make these locked-in commitments, but instead flex options to be revisited. That's because TELUS saw that about 20 percent of teleworkers wanted more of an in-office role after a month or two – a telltale sign that offices are, in most ways, still home base for many kinds of work.
These five questions we pose lead to the need to reopen workplaces as dynamic office environments, with technology as the toolkit to build an environment that empowers employees, supports HR, and reimagines office space.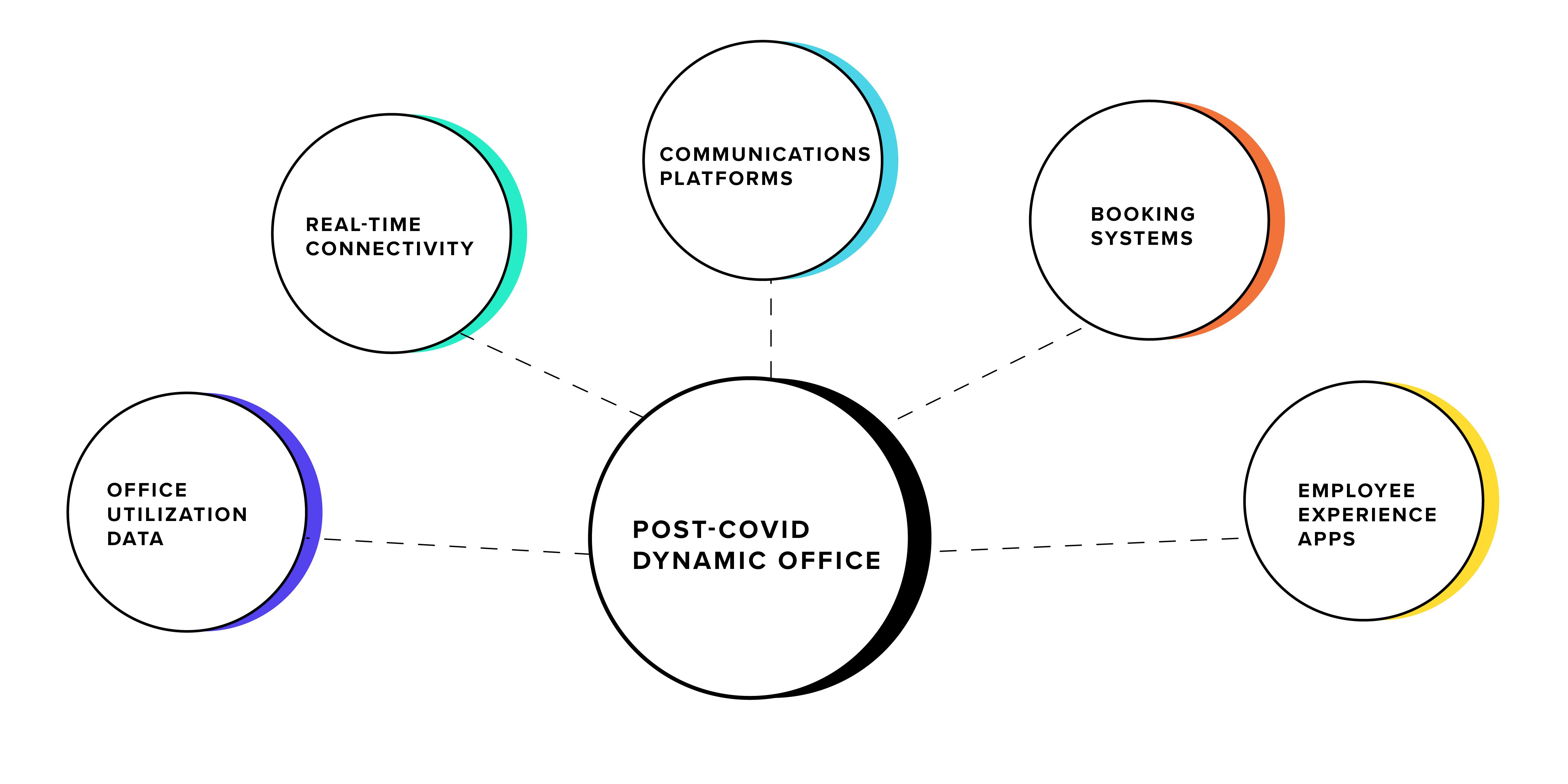 Our future of workplace guide explores all of this and more in greater detail and can serve as the flashlight to see through the fog.
Want more insights?
Sign up to the InnerCircle about the hybrid workforce, what's new in smart tech, innovative workplace strategies. Sent straight to your inbox, monthly!