Why Wi-Fi Wins Over Occupancy Sensors When Collecting Office Space Data
In the past, IT and real estate planners were not closely linked at most organizations, but in today's workforce, it's time for that to change.
Collaboration between these unlikely departments has the potential to give you the best information and create a better approach to making strategic decisions for your office space, especially when leases are continuing to rise.
Real estate planners need the right space utilization software for understanding usage patterns and employee behaviours going forward based upon multi-year lease commitments.
A stark transformation has been underway. Spatial intelligence is a must have for business intelligence for the hybrid workplace. There are shifts taking place where real estate and building planners have less predictable key insights, structured data and require more frequent analytics on how their real estate is being utilized.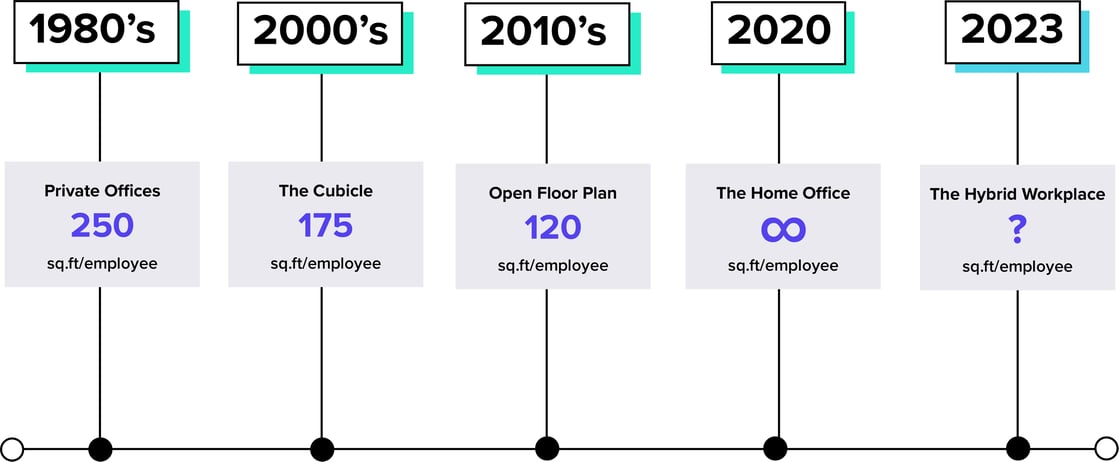 Organizations know their lease is up, and want to make informed decisions that are right them, and an effective use of their resources. However, they don't know if they should grow, shrink, or maintain their current size.
Andrew Lawson, Founder of Workspace Solutions says "They're just guessing as to what they need, and guessing can have expensive outcomes."
Leveraging your existing Wi-Fi, something your IT department is responsible for anyway, can give your organization a considerable advantage by providing more intuitive spatial intelligence versus sensors.
Why is Wi-Fi the answer to spatial intelligence?
The old ways of collecting data for space planning can be limiting for businesses looking to make exceptional spaces for their organizations that reflect their teams today. Real estate planners need the most accurate technology to ensure they're making the right real estate, building, and office configuration decisions.
Wi-Fi provides accurate coverage within 1.8M, 90% of the time. It determines location within 6 ft no matter the office size and covers at least 1,800 sq ft from each Wi-Fi access point. Using your office's available Wi-Fi signal leads to more indoor coverage, as platforms that use occupancy sensors are limited to ranges where sensors are installed. The consistency of Wi-Fi means that companies may rearrange a workspace and still keep collected spatial intelligence through a software change, as opposed to moving sensors and constantly replacing their batteries.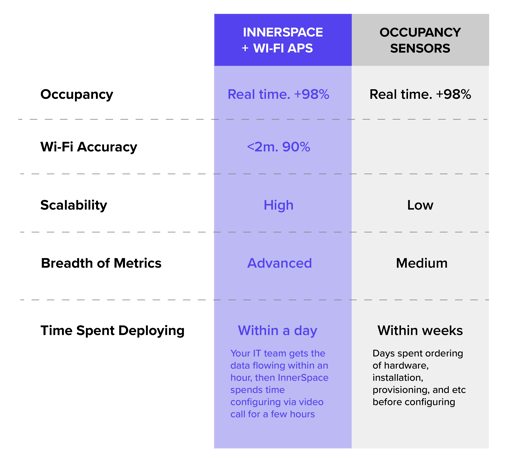 By picking up signals from employees' smart devices, the Wi-Fi infrastructure uses employee movements to gather room usage data as the employee roams from one access point to another and the AP's hands off the connection based upon proximity algorithms.
Most people don't understand how sophisticated Wi-Fi is. When one connects to Wi-Fi in a space, there is a sophisticated back end of access points working together to ensure the person stays connected and can seamlessly access the network, no matter where they are in a space.
While Wi-Fi is seemingly simple to a person walking through an airport with their phone or laptop, there is a sophisticated Wi-Fi backend, where the AP's (access points) are working together in determining when to hand off the connection, while ensuring a high quality of service while they're connected. Wi-Fi can pinpoint and predict any endpoint movement as long the person or device is within the Wi-Fi mobility/roaming domain. This is effective in a range of spaces, from a single floor of an office to an entire campus.
How does InnerSpace work with Wi-Fi?
Really well! Using Wi-Fi, InnerSpace can collect data with a high degree of accuracy to gain key insights that will help you make more informed decisions around the evolution of your space planning in your hybrid workplace. When Wi-Fi and InnerSpace get together, the results are game changing.
The InnerSpace spatial intelligence platform uses combined inputs from multiple data points, so you can get the full experience of how your space is being used not just track occupancy.
Here are some of the space utilization insights Wi-Fi and InnerSpace's accurate data can bring to your organization:
Instead of measuring how many people are on the 7th floor, like old data collection measurements would have, InnerSpace takes it to another level and learns which teams make the most use of resources on the 7th floor
While old school occupancy sensors tell you how many people are in the office, InnerSpace can tell you which teams make the most use of which office spaces and how long they stay on site
Instead of just being able to answer which day of the week sees the most traffic in the office generally, InnerSpace can identify the busiest pathways of movement throughout the office each day
While some occupancy data collection tools can tell you if a desk is occupied, InnerSpace can identify if desks are the right type of workspace for each zone and/or team, or if more meeting rooms would better support your team, or if hot desking is a potential solution for your organization
All of these key insights enables organizations to make strategic decisions in their space planning
Partnered with industry's best Wi-Fi providers
InnerSpace's proprietary Location Intelligence Engine can be powered by your existing Wi-Fi network or by InnerSpace Wi-Fi Location Sensors. Both options give you powerful indoor location analytics, right at your fingertips. InnerSpace partners with quality Wi-Fi providers such as Arista Networks and Juniper Mist. In doing so, we need far fewer occupancy sensors than other companies to learn far more. In most cases, we use less than 20% of our competitors' occupancy sensor volumes. And in some cases, we don't need any occupancy sensors at all.
Is Wi-Fi secure?
It sure is! Wi-Fi is the most reliable way to gather the information you need, while protecting your employees' privacy, information, and data.
To ensure that your employees' privacy is prioritized, data is anonymized. InnerSpace ensures that every media access control (MAC) address of your employees' smart device is immediately encrypted. This effort ensures that no personally identifiable information is ever stored – both at rest and in transit.
Wi-Fi is packet based, with rich encryption, and tunnelling capabilities endpoint data can be easily made anonymous where end user identity information is removed via one way hashing algorithms.
We'd love to meet your Wi-Fi.
The advantage of using Wi-Fi is clear. Utilizing Wi-Fi enables organizations to get a handle on their office ROI. Are you ready to capitalize on the already existing Wi-Fi technology in your office and act on evidenced based solutions for managing your office space? We'd love to talk #indoorology with you!
Want more insights?
Sign up to the InnerCircle about the hybrid workforce, what's new in smart tech, innovative workplace strategies. Sent straight to your inbox, monthly!