Density and Occupancy Metrics Help Facilitate a Safer Return to Campus Life
September typically marks many things – the end of summer, a return to school, the resumption of routine. Yet, amidst an ongoing pandemic, it also marks another important milestone: getting back to some semblance of normalcy.
The rising concerns over the Delta variant, however, have placed a cloud of concern over how to safely facilitate the return "back" to all of what we used to know. In the U.S., nearly 20 million college students are beginning the semester, and this initial return to campus may be a harbinger for how September and the fall overall will play out.
So far, it's been a mixed bag of policies and procedures across the continental U.S. While some universities are fully open to in-person learning, others are resuming online classes to start. Some insist on vaccination; others mandate masks. Spoonfuls of uncertainty are the only common thread.
We direct attention to one campus on the eastern seaboard that's taking a unique angle to the 2021-22 academic year. This college of about 20,000 students will use a quantitative approach to empower students and staff members to make informed choices on where and when they choose to dine on campus.
In doing so, the school is testing how indoor location technology can make campus life feel – and be – safer for all.
Density and Occupancy Metrics Empower Safer Choices
Cafes and dining halls are clear areas of congregation at every school. Using InnerSpace's platform as well as digital signage, students on this campus will now be made aware of the current occupancy levels within each dining hall so they can determine their comfort level in grabbing lunch or dinner.
As we've outlined in previous blog posts, occupancy represents the total number of people in a space, while density is that number of people divided by the total square footage of a space. Density broken down further by zone or floor can provide even deeper insights.
On the operational side of things, the college's dining operations team will leverage this data to measure cafe performance, inform staff scheduling, and assess strategies to improve participation and satisfaction.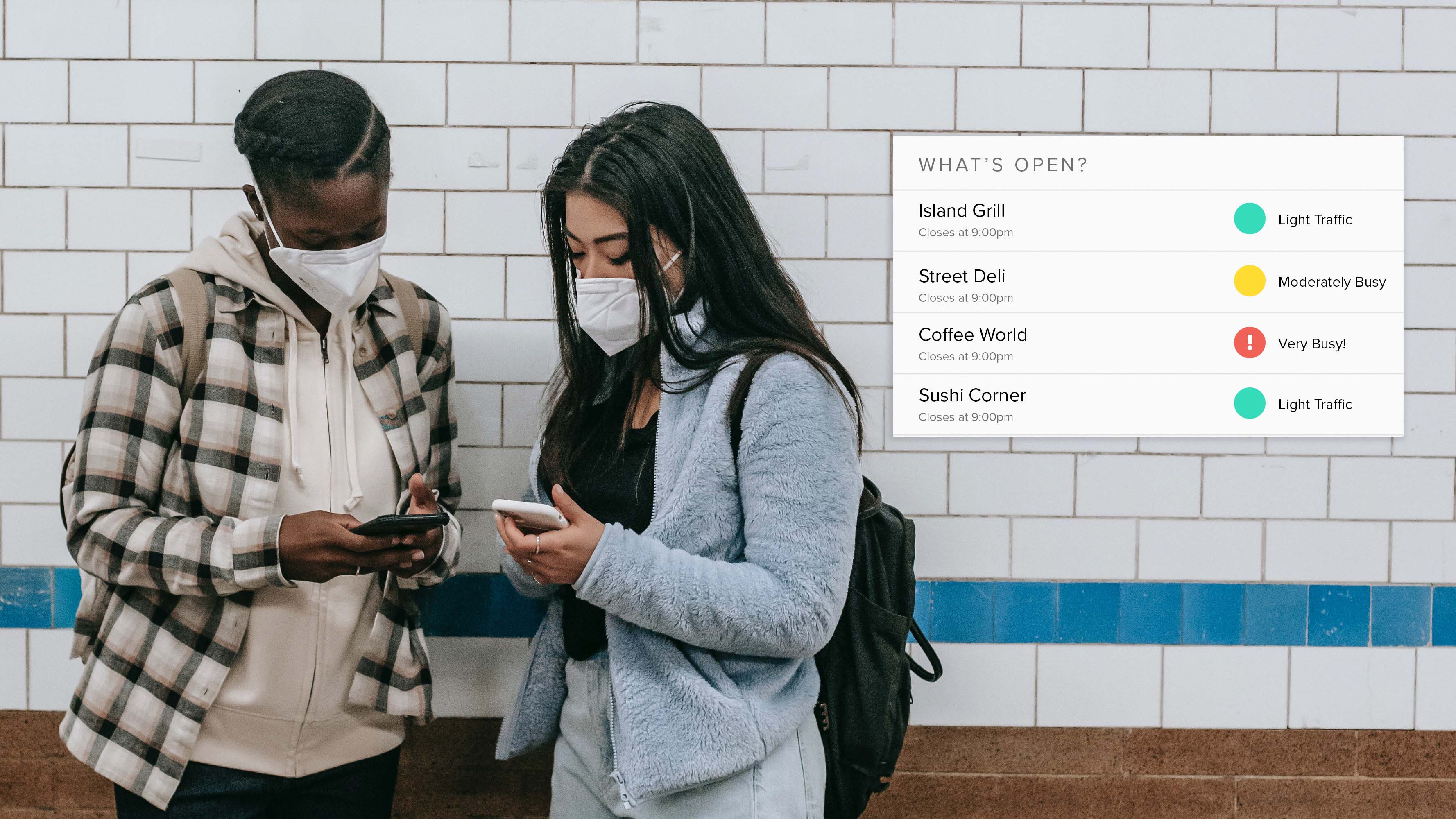 Through a simple app on their phone, students here will now have clear answers to questions that include:
Is now a good time to go to the main cafe?
If the traffic is too high there for my comfort, where else can I go?
What is the least busy dining hall on campus right now?
And through a dashboard fed by indoor location analytics, school administrators will have a bird's eye view into such answers as:
Are students respecting social distancing guidelines when dining on campus?
Are service speeds fast enough to support a low-contact or low-exposure dining experience?
Are cleaning schedules frequent enough given the daily or hourly traffic at each dining hall?
"Food is obviously a very important piece of the university business, and it's also a very important piece of the university experience for students," says InnerSpace CEO James Wu.
"By presenting risk levels for key communal areas like cafes or gyms, it's now possible for people to make safer choices about when and where they visit – and for food service providers to tailor their procedures and offerings accordingly."
From the campus to the office
The possibilities of such technology clearly transcend university life into any space where people aim to make personal decisions on accessing and using it.
"It's not just about the administration of the space, it's about the responsible use of it – and both of these attributes drive overall utilization improvements," James says.
As companies organize pieces of the return to work puzzle while considering the Delta strain's impact, InnerSpace can support critical strategies to quantify when, where, how and why people are using a space. In so doing, this approach also empowers employees and others to make decisions to help them confidently navigate the indoors with unparalleled insights through indoor location technology.
Want more insights?
Sign up to the InnerCircle about the hybrid workforce, what's new in smart tech, innovative workplace strategies. Sent straight to your inbox, monthly!