Fast Times at Coffee High: How the Big Chains Keep Lines Moving
Last fall, the world's largest coffee chain opened a new concept store in Manhattan. At "Starbucks Pickup", customers must use the app in advance to order and simply pick up their beverage. A second such grab-and-go model just opened here in InnerSpace's home city of Toronto.
The move reflects the main priority shared by all coffeehouse franchises: lightning fast service. It's 2020 and we're all in a rush and things that take seconds (opening a web page) or minutes (waiting in a line) are expected to be just that. And if they aren't? People are gone.
When we crave our morning java, we aren't thinking of the science behind how that coffee makes it into our hands quickly… beyond someone taking our order and pouring it into a cup. But the truth is, there's a lot more going on behind the scenes when it comes to expediting the best coffee experience possible for customers.
Coffee: behind the scenes
For Quick Service Restaurants, maximizing throughput while keeping wait times ↓ and the experience ↑ is no easy feat. In fact, major chains like Starbucks, Dunkin Donuts, and Tim Hortons each invest heavily in innovative operations to keep their customers coming back.
At Starbucks, for example, the Tryer Center studies how to elevate every aspect of the customer experience (far beyond concocting Unicorn Frappuccinos). There, "Next Big Beverage" and operational ideas are actioned within 100 days – including better ways to thaw food, forecast labour needs, and make beverages quickly. The idea for Starbucks Pickup percolated here.
Dunkin Donuts also innovates around a coffee-first model to execute on its low-cost, consistent quality service offering. At its next-gen concept store, new concepts are born – including the first drive-thru exclusively for mobile orders. As a chain situated mainly in "on-the-go" locations near gas stations and malls, DD trains employees to focus on fast, consistent service, but also encourages customers to make orders in advance by giving them a fast lane to the counter.
Tim Hortons, meanwhile, is expanding its drive throughs, testing express lines and adding more tandem teams at the cash – ensuring each staff member performs one role as part of a machine gearing toward maximum efficiency.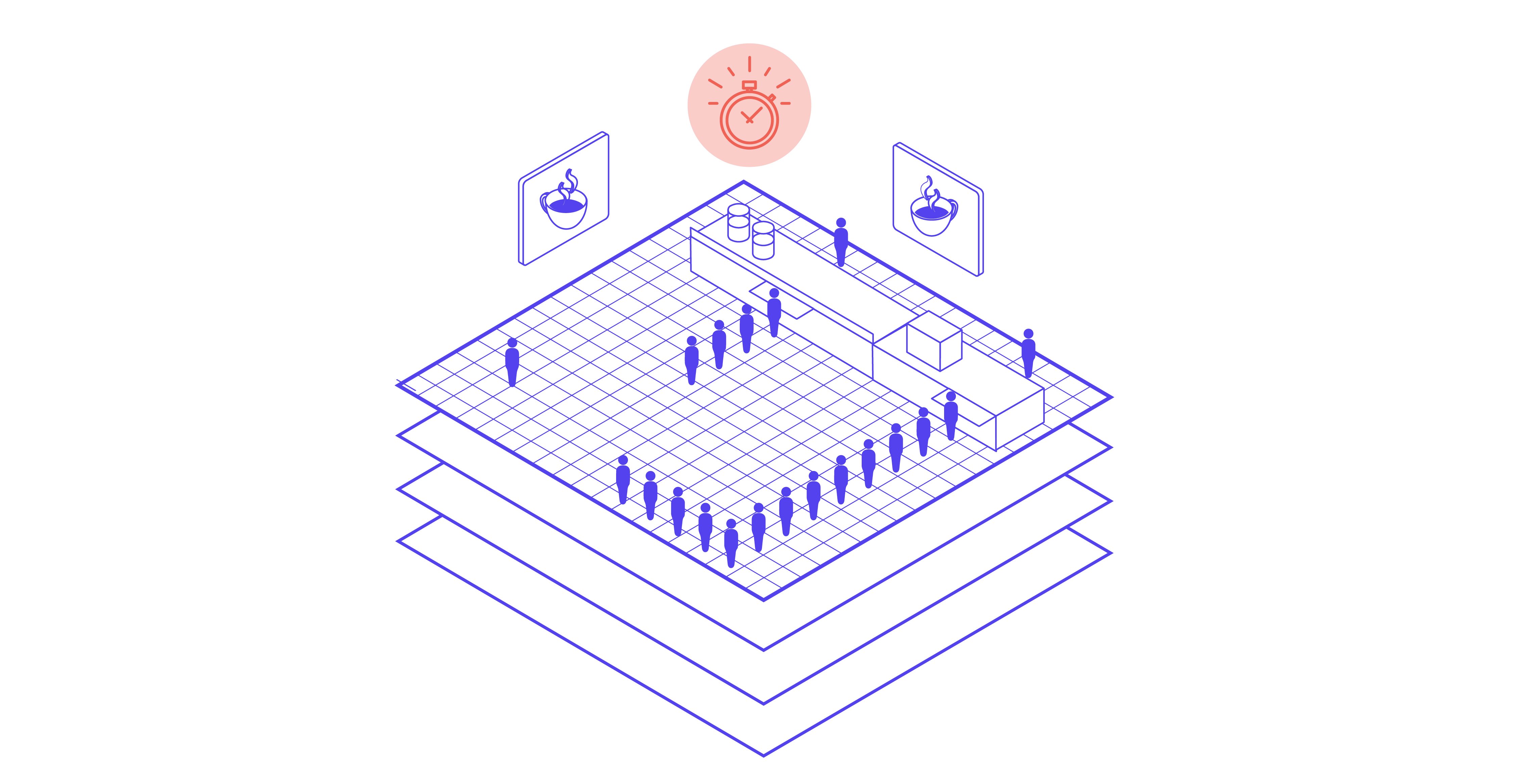 How indoor location tech can boost the coffee industry
Through such efforts, these major chains are aiming to quash any perception of being "slow". That's because long lines and perceived understaffing are a major problem for an industry where potential customers can and often "look and leave."
The race to better service begins with better technology.
Any coffeehouse can access newfound insights by employing technology that sees the forest for the trees. Indoor location technology involves specialized software that tracks and analyzes the movement of people in a space, and can relay real-time information.
InnerSpace has configured the world's most accurate indoor location sensors, which use WiFi signals to anonymously see where anyone is at any given time – both behind the counter and out in front. We know about how such software can impact the coffee biz, not only because food service retailers are among our clients, but due to a study we performed late last fall.
At a busy outlet of a major coffee chain, our platform monitored wait times, speed of service and how staff functioned as a team with specific roles. This study proved that one element – cashiers remaining on cash during the rush – improved efficiency by 35%!
The data showed that continuing to take orders and move the line along led to:
35


more transactions every hour
20%


fewer wait times over 12 minutes
56%


fewer "look and leaves"

Accurate location data gives managers a new understanding of front-of-house operations and the ability to make decisions on the fly. They can, for instance, receive real-time alerts if the team approach is starting to slip, and then step in to help get it back on track during the rush.

The platform could feed a dashboard where managers can view performance over time, and then ensure staff are set up for success to reduce customer wait times and achieve the accelerated pace of service the industry is vaulting toward. And it could feed digital signs that display real wait times rather than leaving potential customers guessing (and leaving).

Ironically enough, coffee – a beverage one must sip slowly – is at the centre of a competitive industry ensnared in the pursuit of speed. And that, of course, makes it an industry where technology solutions could have dramatic effects on the bottom line.
Want more insights?
Sign up to the InnerCircle about the hybrid workforce, what's new in smart tech, innovative workplace strategies. Sent straight to your inbox, monthly!