Assessing employee and real estate needs
Companies are deep into future planning after two years of pandemic-sized disruptions. Adapting to a hybrid work model, restructuring, and the need to build out teams are common across industry.
The HR department at a Fortune 500 technology company in California planned on hiring 100 new employees this year, with additional hires planned for 2023 in line with long-term growth projections.
Executives wanted to know if they could start with the most cost-effective way to support growth: by maximizing their existing real estate. The company, our client, knew they needed to access real-time data and trend analysis to assess how their teams were using the workplace and the resources within it.
Answers found in spatial analytics data
To find the answers, the company used InnerSpace location technology to collect indoor location data to understand the requirements of multiple teams sharing real estate resources. Key metrics, such as visit counts at different times of the day, provided insights into employee behavior in relation to their assigned neighborhoods and meeting spaces.
They were able to use our inTELLO data visualization and analytics portal to access a custom report that detailed meeting space usage based on capacity. In so doing, the HR staff discovered that the average employee requires 158 square feet of space.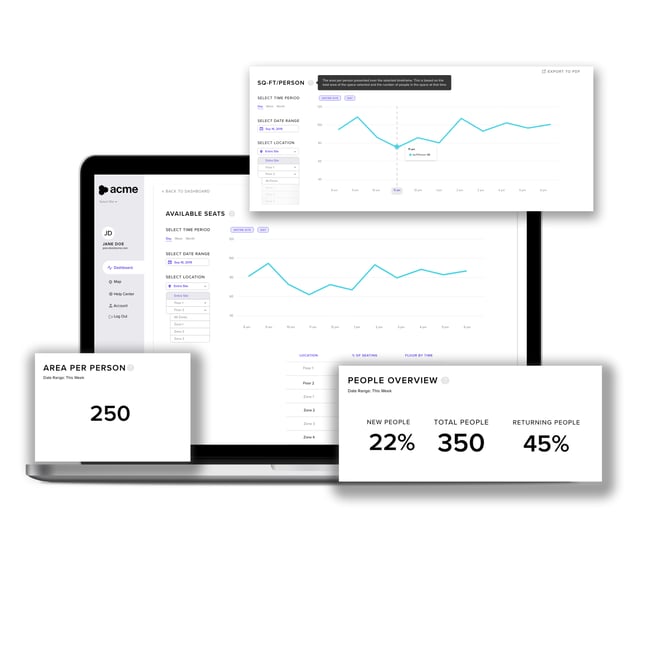 That knowledge informed what happened next: the company was indeed able to hire 100 employees within the existing office footprint – with the requirement that new employees worked in the office half the week. This data-driven adjustment to colocation and allocation strategies proved to be cost-effective for its current hiring needs while offering staff a hybrid level of flexibility.
In response to projected growth in 2023, they assessed the data within inTELLO to anticipate necessary changes to the footprint moving forward. With hiring expected to continue at a similar scale, the Real Estate team learned that approximately 7,900 square feet was needed to accommodate the growing teams. They were able to forecast $1.25 million in construction expenses based on average costs in their city of nearly $160 per square foot.
As a result, a clear picture was painting for the executive team, and accurate future expenditures were provided to Finance – all based on indoor spatial analytics.
Enhanced Data and Visualization Made Simple
The inTELLO analytics portal displays InnerSpace spatial intelligence data as a series of simple cards presenting answers to common questions about space usage. Its at-a-glance nature is augmented with detailed charts and graphs that present the full spectrum of historical data for reference over periods of time. Use it to optimize your office real estate portfolio