Data captured by our leading WiFi-based indoor location platform enables companies to take advantage of their two greatest resources: people and property. Here, we explore the unique metric of popular pathways.
Throughout our metrics series, we've explored how InnerSpace's platform uncovers key insights into how a space is actually used. A cloud-based location and metrics calculation engine (InnerSpace Location Intelligence Engine) receives raw, anonymized data from a suite of sensors and WiFi access points. The occupancy and utilization data it generates feeds out-of-the-box user-facing solutions including a comprehensive web-based analytics portal, inTELLO.
Inside inTELLO, companies can find concise answers to key questions about how an office is used. inTELLO provides insight into occupancy, dwell time, visit counts, space utilization, visit frequency, new vs. returning people, density, team-based behaviors, meeting room usage, visitor behaviors... and the focus of this post: pathway analysis.
Inside 'Popular Pathways'
In our platform, companies can uniquely analyze movement and flow in any pathways in an office of any size or complexity. In so doing, managers gain a specific view of how first-time and repeat visitors move through a space, where they come from, the most common sequences of zones or rooms they tend to visit, and where they typically exit.
This metric is a key part of how indoor location technology paints a dynamic picture of how space, and the resources within it, are actually used. In fact, the popular pathway metric can be seen in our dashboard as a data visualization, illustrating movements of any employee groups a company wants to filter.
Let's say you wanted to make a well-used cafe more spacious and visitor-friendly, particularly if physical distancing is a concern. With popular pathways, you can decipher to what extent seating areas are used during breakfast and lunch. You can see what the most frequent as well as least-used pathways are, learning how people move through the cafe, how long they stay – and their overall behavior.
Why does all this matter? Why is it important to know where people go? With popular pathways, you gain the ability to reliably:
Understand the effectiveness of different spaces by type and time of day

Gain insight into under-utilized and over-utilized spaces

Know what areas require increased resources – cleaning, staffing or otherwise

Adjust layouts to suit traffic flow and volume

Learn the behaviours of how different teams work in a space – and thus and what they need to optimize productivity and performance
Popular pathways is another metric that goes above and beyond the question of occupancy alone. Sensor-based platforms can only count people, but they are unable to reveal their behaviors – an imperative in today's evolving hybrid workplace.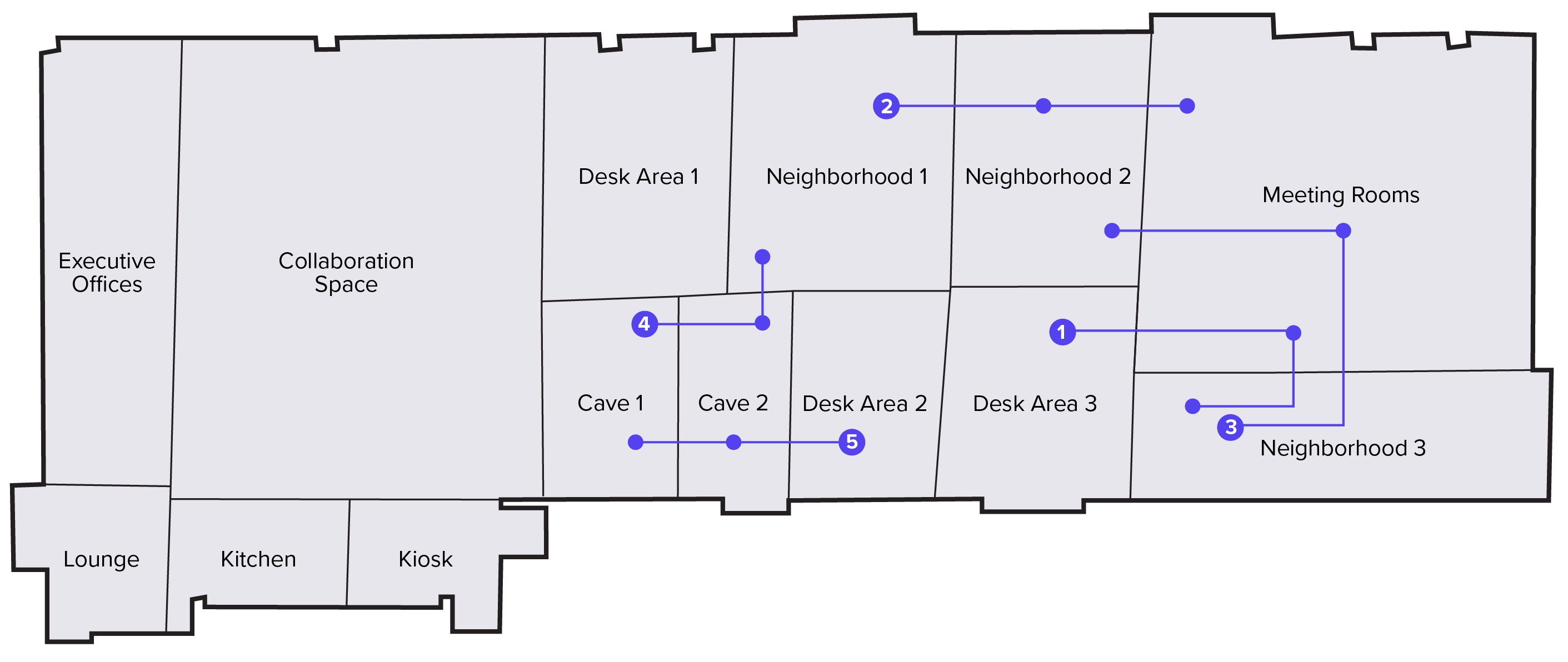 To learn more about how our platform can work for your specific needs, get in touch anytime.