An introduction to best-in-class quantitative space utilization insights for post-secondary institutions
We know campuses aren't planned overnight, and often capital planning and space management plans look decades ahead when considering investments.
We understand the unique challenges and priorities that higher education facilities and real estate planning teams face on a daily basis.
We know that getting the data you need to make decisions around campus space planning, when you need it can be both necessary and complicated, given the scope of campuses and the range of uses.
We understand that as subject matter experts, the best data is very important for making decisions (we're subject matter experts too).
Welcome to Space Utilization 101 with InnerSpace, where you'll learn about:
The data to design and maintain campuses to create a better overall experience
When know you, as a higher education administrator have a lot on your plates, including:
managing resources
optimizing budgets
ensuring efficient operations across the campus
Access to accurate occupancy and use data provides valuable information on how your facilities are being utilized is key. This has the potential to enable you to identify areas for improvement, allocate resources effectively, consider lease versus buy decisions, and justify investment in new projects.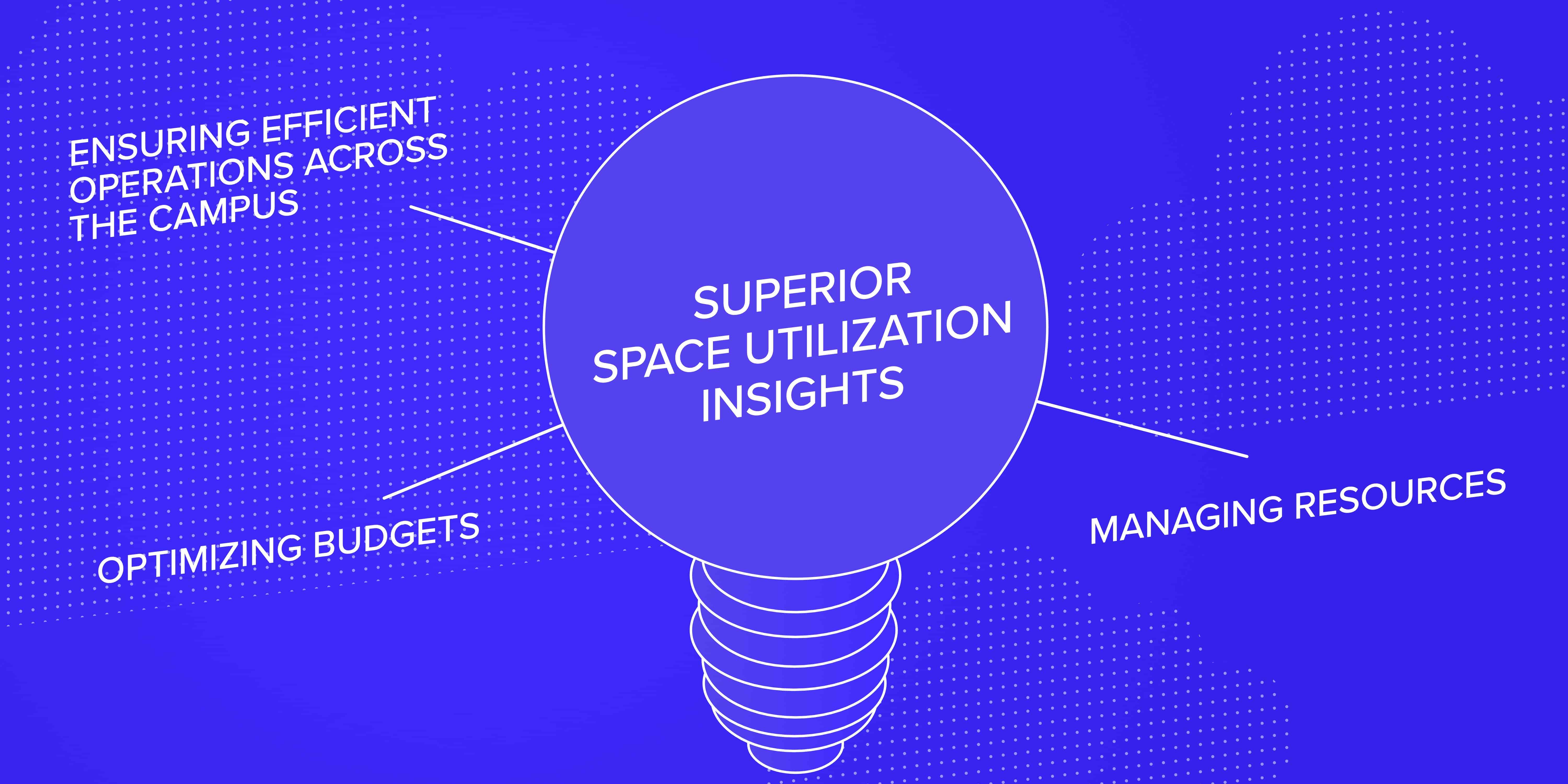 With our data, easily viewed through our inTELLO analytics portal, you can confidently make informed decisions about building maintenance, engaging and collaborative student spaces, cafeteria facilities, faculty resources, strategic initiatives, and new resourcing needs assessments.
Imagine the Dean of Engineering is requesting ten more offices, and a new research space. With InnerSpace, you can understand with real-time usage information if the space needs are valid and real and consider repurposing underused spaces for this purpose.
Our data can also be used to enhance the way faculty and students experience campus. You can share real-time information about how busy meal halls are or share usage data to help them find quiet places to study or work.
The data to create unique spaces designed for learning and collaborating
Our platform allows you to collect accurate and informative data about how both faculty and students are using your spaces.
Our insights ensure you can focus on creating classrooms, research areas and collaboration spaces that inspire creativity, engagement, and academic success that students, faculty, and researchers want to come to campus for.
Maybe you have a hunch that students are collaborating more in the library. It seems noisy in there. Our insights can help you figure out if an investment in an additional collaborative space will pay off.
Maybe there's a campus coffee shop that's only busy on Tuesdays and Thursdays, due to a four-hour lecture across the hall. Wouldn't it be nice to know how busy, and what changes you could make to give it a boost through real-time utilization insights?
Incorporating these insights into the planning process, ensures that your campus facilities are optimized to enhance the educational experience and meet the evolving demands of faculty members.
The data to perform cost-effective and proactive campus maintenance
Maintaining a university campus is a multi-faceted, complex, and costly exercise. From classrooms to dormitories, libraries to laboratories, the upkeep of these diverse spaces requires careful attention and resources.
Our platform delivers valuable and insightful data that allow you to proactively identify maintenance issues before they become major problems by identifying high use areas throughout your campus.
Imagine you're doing a security audit. InnerSpace data can help you consider locations for security features to support safety on campus, based on traffic and usage.
Understanding where faculty and students are and how they are using your facilities means you are able to streamline maintenance schedules and ensure optimal resourcing while creating a better overall campus experience for all.
What else is on our syllabus?
Privacy
We take privacy seriously, just like you do. We are GDPR compliant, and proudly meet all industry privacy standards. InnerSpace is also certified to SOC2 and ISO27001 standards. Certifying to these standards involves an independent audit confirming the security practices, policies, procedures, and operations meet or exceed standards for protecting customer information.
You can read more about how we prioritize privacy here.
The data you need, when you need it, with no costly installation
Installing sensors on most campuses to gather impactful data would be a gargantuan task. With InnerSpace, you can start collecting data right away, through your already installed campus Wi-Fi networks.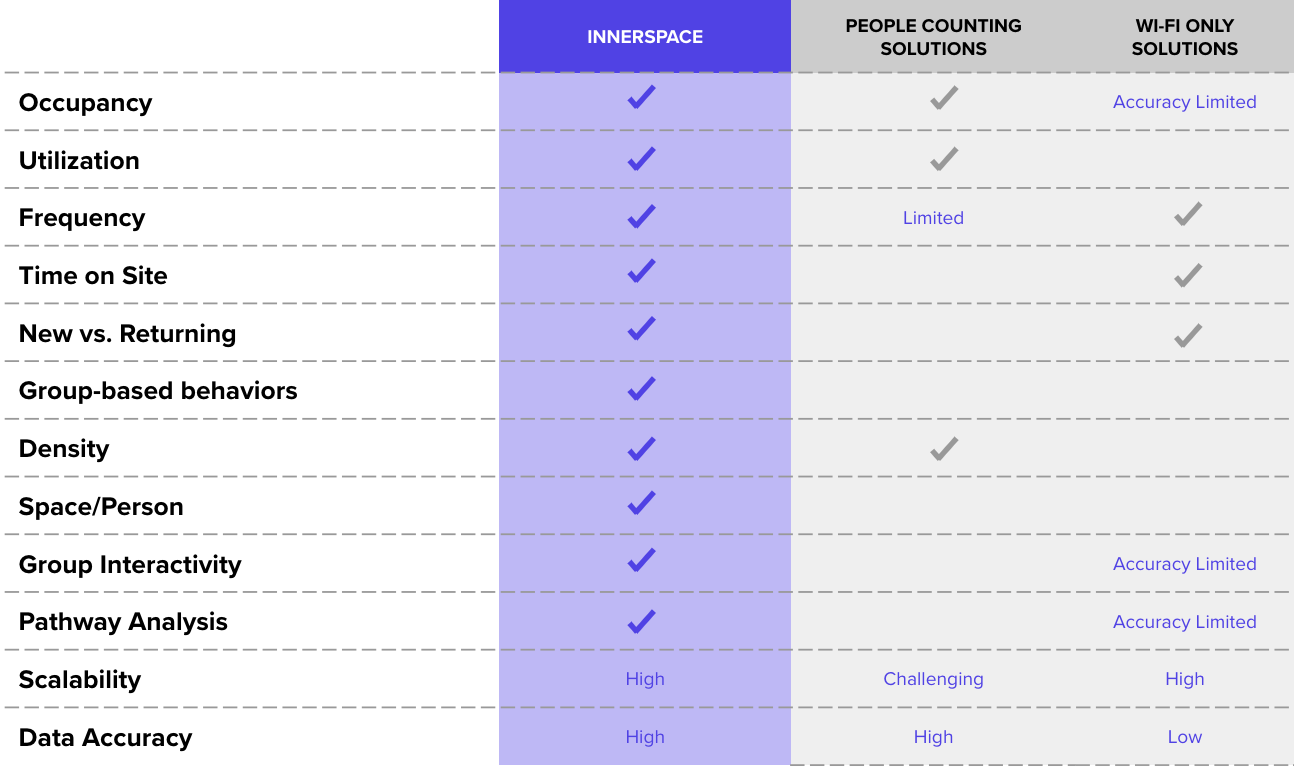 Our intuitive dashboard design empowers you to select the most important metrics and export data for reporting needs. All graphs and charts in inTELLO are available for CSV download, along with a high-level summary PDF report to share with key stakeholders.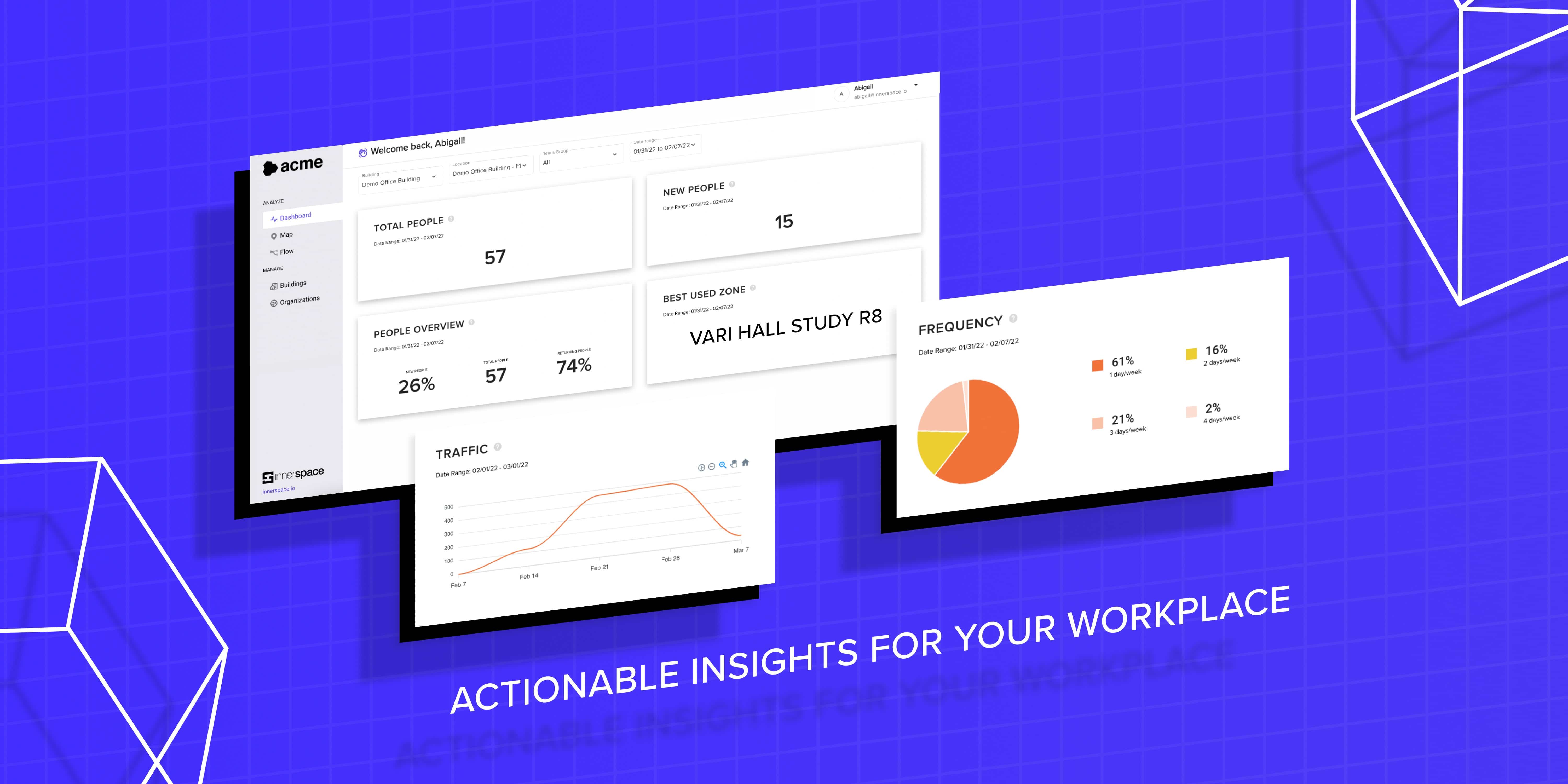 Flexible, actionable, robust, useful real-time data
When the pandemic hit, online learning had begun to factor into campus space planning needs, but the last three years have made blended learning a part of every higher education institution's offerings. Our data can help you make decisions about your current plan, based on real-time usage, and plan forward to a future where the spaces you have, or build are aligned with the ways both students and faculty are using them now.
Ready to take the class and earn a credit that can help you improve your campus experience? Sign up here.
Want more insights?
Sign up to the InnerCircle about the hybrid workforce, what's new in smart tech, innovative workplace strategies. Sent straight to your inbox, monthly!