In December, Apple excited mobile tech enthusiasts and frequent flyers by introducing its airport navigation feature. Available for a select number of airports around the world, the solution combines maps and indoor positioning technology to show users where they are, what's around them, and how to get where they need to go.
In part, the solution was big news because pinpointing location indoors is fraught with challenges. GPS only works outdoors, which means it's incredibly difficult to create a navigation application that works as well inside of buildings. In fact, Google, Apple, and host of other companies have been hard at work on this problem for years.
Unfortunately, most indoor positioning technologies have at least one major weakness that impacts their accuracy and usability. Equally challenging, creating maps that reflect ongoing changes to indoor environments. Spaces are dynamic. Combining maps and location into one scalable indoor wayfinding solution has long eluded developers.
With Apple's new airport wayfinding feature, it might seem as though the company has finally cracked the code. But when it comes to technology that obtains and makes use of indoor data, there's often room for improvement.
Why Apple's announcement matters
Imagine this. You've just landed at Toronto's Pearson Airport. You have a connecting flight in two hours. There's plenty of time for you to get lunch, so you wander around until you find an appealing place to eat. Unfortunately, when you leave the restaurant, you don't know where you are—or the best route to take to pick up a present for your niece and then get to your gate on time.
This type of confusion is all too common for travelers. Luckily, Apple understands how frustrating it can be to navigate an airport. In December of 2017, the company made indoor mapping available for 30 airports across the globe. Passengers can now navigate these often-confusing spaces using their mobile phones.
This new feature allows users to see where they are in a terminal and highlights key areas such as gates, baggage, restaurants and lounges.
Apple's solution is noteworthy for a couple of reasons. For one, improving airport navigation has the potential to make travel easier for an astounding number of people. In America, the Federal Aviation Administration handles 42,700 flights daily. At Toronto's Pearson International alone, there are 1,100 departures each day.
In addition, Apple's efforts represent a major step forward for indoor mapping and location in general. Outdoors, consumers are used to calling up step-by-step navigation on their mobile phones. Google Maps does a phenomenal job of getting users from where they are to where they want to go. Unfortunately, this experience ends as soon as users set foot indoors.
By bringing mobile wayfinding into airports, Apple is changing consumer expectations for indoor experiences. That said, the experience is still new. It's worth asking: just how advanced is its mapping and positioning capabilities?
Apple's approach to indoor mapping
To provide indoor navigation, Apple needs maps of buildings. The company relies on companies like Micello, Kitchener-Waterloo's own MappedIn and other services to acquire these.
Positioning is another requirement. In order to find the locations of mobile phone users indoors, Apple uses technology nearby WiFi access points within a building. To provide additional positioning support, this technology also uses available GPS, textures within the building (such as walls) or RF parametric data, and radios found within iOS devices.
Apple has been working on indoor maps for several years. And despite an excellent first step forward, there are some issues associated with Apple's underlying approach to acquiring maps and providing accurate location data.
It goes without saying that drawing, converting, and updating maps takes time. Additionally, the static maps Apple uses do not reflect any changes within an indoor space, nor do they represent real-time conditions. Considering Pearson Airport is still in the midst of its construction project, the technology informing the Apple Maps experience will need to be updated.
In a recent report, it was estimated that to meet increasing passenger demands, nearly $20-billion will be spent renovating airports across the US. American Airlines is building a new $1.6-billion terminal and United Airlines is spending $500-million to renovate its terminal at LAX. At LaGuardia Airport, nearly $4-billion will be spent to update its facilities. These changes will significantly change the Apple maps.
When it comes to positioning, solutions that draw heavily on WiFi are often imprecise. The locations of existing access points aren't always optimal; walls, ceilings, and people can all get in the way.
It's also worth noting that a solution that relies continuously on a combination of professional services and existing WiFi infrastructure isn't easily scalable. The time and manpower required to set up and maintain such a system is significant.
We believe that however good Apple's airport wayfinding is now, it could be even better with a systemized approach to acquiring maps and integrating positioning data.
Looking ahead to scalability
Apple is one of the world's leading tech innovators—when the company makes a major announcement, consumers and businesses alike are bound to sit up and take notice. As a result, Apple's airport mapping feature is changing the way we think about indoor navigation.
It's an exciting time. No longer will users of mobile devices view the walls of buildings as boundaries where digital wayfinding stops. Expectations are evolving, which means companies like Apple must offer precise, up-to-the-minute navigation. But taking months for a single deployment that will quickly become outdated is risky. Moving forward, Apple must consider the drawbacks of its current methodology.
InnerSpace addresses this pain point head-on by offering a scalable infrastructure for wayfinding experiences.
Here's how InnerSpace works in airport environments. Our lightweight sensors are placed around the airport's terminals (generally near the building's WiFi access points) at a ratio of one for every 5000 sq ft. Once connected to power, the sensors immediately create high-fidelity 3D models and then converts these models to 2D maps. The sensors regularly update the models to ensure that the maps are always accurate and reflect the most current state of the indoor space.
InnerSpace's integrated positioning technology is also advanced. The InnerSpace sensors work together as a system, triangulating and understanding their own position relative to the maps they create. Using, WiFi, Bluetooth, and ultra wideband frequencies, the sensors track electromagnetic signals from people and things within the space. This single system works in concert to integrate maps, positioning and location.
As a result, InnerSpace works in real-time, needs no recalibration, and increases location precision.
One thing is certain. Decision-makers should start looking closely at mapping and location technologies that are both innovative and scalable. Until they do, they'll miss out on opportunities to quickly and cost-effectively provide the kind of wayfinding experiences consumers expect.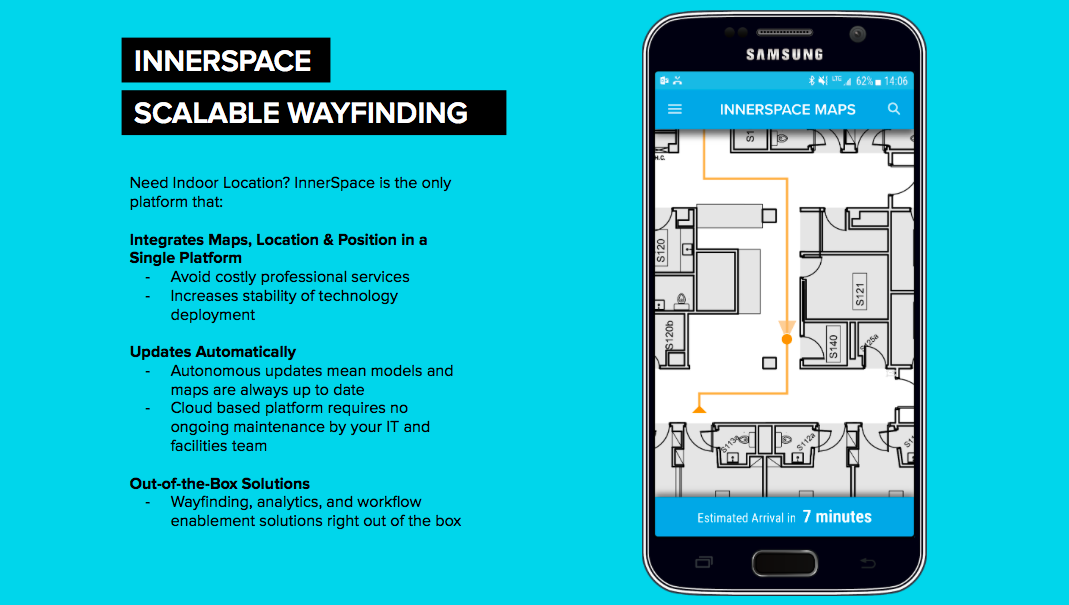 Want more insights?
Sign up to the InnerCircle about the hybrid workforce, what's new in smart tech, innovative workplace strategies. Sent straight to your inbox, monthly!