The questions 'Are we doing enough?' and 'Did we move fast enough?' are running through everyone's mind as we continue to receive news reports that the coronavirus COVID-19 continues to spread.
As cities roll out social distancing strategies, including new curfews and bylaws to stop people congregating, we can look at the data to understand how businesses responded to the wave of news that initiated from China in December 2019 and quickly swept the world.
Despite news of the virus spreading outside of China, with countries like Italy, Spain, and the United States reporting cases in late January, companies did not initiate action until nearly two months later.
InnerSpace is an indoor location intelligence platform. One of the things we can do with this data is anonymously analyze the patterns of how people move inside buildings. Our clients include corporate offices, sports stadiums, airline lounges, hospitals and mining facilities. Let's take a look at our data to see how companies reacted to the global pandemic.
HOW QUICKLY DID COMPANIES REACT?
March 9, 2020 was a key date. By this time Italy went into lockdown, and 36 people had died in the US. This is the week most companies started to initiate a work-from-home policy.
Tech companies moved fastest. Some of our clients had already begun as early as mid-February. These proactive companies started to see a 15% drop week over week and by the week of March 9 were empty. These are also the same companies that have fully shut their offices and we see no employees returning to the space.
The vast majority of companies however, didn't introduce their work-from-home strategies until mid-March. Co-working spaces saw a surge in visitors as WFH policies were in their infancy, and airlines managed an influx as they worked to get people home.
Fast forward to March 19, and the majority InnerSpace clients had reduced the number of people on-site by 95%. The exceptions being those in mining and airline industries where hundreds of people are still working to support in-country travel and critical infrastructure needs. .
ARE PEOPLE STILL GOING OUT?
Yes. And not just to walk their dog or go to the grocery store. While companies across the board are now below 10% of their regular people traffic, the number of people still hitting up the office is more than one might expect.
Even after San Francisco's 'shelter in place' order on March 17, many of California companies still see anywhere from 15-35 people going to the office. The reality is that offices that have not locked down their facilities still have people visiting.
During the week of March 23, we saw some companies with up to 150 people visiting the office. Public spaces like stadiums and co-working spaces also had up to 60 people on-site.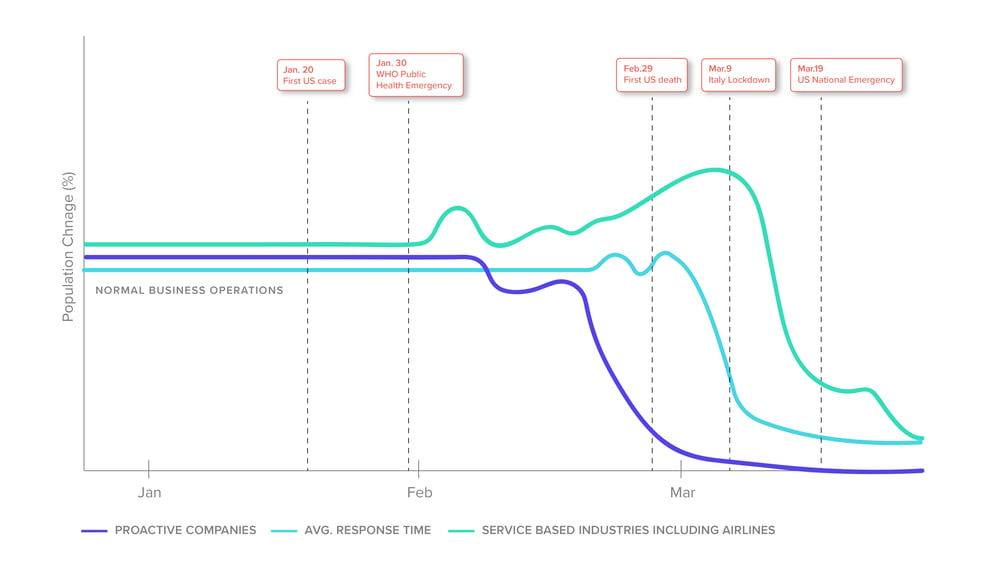 Image: InnerSpace Data Shows Patterns of COVID-19 Response from Businesses
DID THE GOVERNMENT MOVE FAST ENOUGH?
The positive side of this, is that InnerSpace clients moved much faster than the government in most cases. The US and Canada didn't announce their state of emergency until March 19 and March 23 respectively, and by this time most of our clients had already acted if not completed their building shut-downs.
The challenge now becomes enforcing social distancing and quarantine policies and bylaws. Governments don't need to abolish privacy law to obtain mobile phone records—which will only give address-level data at best—instead they can introduce compliance policies for companies and ensure they validate that information with security systems like our own inFORCE.
References: NYTimes Timeline