How to calculate & optimize your office space and improve company culture with occupancy data
So, your 2023 strategy includes a push back to the office. You send the email with your hybrid work plan to your entire team, sit back, watch all your people reappear, as or more productive than ever before, and let the magic happen, right?
Sorry to burst your bubble, but if this was your plan, you might need to take a few things into consideration before you cross out that action item on your strategic plan. Return to work plans are hard; most experts agree that a thoughtful approach that helps employees see time spent in the office as productive and valuable is crucial in getting staff buy in to come back with consistency and enthusiasm (no one wants a quiet quitter). Whereas your office was once a place people assumed they came to work, it's now morphed into a destination where collaboration, productivity, and purpose must be prioritized to keep your teams engaged.
It's a tall order. A big ask. Is your current office space cut out for all of that?
Let's start by looking at two important factors in interpreting your office space needs: Space occupancy and space utilization.
What is space occupancy?
Space occupancy is how many people are in your space in a given time. To calculate this, you divide occupied floor space by the total floor space, excluding non-working spaces like restrooms, kitchens, and lunchrooms. Meeting rooms are included.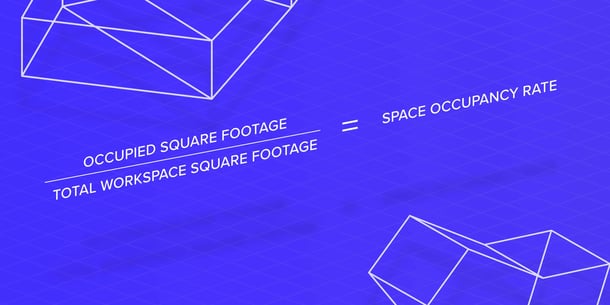 Knowing your space occupancy is important for capacity management. Monitoring space occupancy helps ensure that spaces don't feel cramped, and that your office is being used efficiently. Understanding inefficiencies can help you reduce costs if you find underutilized space that could be better used. Here's an example: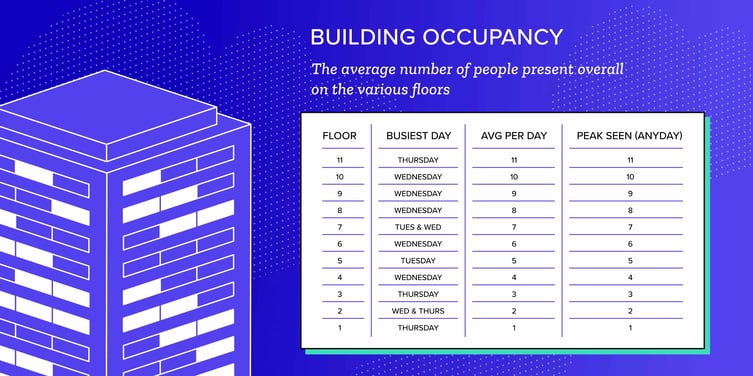 What is space utilization, and how do I measure it?
Space utilization adds people to the equation. It looks at how the space occupancy we calculated above complements or challenges how the space is utilized by employees.
A basic space utilization calculation takes the number of employees in an organization and divides them by the occupancy of the space.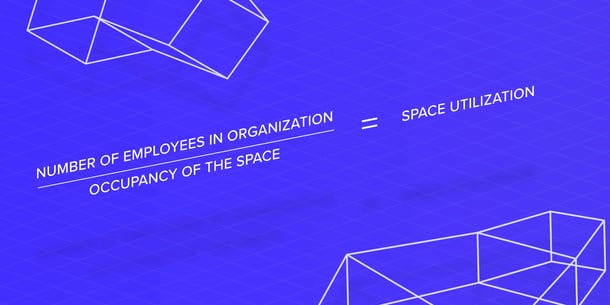 Easy, right? Imagine you've got 100 people in your organization, and your office occupancy is 120. You've got room to spare and some to grow, but your office space has a limitation. Being aware of this limitation can help you make decisions about growth, and future real estate decisions, especially if/when your lease is coming to an end.
This is only one example of a space utilization metric. Space utilization data can be used to measure a range of metrics to gain the information needed to make data driven decisions, including:
The total capacity of the space
The maximum capacities of your conference rooms, meeting rooms, workspaces, and other places people work on site
How many people are in a specific area at a given time
The number of hours in a day, week, or month that specific areas are booked or occupied
The number of hours in a day, week, or month that certain spaces are underutilized, or available
The most well-travelled areas in the office
Areas with the highest footfall
Space density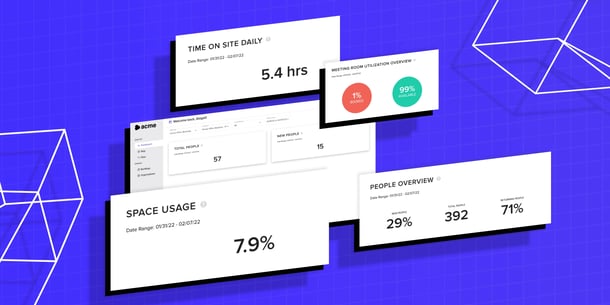 Maybe your office has the capacity for 80 people, spread out over 50 workstations, 10 hot desks, and 2 conference rooms. Space utilization measurements can tell you that of the 50 workstations, only 25 are regularly used through the week, but that the two conference rooms are very busy on Tuesday and Thursdays; they're booked over 80 percent of the time. The space utilization rate of the workstations is 50%.
Do you need all those workstations?
I've figured out occupancy and utilization: What else can I find out?
Once you've figured out occupancy, you've hit the tip of the design workplace iceberg. There's lots more information you can distill to really make sure you're moving in the right direction with your space. You can find out how long people are in specific spaces, what types of space categories are most popular with which of your teams, even how they get to the spaces they're using most. Here's an example of how one organization's teams use specific types of spaces: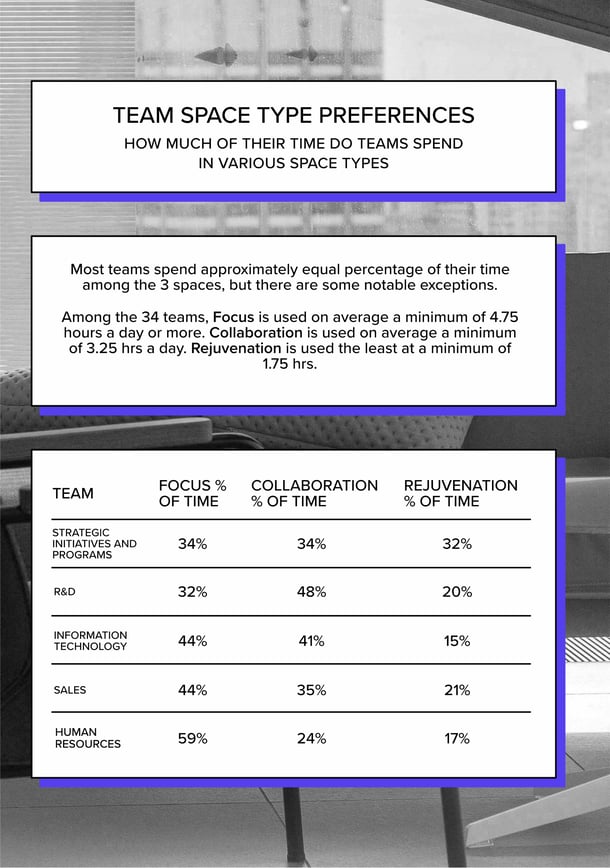 Do they pass through the lunch room on the way to the rejuvenating roof deck for a collaborative meeting? Maybe it's time to up that office destination experience with an afternoon snack offering.
How can better understanding occupancy rates help improve my company culture?
Let's go back to that let the magic happen goal from the beginning. Understanding your space and how it's used, and making decisions that support your staff's productivity and collaboration in the office, while boosting morale through suitable workplace design and floorplan can aid in your return to work and hybrid work transition (which we're predicting will simply be work in 2024).
You want your teams to bring their best selves to the office? You need to make sure they have that conference room they need when they're in, and ensure that their ability to have productive time on site is accessible and attainable in the spaces you create for them. Your teams' needs will vary depending on how they work now, not how they worked in 2019, and your office needs to rise to the occasion.
You're the workplace leader to do that, but you need data to make data driven decisions.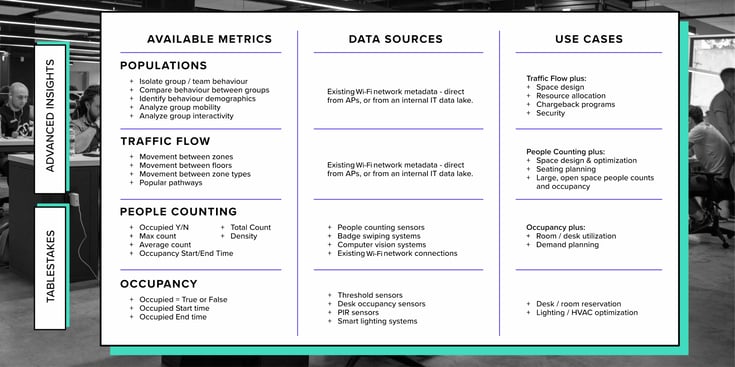 I'm ready to go. How do I get the data?
InnerSpace may be able to help with that. In fact we may be very good at getting you the crucial information that takes you beyond counting people to an expert in what we call #indoorology, or the science of analyzing indoor space utilization. We want your office environment to be a destination for your teams, so they want to come in, and we want to help you feel confident in making data driven decisions around investments in your space.
We live and breathe this stuff, so you can get to the part where you get to sit back and let the magic happen your teams back in the office and focus on what you're actually there for; to be the workplace leader you are. Let's talk.
Want more insights?
Sign up to the InnerCircle about the hybrid workforce, what's new in smart tech, innovative workplace strategies. Sent straight to your inbox, monthly!