In the lead-up to a big game or high-profile concert, city stadiums can see an influx of tens of thousands of people, often arriving en masse. For fans, picking the "wrong line" isn't cut and dry and, as we all know, wait times have a direct link, whether positive or negative, to the fan experience.
Sometimes wait times are accepted as par for the course. Plenty of evidence shows that for a general admission or first-come first-served gate, many fans don't mind waiting for hours, knowing they've secured their spot in line. Even for pre-assigned tickets, some fans enjoy the camaraderie of the wait; meanwhile, others just want to reach their seats as fast as possible to watch tip-off or the first song of a set.

Yet when the doors swing open, so do the challenges for stadium operators. Managing event-goers as they stream into a stadium can be exciting yet frenetic, as security staff must expedite thousands of fans through a limited number of entrances. Not only is managing the lines as quickly as possible important, but safety is a critical factor too – and goes far beyond the bag check. Sadly, we've seen the devastating impact of tragic crowd control errors: The Who concert in Cincinnati in 1979 and the Hillsborough Stadium disaster in England in 1989 to give just two examples. Thankfully, we've come a long way since then.
Inside a smart stadium, we find smart gates
InnerSpace's indoor location platform can turn any stadium into a smart stadium and, in so doing, streamline gate management for both fans and operators.
By capturing anonymous signals from WiFi-enabled devices such as smartphones and smartwatches, InnerSpace sensors reveal patterns of movement through that stadium. This valuable, accurate data then translates into meaningful insights.
For operators: it's now possible to tell how fast lines are moving, what the average wait time at a particular gate may be, and how many people are actually in the line. Using this data, stadium operators can uncover meaningful visitor insights. And then they can make strategic efforts to improve the fan experience at the gate. For example, how should gate management tactics be adjusted for a regularly scheduled ball game vs. a sold-out, one-night-only concert? Visualizing the entire fan journey from entry to exit, including bottlenecks and other issues presented by particular events or times of the year, is now possible – and happening in real-time – within some of the most prestigious stadiums in the world.
For fans: When these type of patterns are integrated into fan apps created by those stadiums, it can drive frictionless experiences. With a few taps on their cell phone, stadium-goers can uncover real-time insights about wait times at gates, bathrooms, and retail/concession areas, helping inform newfound choices: what entrance to use; what aisle will take them to their seat the fastest; what exit gets them home sooner; and much more.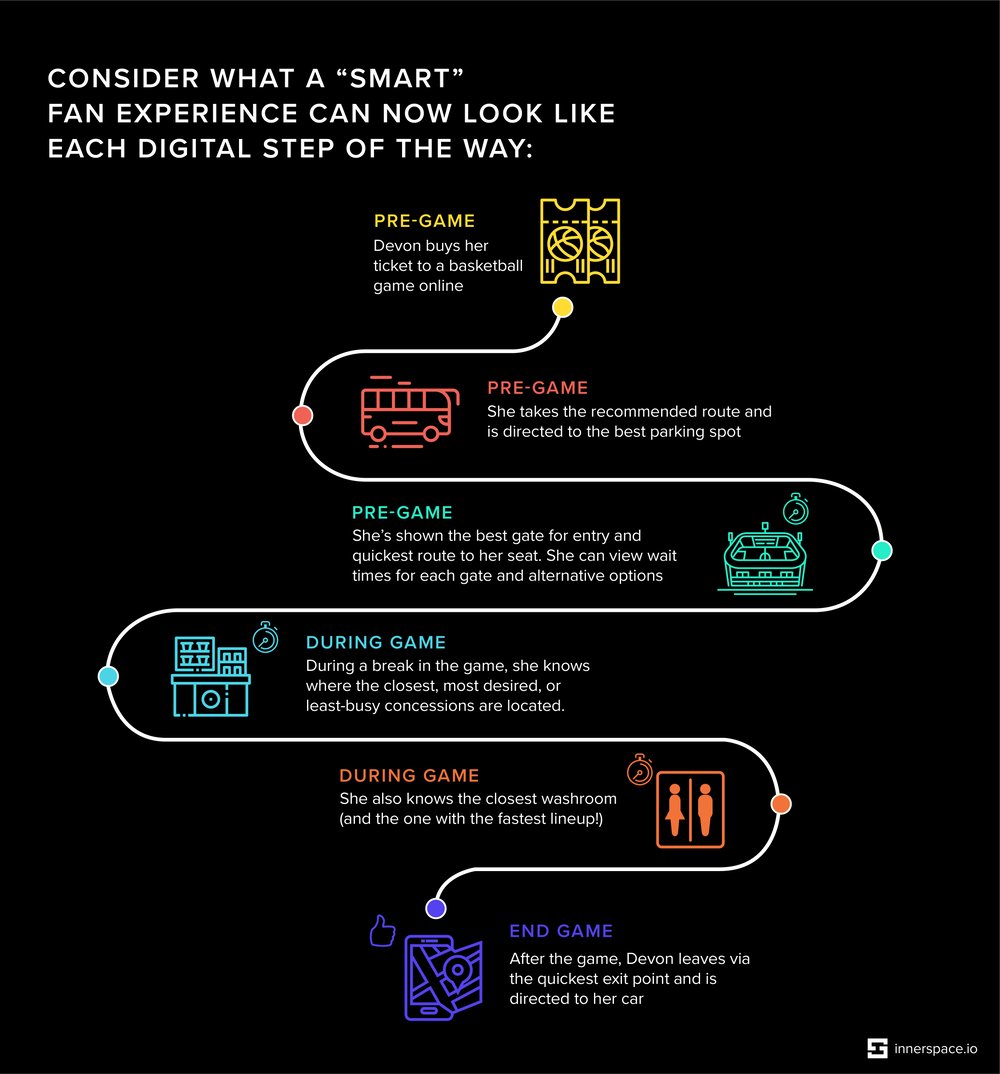 Amplified fan experiences using the power of indoor location not only promote gate entry and exit experiences with minimal hassles, but can help inform staffing and line-busting in real time for operators too – resulting in increased profits, streamlined safety, and more.
And when fans arrive and leave without frustration, that news tends to travel.