Among the many hot button issues for companies leasing office space is rationalizing their real estate portfolio. It was a big ticket item before the pandemic, and it remains so today, in the thick of return-to-work planning.
So while companies debate how to deliver a strong employee experience, how to revamp workspaces to support collaboration and hybrid work models, and how to achieve maximum health and safety, most are also debating what to do with their current real estate footprint.
But many aren't looking only to recover from the pandemic, but instead drive forward out of it, and scale business. Instead of containing costs and shrinking real estate, executives could consider how to make better use of that space – or even increase it entirely.
Is it time to flip the script?
Today, there are high corporate real estate vacancy rates in most major cities. It is a renter's market and tenants have strong negotiating position. Growing companies are beginning to flip the script away from downsizing portfolios and instead search for new workspaces.
One CBRE director in Toronto says he's watching companies "accelerate through" the COVID challenge – scooping up new space years ahead of their projected growth because of the favorable market now. Meanwhile, CBRE reports that highly flexible sublet space – which drenched the market during COVID – is in high demand now as companies seek creative ways to grow while limiting risk.
It's not hard to find news of commercial tenants starting to seek more space instead of reducing it in face of the remote work movement.
Planning your portfolio
Every company has to ask itself certain questions based on expected trends. For example, you may project overall growth and location-specific growth – say, expecting to grow staff by 15 percent in the Dublin or Atlanta office. Or perhaps you forecast needing 700,000 sq. ft. toward the end of this decade but today can commit and budget only for 250,000 sq. ft.
The key is to be as flexible with your real estate as many are with today's working style. As hybrid work models take hold, it's time to think holistically about your current and future real estate needs.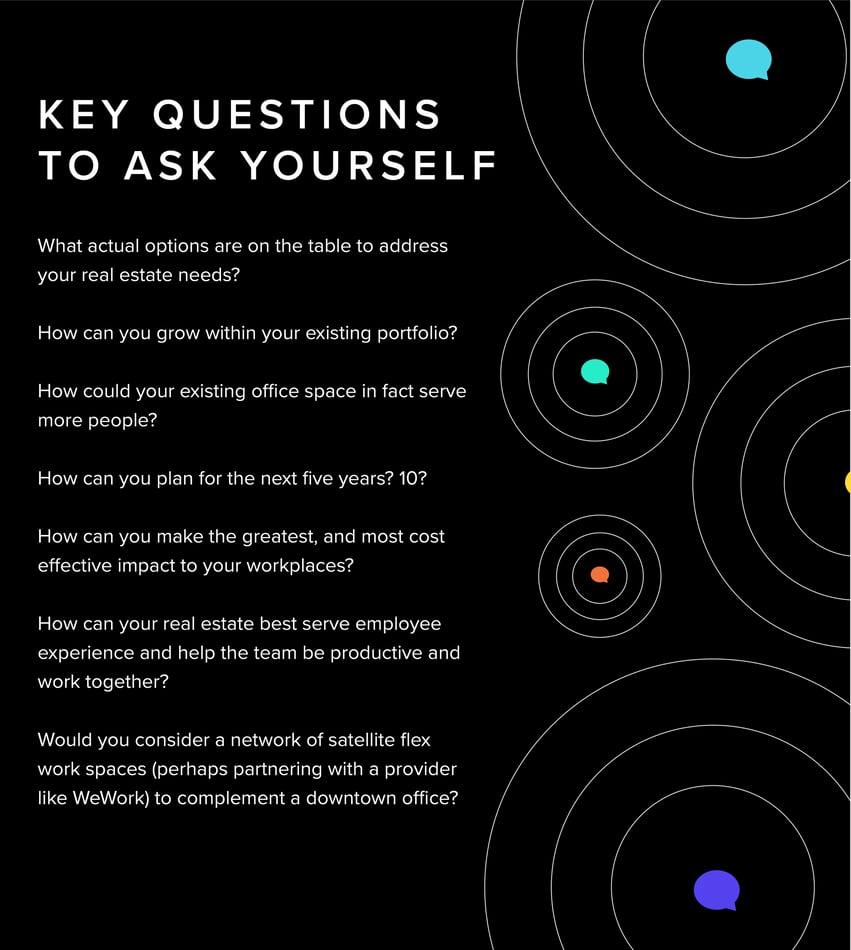 WiFi can underpin real estate strategy
We are in the business of indoor location technology, which provides – at its most rudimentary level – analytics around how many people enter a space, where they spend time, for how long, and how often.
Understanding how people use a space is essential in the new office paradigm. Insights such as visit frequency, new and returning visitors, and the levels of interactivity between employees provide a rich tapestry to design the office, assign resources, inform policies, and, eventually, rationalize the overall portfolio.
Good news: the infrastructure to empower growth is already there. Indoor location sensors that operate off WiFi signals are a strong solution to help you make informed answers to questions like those above. That will help you know, quite simply, if your real estate footprint is worth the ROI. Setting a system to gain your own data, with all its benefits, vastly outperforms an occupancy audit done by an external firm.
WiFi is simple, inexpensive, always-on and ubiquitous. It is unbiased. It enables objective, data-driven decisions based on a true reflection of what's happening inside an office. It does not require you to purchase and instal an infrastructure of location sensors all over the office. And it's more accurate than that approach anyway – proven in this case study.
As one global client told us in June, our solution "stands head and shoulders above the competition." They were drawn to WiFi because it meant they could get data in weeks, rather than months – enabling them to be nimble and more flexible. It's an easy ticket to success: using your company's physical space as a means to achieve growth.