InnerSpace Launches intrack, contact tracing to keep employees healthy & safe
Location intelligence platform provides companies with always-on, private and secure solutions to keep employees safe and business running

Toronto, Canada - July 8, 2020 - InnerSpace, the world's most accurate WiFi-based indoor location intelligence platform, today announced InnerSpace inTRACK, a contact tracing solution designed to empower employers and employees to manage COVID-19 exposure and transmissions in the workplace. The private and secure solution offers employers an easy-to-use way to quickly contain and manage the impact of an outbreak while empowering employees to monitor their own health risk profile.
InnerSpace measures how people travel inside buildings. Similar to 'indoor GPS' the platform uses the WiFi signal from smart devices including smart phones, laptops, and security badges to calculate a person's location. InnerSpace inTRACK identifies the interactions between people as well as overlapping travel paths. This data is used to identify employees that come into direct or indirect contact with someone known to have COVID-19.
"Current Bluetooth-based solutions are limited to identifying direct physical interactions and require employees to download an app or opt in to the service. InnerSpace inTRACK is an always-on solution that identifies all potential exposure risks across an organization." said James Wu, CEO, InnerSpace. "inTRACK is designed to empower employees in their own health management, while enabling businesses to contain the impact of infections and provide much-needed support to their employees."
To see how inTRACK works, check out this infographic here.
To book a demo, please visit: https://info.innerspace.io/en/contact-tracing-intrack
For Human Resources Teams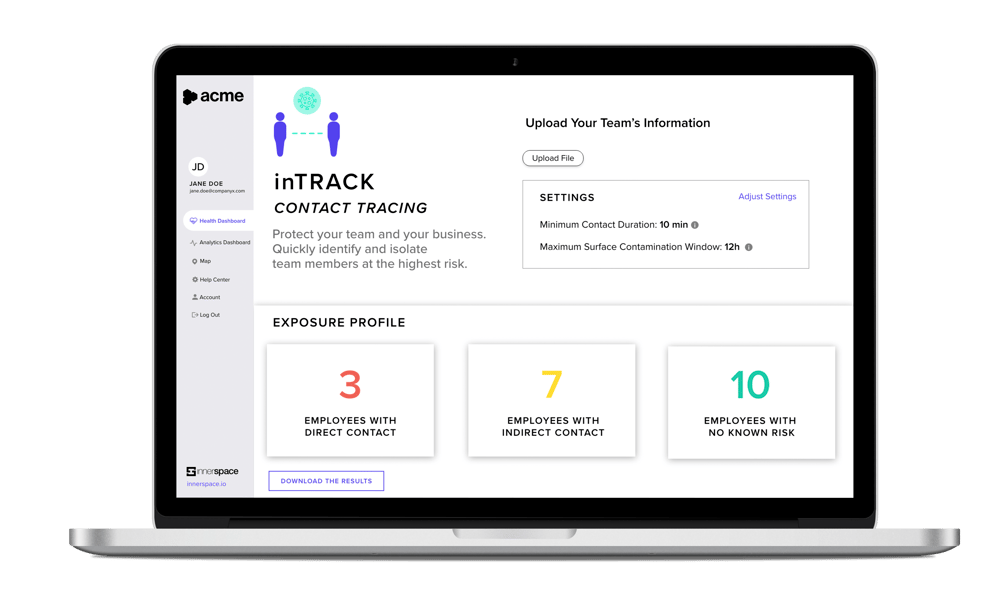 The web-based InnerSpace inTRACK, provides a simple, secure and private dashboard for Human Resources professionals and business leaders to quickly identify the impact to their employees in the event someone contracts COVID-19.
When someone is known to have COVID-19, HR officials upload a unique identifier of that person's smart device to the InnerSpace inTRACK tool. inTRACK identifies the number of people across three risk categories:
Risk Level 1 - Those unlikely to have been exposed to COVID-19.
Risk Level 2 - Those at risk of surface transmission or indirect exposure with a person known to have COVID-19.
Risk Level 3 - Those people who have directly interacted with a person or persons known to have COVID-19.
inTRACK settings can be adjusted to accommodate cleaning schedules and exposure times to accurately reflect the workplace environment and routines. Each query is unique. Employee information and resulting calculations remain in control of the business and are not stored in the InnerSpace platform at any time.
"Leaders need assurance that it's safe to re-open and to maintain business operations in the event of a second wave, or another pandemic," said Cerys Goodall, President & COO, InnerSpace. "InnerSpace is the only WiFi-based platform designed to provide this information to businesses while protecting employee privacy, and painting the full picture of contact tracing by including surface transmission exposure risks."
For Employees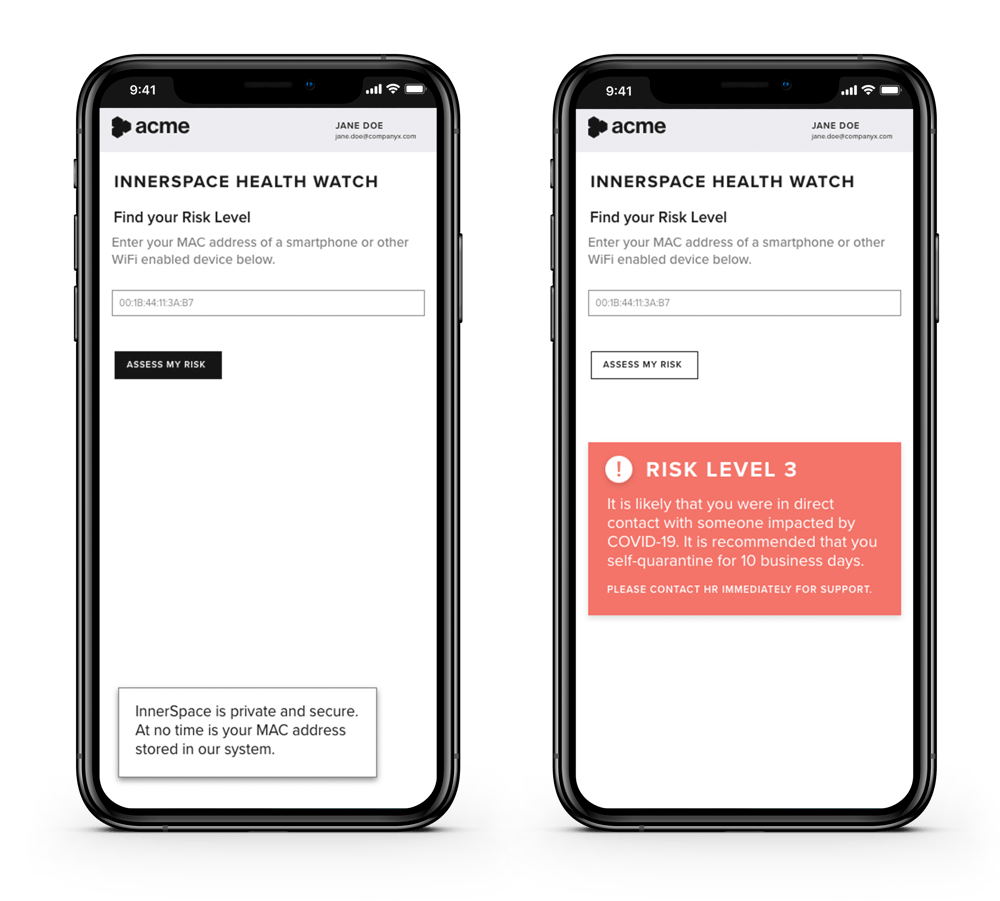 Employees use InnerSpace inTRACK to check their personal exposure risk level. The system uses the unique identifier of their smart device to provide that person with their exposure risk profile. At no time, does the system store the information.
For Health Apps & Developers
The InnerSpace API surfaces inTRACK contact tracing data making it easy to incorporate InnerSpace into existing solutions. All user identification remains managed by the health app, putting full control of the experience in the hands of the user. Key metrics that can be surfaced include:
Employee Patterns - The number of employees, frequency and length of visits helping companies to measure social distancing mandates.
Space Usage Patterns - The utilization and occupancy by key areas, or zones, of interest such as meeting rooms, elevator banks, kitchens to identify risk factors and inform mitigation strategies.
Exposure & Transmissions - Known interactions or possible surface transmissions between employees and someone with COVID-19.
-30-
About InnerSpace
InnerSpace is on a mission to become the world's leading indoor location platform. Delivering the world's most accurate WiFi-based indoor location data, the company gives clients unparalleled
value with its easy-to-use API, out-of-the-box analytics, and workflow initiation solutions. The company's Fortune 500 clients use InnerSpace to create innovative solutions that drive revenue and improve operations in their Smart Buildings. Innerspace.io