Reimagine your campus, without putting a shovel in the ground
InnerSpace at SCUP 2023
Brennan Stang, Director of Client Services
I was recently at SCUP 2023 in Cleveland, Ohio, taking in all the latest in campus planning and was excited to introduce our best-in-class spatial intelligence to the experts!
I got many questions about what InnerSpace can do for campus planning, and why spatial intelligence data is the key to next generation campus planning. Here are a few of my key takeaways from the conference, and the answers to some of the most frequently asked questions I received.
My takeaways
I really enjoyed the conversations I had about campus planning; it's a new space for us, and I learned so much about the demands and challenges that campuses are facing that I can bring back to the InnerSpace team.
We heard about how declining enrolments for some institutions can mean tighter budgets, pressure to reduce operating costs, and a need to re-evaluate and tighten up future infrastructure projects. We had conversations about the impact hybrid work has had on available spaces, and identifying opportunities to reallocate spaces for different purposes how rethinking spaces was a crucial part of campus planning post pandemic.
One of the biggest things that stuck with me was imagining campuses being able to find an entire new building's worth of space without putting a shovel in the ground, through robust spatial intelligence data (and knowing we have the best solution for obtaining that data).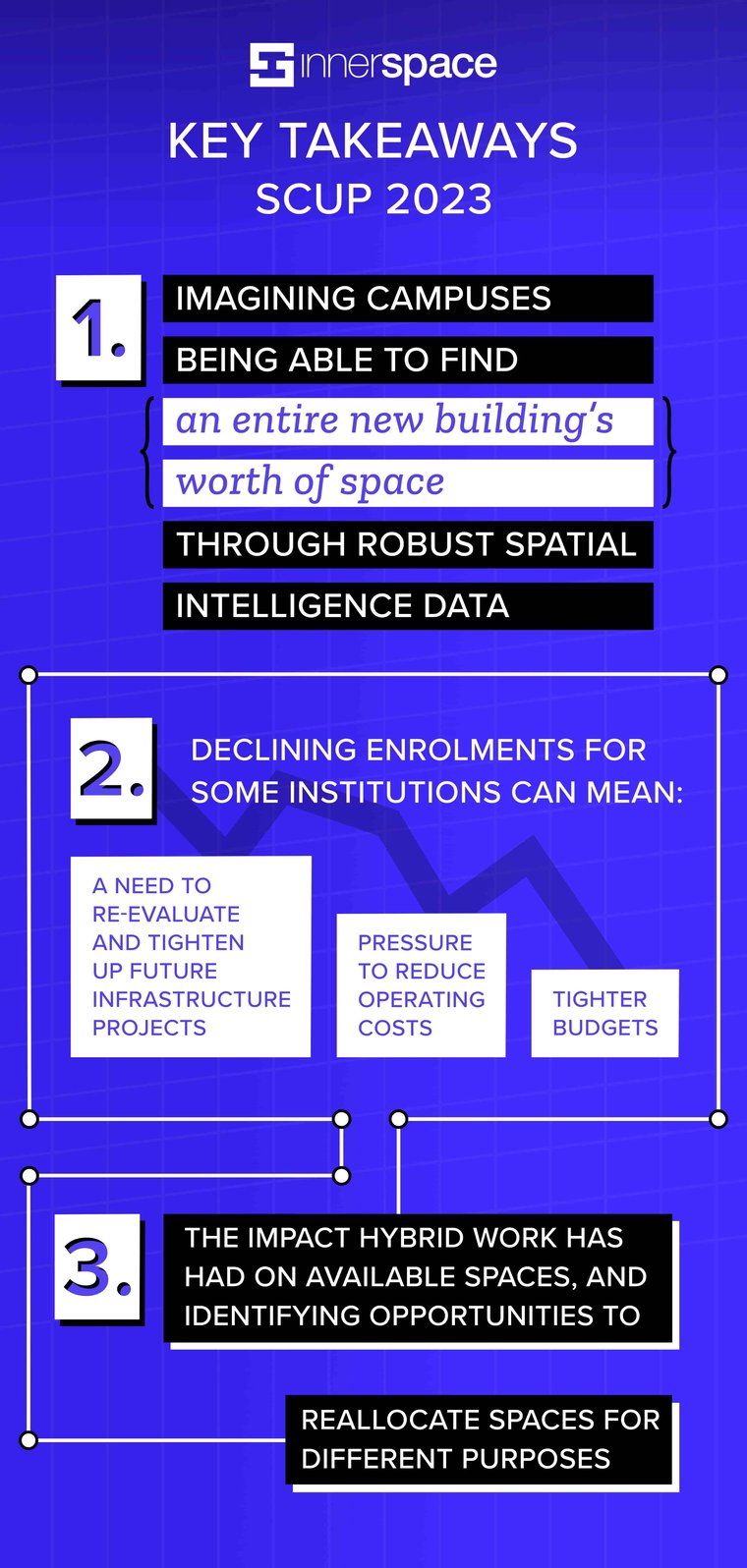 Most exciting for us was knowing how campuses could evolve with our robust, spatial intelligence data, and how our solutions could support the big ideas for spatial utilization that were discussed.
The big questions:
Why do I need quantitative data for campus planning decision-making?
Just like every reputable research project, data is crucial.
InnerSpace's robust data allows you to go beyond people counting and make real decisions around campus planning with the numbers to back it up. Imagine finding a whole new building's worth of space on your existing campus with our deep spatial insights. Imagine being able to eliminate an infrastructure project, like a parking garage and reallocate those funds to something more crucial.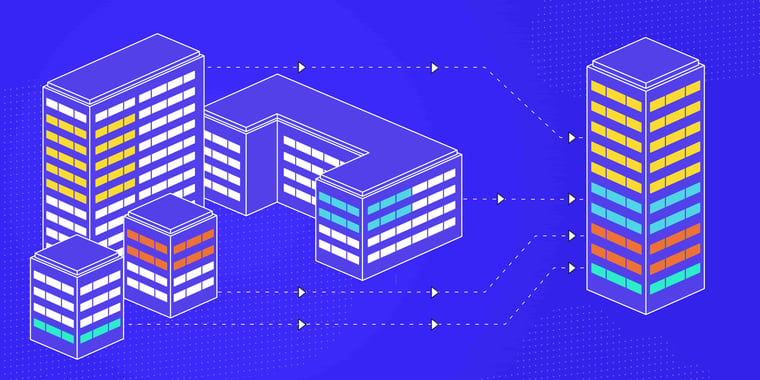 We can help you:
Understand how people move on campus
Visualize how and when certain spaces are in use
See possibilities for your existing spaces with new data insights
Our data can help you rethink the way your current buildings are used and improve the campus experience for everyone.
We looked at sensors and had some concerns. How is InnerSpace's coverage?
How does campus-wide coverage, without any costly sensor installations sound?
InnerSpace can be everywhere your campus Wi-Fi is, to give you a fulsome look at how spaces are being utilized, from classrooms, to coffee shops, to the library. InnerSpace works with your existing Wi-Fi, allowing you to capitalise on your technology infrastructure investments in a new way, beyond your historical data (which is likely radically different, post-pandemic).
The best part? You get all this coverage with no costly and invasive sensor installations, and you can be up and running quickly, gathering the robust data you need to start planning for the future. Worried about bandwidth? Our software has no impact on how fast or slow your campus Wi-Fi is.
How do you handle privacy?
We put privacy first. Here's how.
We get a lot of queries about privacy with InnerSpace's Wi-Fi based systems using our existing Wi-Fi. Isn't tracking movement through Wi-Fi connected cellphones and devices kind of big brothery? No one wants to feel like they're being watched.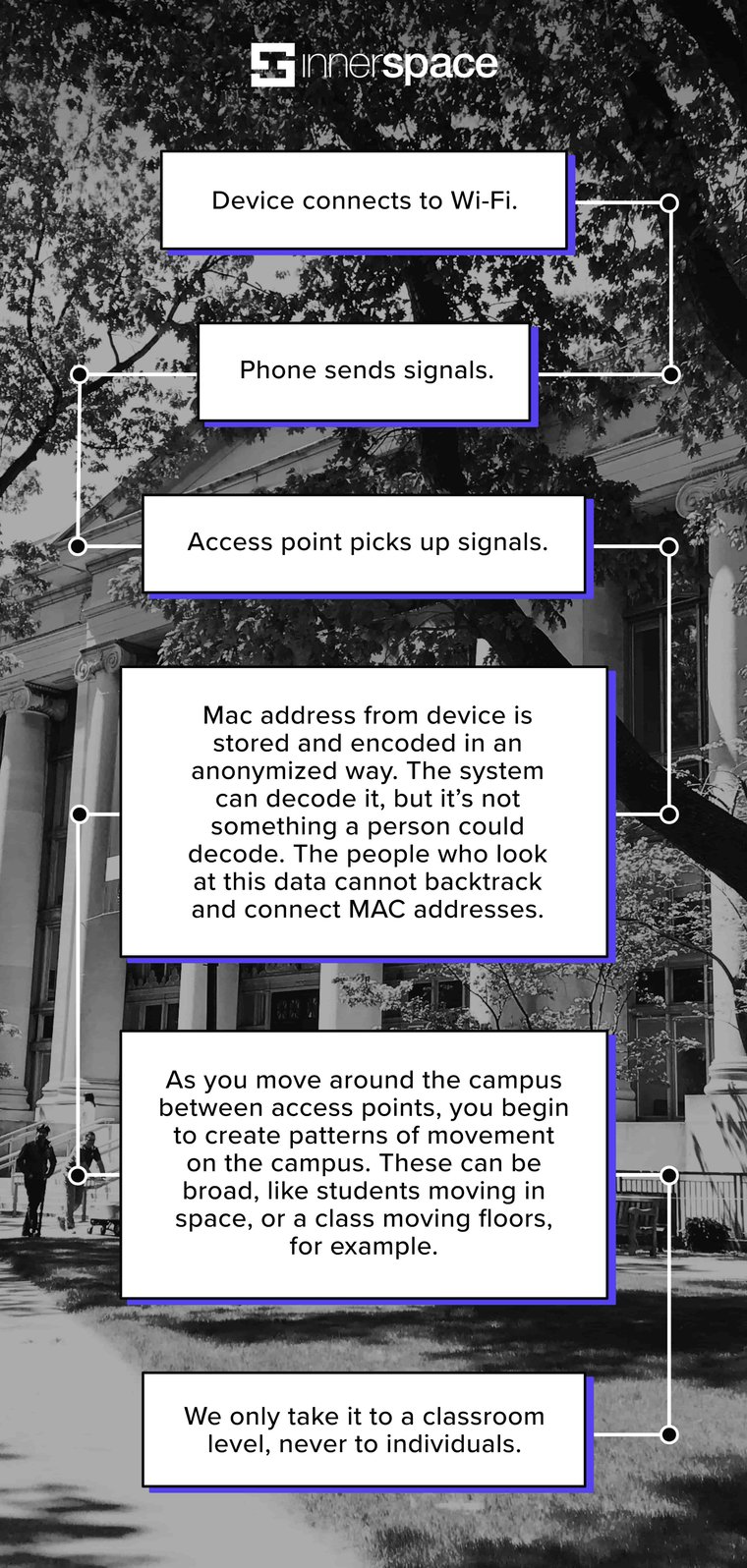 How InnerSpace's space utilization data is different (and privacy safe).
We take privacy seriously, just like you do. We are GDPR compliant, and proudly meet all industry privacy standards. InnerSpace is also certified to SOC2 and ISO27001 standards. Certifying to these standards involves an independent audit confirming the security practices, policies, procedures, and operations meet or exceed standards for protecting information.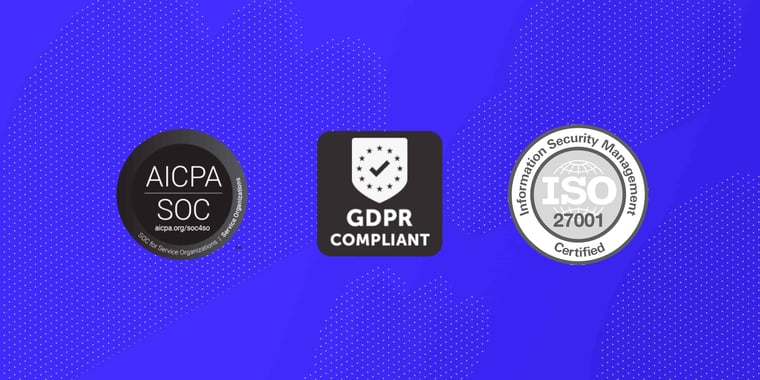 How it works
InnerSpace connects to your Wi-Fi access points (APs), which are the equivalent of a router at home. Students, staff, and faculty also connect to Wi-Fi when they're on campus. We gather the existing signals sent from connected and unconnected devices who are within range of your network. If they have a device and don't connect, we can still see a device and provide insights on that particular device.
Through our patented algorithm, we pinpoint the exact location of an anonymized person within six feet. Because we use existing Wi-Fi, we are able to garner more data than just occupancy, and can know data points like frequency per week seen on sight, dwell times, utilization of specific zones, new vs. returning people along with many more. None of this data ever leaves InnerSpace's systems and is completely anonymized.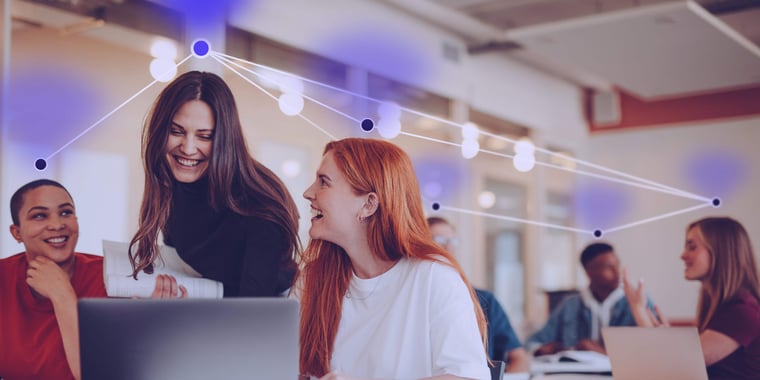 AP gives us MAC address that is identifiable, but our systems anonymise it before anyone looks at it. As your people walk through campus, we can begin to create insights about common pathways and behaviours, and eventually those insights deepen; This can help with resource planning by knowing where and when groups gather can help in resource allocation, such as placing additional tables, chairs, or even tech resources like projectors and screens in those areas
Read more about our commitment to privacy here.
Can spatial analysis help support our efficiency goals?
It sure can!
Investing in spatial analyses can help make your buildings more efficient and ensure that all the space requests are grounded in fact.
Many of our office clients have had incredible efficiency gains through spatial analysis. We'd love to work with you and understand what your efficiency goals are and how our data can help you achieve them.
What can InnerSpace's spatial analysis data do for me?
Our robust spatial intelligence data is a game changer for campus planning. We can help you:
Move beyond historical data to make decisions for how your campus is being used today
Understand how to make the best infrastructure updates based on how spaces are used
Reimagine campus for creativity, big ideas, and productivity

Incorporate sustainability goals into your future growth

Save

money by reallocating space

, instead of building
I'd love to talk to you about our best-in-class, game changing data for your campus. To set up a call, click here.
Want more insights?
Sign up to the InnerCircle about the hybrid workforce, what's new in smart tech, innovative workplace strategies. Sent straight to your inbox, monthly!