Data captured by our leading Wi-Fi-based spatial intelligence platform enables companies to take advantage of their two greatest resources: people and property. Here, we explore the unique metric of frequency.
As companies examine the puzzle of returning to the office, key metrics form the proverbial pieces for determining how employees will actually use that workspace.
We've written previously about the importance of measuring density, and moving beyond occupancy data alone. Now we're taking a deeper dive into frequency – which extends past counting how many people are in an office or zone, and seeing where they go, to distinguishing between who are first-time and repeat visitors.
This singular ability to measure visit frequency through the InnerSpace platform delivers new insights into exactly how individual employees and visitors use your office. Such data brings the additional clarity needed to confidently pivot and adapt as needed amidst changing workplace needs (including the future well beyond our immediate post-pandemic landscape).
This frequency metric is unique to our Wi-Fi-based solution in that it cannot be delivered by occupancy sensors alone. It is fundamental to understanding how different teams make different use of the same space. Where occupancy data reveals the number of people who used a room at some time, frequency provides the color commentary by recognizing who's there for the first time – and who keeps coming back.
This means it's possible to break down space usage by populations (teams) and understand the relative value of resources (like meeting rooms) to different teams that make use of them.
Moreover, our industry-best Wi-Fi accuracy means that we can analyze visitor frequency not just on a building or a floor, but within particular zones and rooms. Without this metric, it's impossible to break down people in an office by population. This is, due to shifting tides of work strategies, a timely benefit.
That's because most companies, from Microsoft and Google on down, are leaning toward a hybrid work model where a certain proportion of staff (in Google's case, a planned 60 percent) visit the office several days each week. The frequency metric can provide valuable data in such a model, demonstrating how often employees from different teams frequent the office and where they choose to work most often, independently or in groups.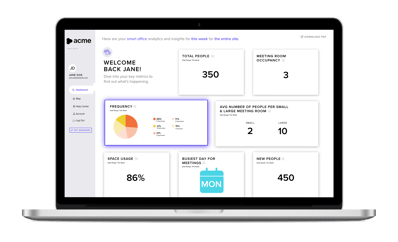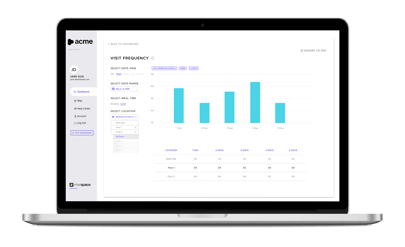 This is a deeper, more granular level of understanding that is more than knowing the density of a particular assigned neighborhood, or collaboration space or cafe – but how often people return to them. From this you can determine the habits, preferences and presumed needs of specific populations of employees – and HR, operations, facilities and IT teams can work together to strategically tailor office design and resource allocation.
Visit frequency seamlessly meshes with other metrics in our platform – meeting room insights, zone utilization, movement patterns, time in zone, real-time occupancy – to give companies the perspective needed to make offices work as efficiently as possible.
Want more insights?
Sign up to the InnerCircle about the hybrid workforce, what's new in smart tech, innovative workplace strategies. Sent straight to your inbox, monthly!