Data captured by our leading WiFi-based indoor location platform enables companies to take advantage of their two greatest resources: people and property. Here, we explore dwell time.
You might know "dwell time" as the online metric that shows how long someone on the Internet stays on your website before returning to Google.
Yet in an office scenario, dwell time takes on a whole new meaning: one that's crucially important to understand within a hybrid work model.
That's because not only is it important to know who is coming into the office and when, but how long they're spending in any given space: be in the cafeteria, a collaboration space, the photocopy room – any common area.
Target: knowing where employees tend to work in an office
Dwell time is key to understanding how long employees stay in a space, and for what purpose. The insights it generates can promote both employee comfort levels and the efficient use of space in a workplace.
Our indoor location platform can analyze dwell times inside rooms, zones, neighborhoods, floors and entire buildings. Fed by both occupancy sensors and existing WiFi location intelligence, the entire real estate footprint is captured – something not possible with occupancy sensors alone.
By understanding where employees tend to dwell the most, companies can:
Test and adjust the office environment in ways that best support hybrid workstyles
Prioritize where they put specific resources
Redesign areas to best accommodate their popularity
Reorganize underused areas to better serve what employees want.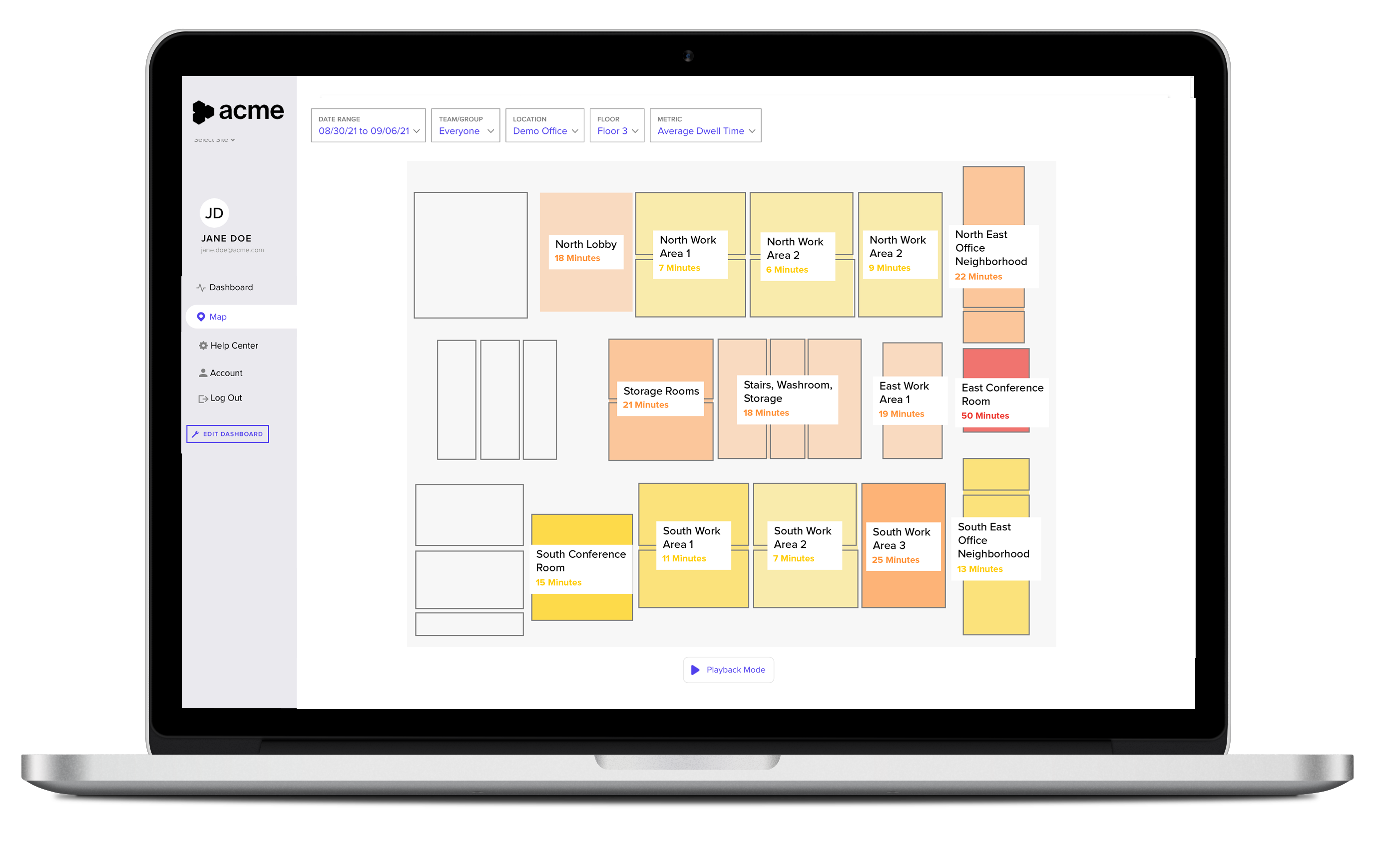 Dwell time is one of several valuable insights available in our analytics dashboard, InTELLO. Users can also gain insights into team-based behaviors, occupancy, visit counts, space utilization by type and time, visit frequency, new vs. returning people, density, meeting room usage, pathway analysis and distinct behaviors of different teams.
It is a comprehensive lens to see how a space is used over time. The key, as always, rests in the WiFi: this ubiquitous technology is what enables InTELLO to be able to deliver metrics about behaviors in a space. In turn, this allows for demographic-based analyses of the metrics – in other words, understanding different behaviors from different populations of people.
Want more insights?
Sign up to the InnerCircle about the hybrid workforce, what's new in smart tech, innovative workplace strategies. Sent straight to your inbox, monthly!