Parades through the streets of Toronto and St. Louis brought a celebratory conclusion to the NBA and NHL seasons. While millions of basketball and hockey fans watched on screens, stadiums that hosted this stretch of playoffs welcomed sell-out crowds that streamed through their gates.
Managing an at-capacity fan base requires a strategic look at operations and, as we detailed in our recent post, 'smart' stadiums can play a huge role in delivering the ideal fan experience and in ensuring each venue runs as efficiently as possible.
In fact, top-tier arenas around the world are embracing the 'smart' future. The Amsterdam Arena, set to host the 2020 UEFA European Football Championship, is planning everything from artificial intelligence (AI) that guides fans to their seats to sensors that monitor and optimize stadium use and management. In Tokyo, plans for the 2020 Olympics also feature real-time data and AI to deliver information to stadium visitors.
Yet such technology isn't reserved for high-profile events. Our recent InnerSpace study shows the underlying potential of indoor location data to improve fan experiences and open new opportunities for operations and retail as part of a digital-first fan strategy.
Two weeks inside a smart stadium
This spring, we introduced the InnerSpace platform to the main arena of a major North American city, home to sport franchises and a regular concert venue. We wanted to understand how indoor location data could improve the fan experience and drive sales.
Our study focused on a two-week period over which we captured nearly 7,000 unique visitors at nine events. In this short window of time, we identified at least $1 million in revenue opportunity.
Uncovering opportunities
Inside a smart stadium, owners gain new insights that were previously unavailable. Where and when, exactly, are sales being lost to long wait times? What's the profile of repeat concession visitors and how can they be best served? What corridors are busiest, which bathrooms are most frequented, which food stations perform the best, when are bars most popular?
Precise indoor location platforms like ours yield such answers. Our study revealed specific opportunities to boost revenue by tracking visitor movement. A few examples we can share:
Retail: Only six percent of fans who visited the concession area also made a retail purchase. By building programs to improve conversion, we uncovered that merchandise revenue could rise by 17 percent at every event to the tune of $1,000,000 a year. Potential strategies to drive that growth include pop up booths at high-traffic areas of the arena well beyond the retail shop, and app-based rewards for repeat concession visitors to redeem at retail.
Concessions: Speaking of repeat concession visits, it was surprising to find out that less than 20 percent of sports fans went for food or drinks a second time. Our data shows that if our client could raise repeat purchasing percent, respectively, it would improve sales by $350,000 a year. Strategies to do so include second-purchase promotions to promote repeat visits and vouchers to visit underperforming food stations.
Wait times: If fans or concert-goers are in line for six minutes – a big difference from five, as it turns out – the bounce rate rockets 13-fold. If fans accessed up-to-the-moment wait times on their mobile to better strategize their trips to concession or retail, it could boost sales by nearly $460,000 a year.
At the same time, the biggest rushes for bartenders: during the second break in play of a game or just prior to headliners taking the stage.
In fact, these breaks between action and acts are critical for stadiums. It is at these key moments that spending is highest – but so too are bounce rates, wait times and visit lengths. That means line-busting strategies here can produce substantial benefits at point of sale.
Informing a great fan experience
"How can we continuously improve the fan experience?" is top-of-mind for stadium owners competing to attract audiences who may prefer to forego the commute and remain in the comfort of home. While tech to immerse fans in the experience of the game or concert itself has been a focus, so too is the need to understand what each specific subset of fans wants in a live event.
Indoor location technology provides new insights into fan tendencies. For example, when it comes to concessions, our study found some marked differences:
Hockey fans typically look for drinks at the start of the third period – and bounce around the stadium looking for the shortest lineups. Intermissions account for 23 percent of concession visits.
Concert fans typically flock to the concessions before the concert and then again before the headliner – with the caveat that bounce rates are highest at that moment. During one concert, as the headliner resumed his set, 12 percent left lineups to find other service stations but 70 percent returned to their seat.
From determining when and which bathrooms are busiest to the optimal food offering based on tendencies of a fan base and that day's crowd size, stadiums can not only bolster sales but make fans more satisfied.
Our study defined several fan personas. Here are two: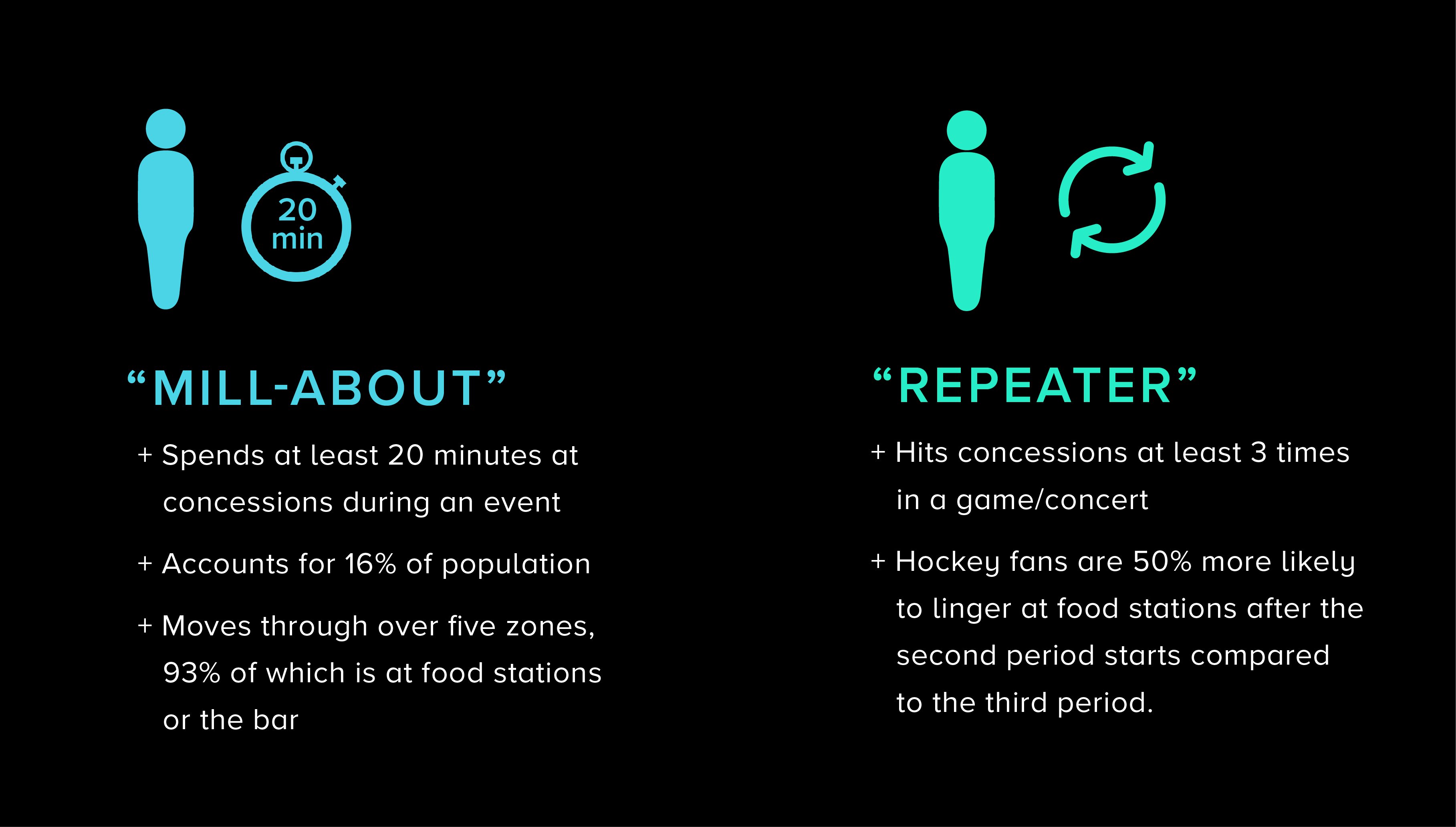 Ultimately, a fan's experience is core to any arena's business model. Once the nuances of visitors' habits are understood, they can be provided with a superior, modern visit from the parking lot and home again. Fan app integration using the InnerSpace API can optimize individual fan preferences, deliver real-time alerts, customize a retail and food experience, and provide visitors the best available routes to move around the arena easily.
With indoor location driving a digital-first strategy we can change the fan experience:
Arrive at fastest gate
Receive a personalized welcome to their favourite concession
Find the least congested aisle to their seat
View wait times and decide whether or not to order to their seat if the wait is too long
Figure out the fastest trip to the bathroom
Receive promotions alerts that incent purchase after the game or concert
Find the fastest exit out when they're ready to go home.
Smart stadiums yield smart operations, satisfied fans
Inside a smart stadium, indoor location illuminates a fan's journey from entry to exit, exposes bottlenecks in traffic, uncovers line-busting strategies, identifies gender-and-persona-based differences, and highlights highest-traffic regions.
By capturing and measuring this data in real-time, owners of smart stadiums can employ strategies to capture more fans, give them what they want, and simultaneously boost the bottom line. As our study demonstrates, it's possible to characterize attendees to a particular event and learn their preferences, learn how particular event outcomes influence consumer behavior, test and measure which sales tactics drive retail performance, and much more.
Stadiums are often hectic, crammed spaces – particularly during playoff runs. Indoor location technology makes it possible to make that space work for everyone.