Companies face the challenge not only of reopening offices, but restructuring them to suit how they expect teams will want to use them. But how can they prepare when there are more questions than answers?
To understand how people use the office, we conducted a study for one of our clients that looked at two different teams. Each group was assigned a seating zone, and by analyzing the WiFi signals we captured in those zones, we could then analyze the distinct patterns of their office behavior.
This client wanted to design the space properly and put resources where they were needed most. But they needed the data to understand the true needs of their teams. The study led to specific, telling results: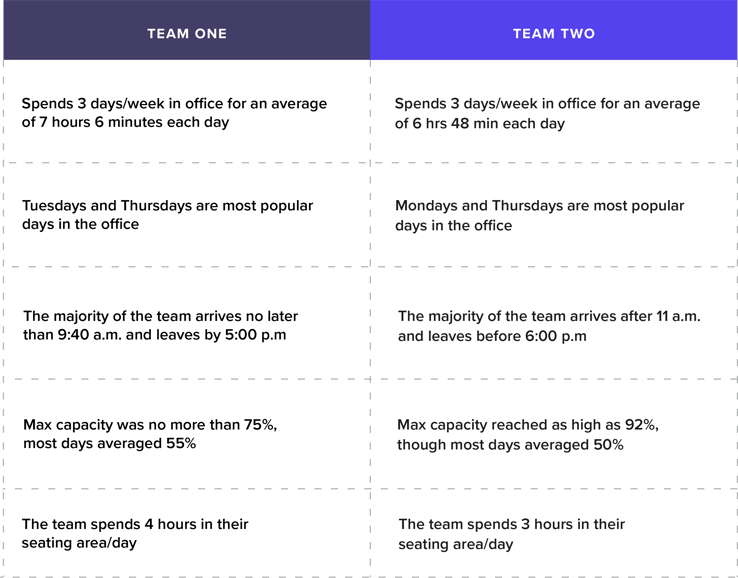 These data points offer insight into how the team uses the office over time. With this data we can infer:
Employees are already quite mobile. They are working offsite two days each week, and while in the office are spending less than 50% of their time at their designated seating area.
Low desk utilization rates means there were more assigned desks than needed, so seating could be streamlined. However, one team does reach 92% capacity dictating that adequate space is needed on occasion.
Both teams could work in smaller assigned seating areas, if the client reserved some space for overflow when needed.
Such intel offers promising information for leaders trying to assess how to approach flex work styles, reduced office occupancy, and the need to build highly adaptable office space.
Space that serves the needs of employees
The ideal return-to-the-workplace requires a clear understanding of employee workstyles so that offices are set up to support everyone. Such "overflow" space, to that end, could come in the form of collaboration spaces, wellness areas, quiet zones, and other adaptable environments.
In our brand new guide on The Future of Work(Place) we explore how to build different design strategies based on the needs and habits of subsets of employees, similar to our pre-COVID study from 2020. This strategy then uses tech, HR programs and the overall real estate footprint to build out a holistic office experience.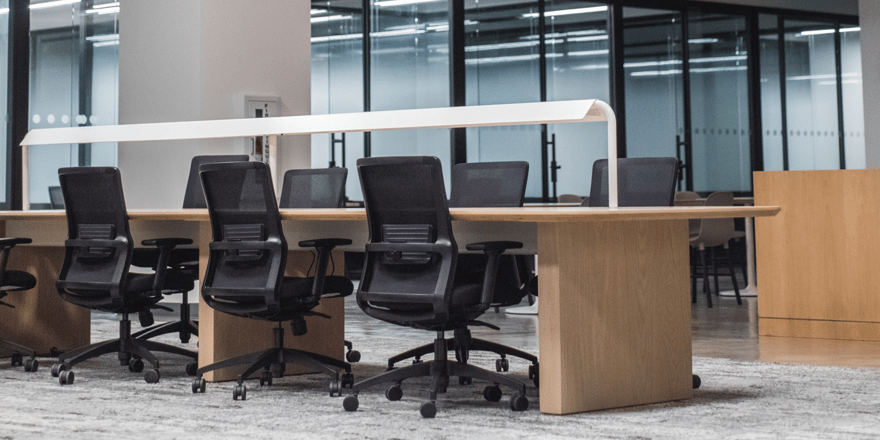 Key insights as it relates to decoding how to restructure the office design:
Dedicated seating – cancelled
People will now be far more mobile than ever before. So why keep space set aside for people who aren't there? Only a small fraction of a company's real estate footprint should be set aside for dedicated seating – if any at all.
Collaborative space – on the rise.
Space for one-on-ones, for larger meetings, for virtual meetings, and other forms of collaboration. At least 70 percent of every office should be flexible space.
Rooms – must be versatile
Offices must be reimagined around rooms that can do more by adjusting to different needs and sizes. Moveable furniture, whiteboards, and other tech to facilitate collaboration is key.
Overall, any strategy must come down to what a company needs – and analytics holds the answers. So: begin the return-to-the-workplace by creating flexible offices. Then measure how spaces are used with indoor location data – and adjust as needed.
Dive deeper into how data can support your real estate and HR needs in the new workplace – download your copy here.