Summer 2005: the San Francisco Coworking Space opens. Two years later, "coworking" appears as a Wikipedia entry, and 75 coworking spaces materialize around the world (according to this timeline). By the time the calendar flipped to 2012, that number had ballooned to more than 2,000.
Now there are thousands more such spaces now operating around the globe. Amidst this explosive growth, WeWork took root and last decade the real estate industry watched both its rise to market leader, then its denouement after a failed IPO.
When the pandemic hit, WeWork and others like Industrious, Knotel, Impact Hub, Venture X, and Regus took a nosedive. What would become of their empty hallways?
As we emerge from the last year, it's expected that those that have sustained operations have an opportunity to thrive, as trends toward hybrid offices take hold and companies look to such spaces to support their return to work.
In this Vox article, CBRE said their data shows flex models will be a very viable alternative when offices rebound – and that coworking spaces will emerge stronger than they were going in.
What could coworking spaces mean for businesses?
Coworking spaces are here to stay and not solely for progressive agencies, startups, and small businesses. In fact, a 2020 survey of 80 global companies by CBRE reveals that even large corporations are digging into flex space: 86 percent of respondents are seeking to grow that particular aspect of their real estate footprint. In general they would be more inclined to lease in buildings that offer flexible workspaces. Real estate company JLL expects 30 percent of all office space to be flexible by decade's end.
What could this mean for companies looking to evolve, particularly when the pandemic recedes? It may be time to recognize that headquarters or downtown offices could be used for specific collaborative purposes, rather than as simply a vessel to house employees every work day, all day.
While executives and HR leaders plan how to bring their office spaces back to life – which indoor location data can inform – the rise of coworking brings an opportunity to conceive a distributed office model. In this vision, growing companies can think beyond leasing more floors downtown or in an adjacent tower.
Instead, bringing the office closer to employees can usher in new levels of accessibility to people who live in suburban communities, and who have long had to deal with lengthy or busy commutes to the big cities.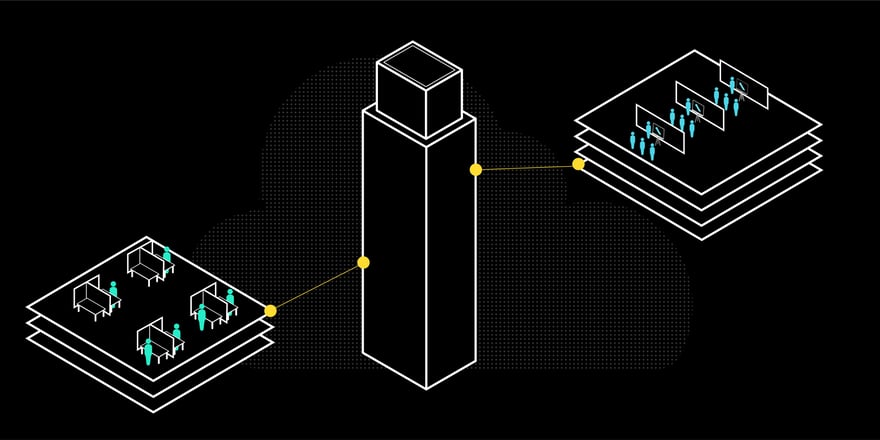 Imagine a network of flex offices
With coworking spaces ready-made and available in smaller communities, companies can achieve a distributed office model by leasing in hubs outside downtown cores. Suburban and rural employees will have the ability to leverage these spaces as-a-service, saving enormous amounts of time and driving greater productivity.
It's time to evolve the traditional thinking around company headquarters. They no longer need to be simply destinations; instead, they can be purpose-built resources, with services people want and need, when they need them. Coworking spaces can provide reliable, easier touch points that serve the flex work preferences of a post-COVID workforce.
This is how an office turns into a workplace ecosystem. One that cultivates a new work experience and cultivates greater productivity. One that recognizes the fact that most companies have a dispersed workforce.