As the return-to-the-workplace picks up steam, with companies plotting when and how to restart physical operations, we can see that flexible work is here to stay. Nine-to-five is a distant memory.
Hybrid models, with employees commuting into the office on specific days for specific purposes only, are quickly becoming a popular return to work strategy for many large organizations. Collaborative technology, modern laptops and accessible WiFi means working beyond the walls of the office is easier than ever before, whether it's from a home office, the neighborhood cafe, a coworking space, or a satellite office hours from downtown.
This flexibility however means that at any time, any number of employees may or may not be available. This requires new types of planning between employees, managers and office administrators. Communication, transparency and trust will form the foundation of how employees work together, and how they are managed.
Communications at heart of flexible workstyles
Since we launched our new guide The Future of Work(place) – which explores how to keep employees safe, productive and engaged in post-pandemic offices – we've been privy to plenty of conversations and insights around what communications mean for a dynamic workplace that mixes remote and in-office staff.
To succeed in this environment, companies need new levels of understanding and teamwork between employees and their managers. While it's important to examine the physical aspects of the return to work, the softer side demands attention too. While the answers may take time to become clear, it's a good idea to keep certain questions in mind as companies forge new hybrid working models:
How can we keep an open dialogue with employees to know how they're doing?
How can we manage different personalities and working styles?
How can we be supportive teammates when in-person work is greatly reduced?
What's considered "keeping in touch" vs. over communicating?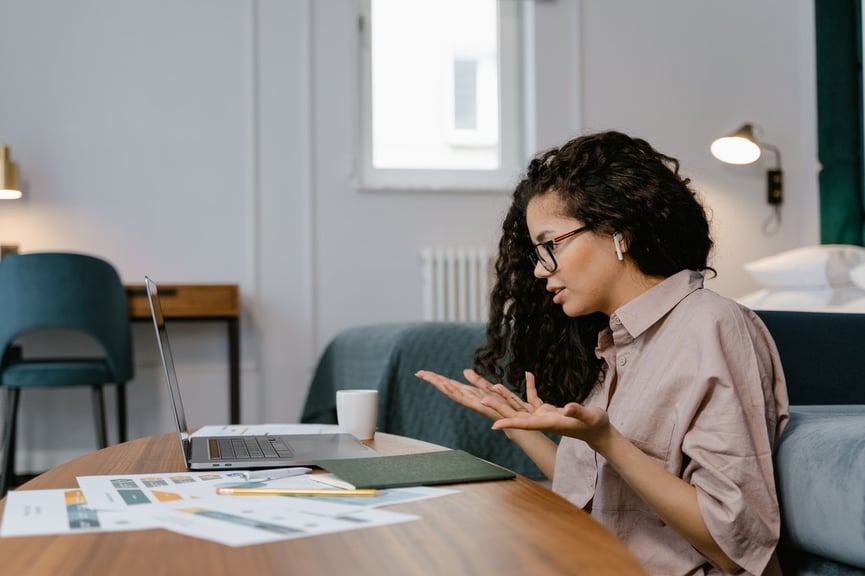 10 key tips to communicate well
Here are some ideas that have sparked our own thinking around how to shape communication that drives teamwork and employee management.
Allow for individualized communications
Giving employees choice goes a long way toward unity and productivity. Managers need to ask how each of their direct reports prefer to stay in contact. Prepare for different answers – some will appreciate a text message, others will not – and you can expect those choices to shift over time. "Personalized medicine" has been a hot topic for over a decade. Why not "personalized employee management"?
Get everyone on board
For big changes to work well, expectations must be set to eliminate confusion and ensure a streamlined return. Early on in a return-to-work strategy, each employee and each manager should establish clear preferences and agreed-upon responsibilities, with specific, measurable goals in mind. This can include everything from work hours and days in the office to manageable performance objectives during the transition period .
Create connections
For a flexible workforce, structure is important. Consider daily huddles, whether 1:1 or in groups depending if a team operates more independently or collaboratively. Regular points of contact maintain the bridge, and it's a proactive method to address employee issues upfront rather than having them linger.
Establish a preferred video conferencing solution
Zoom, Teams, GoToMeeting, Google Meet…. we've watched video conferencing take galactic strides lately. It's more personable than audio conversations, and while it can't replace face-to-face conversations, in a hybrid work model it can offer important visual cues – and it's great for small groups. Pick your team's preferred platform and go all-in from there.
Have a channel that's always open
Business messaging applications are an excellent way to create simple, informal and time-sensitive communications. The options are many (Slack, Teams, Google Hangouts, Flock, Glip, Zoho Cliq….) so have the team choose the platform they'd like best for instant check-ins, answers and approvals. Emails are no longer the primary mode of internal communications.
Set purposeful non-work chat time
In a flex world, we'll have fewer run-ins in the hallway, by the ole water cooler, or at an impromptu team lunch. Cut the stress and boost team camaraderie by holding regular non-work sessions where any topic is on the table, whatever is on someone's mind. At InnerSpace, we've been hosting Question of the Week where one team member posits a question to the group. It's a great way to share more on a personal level in a light-hearted and manageable way. Tactics like these help establish and maintain unity and be a supportive time to help each other no matter the subject.
Don't lose the feedback
Mobile work can bloom feelings of disconnection because it's easy to feel isolated. One great method to overcome that is to provide regular feedback (weekly or even daily) on projects and peer-to-peer assessments, helping forge better connections. Creative and authentic rewards/recognition plans would be a further boost.
Ensure managers are in the loop
Effective communications must be embraced beyond the executive team. To truly resonate, managers down the line must understand how employees working in a hybrid model should be led and managed. HR teams can help ensure all people managers are up to date with the skills required to support teams in this new dynamic.
Don't worry about over-communicating
Chances are, the strategy you set with the team from the start will guide an acceptable rhythm of communications. It's certainly possible to overdo it to the point of distraction but a far more prevalent issue is under-communication. Find the right balance by being consistent and intentional with communications among the team in whatever forms are working well.
Use in-person time with purpose
With most employees returning to work a few days a week, it's important to ensure in-person time is used wisely. Use this time to foster collaboration and culture with your team, but also schedule important 1:1 conversations. Establish new routines and set clear priorities and objectives for in-person days so that everyone is aligned with expectations.