As the return to the workplace sets up to be flex-first for most companies, assigned seating will give away to the need for hot-desking, hoteling, and neighborhood arrangements. With any strategy, the ability for employees to find and reserve a desk is key to productivity and a frictionless experience.
Desk reservation systems enable employees to choose where they need to work based on teammates, physical distancing, and available resources – a level of flexibility that was coming into focus well before the pandemic. (A 2017 report by Gallup shows 37 percent of staff would switch companies for a more flexible workplace.)
Desk reservation systems also enable leaders to monitor and adjust workspaces so they are best used over time – and accommodate more people in any one space via wider employee:desk ratios. A 2020 CBRE survey reports that three-quarters of senior real estate executives said flex space is key to their long-term strategy.
Desk reservations 1.0
A common approach to providing a desk reservation system is to use seat sensors coupled with a digital booking system. If the seat sensor – often located on a chair or underneath a desk – detects no body, then the desk is open to reserve. But there are clear drawbacks here: there are many reasons why an employee may not be at their desk at any given moment – and so false negatives can be troublesome for both the employee experience and the data the system collects.
Another approach is to use occupancy sensors, which are line-of-sight sensors placed above desks or groups of desks. This sensor still possesses much the same drawbacks as the desk sensor. People may book a desk for a half or full day, huddle in a conference room a few times, and be away from that group of desks.
In addition to the limitations in the data and the experience, one of the primary drawbacks in this approach is the density at which a company needs to deploy sensors. Blanketing an office with seat sensors and occupancy sensors can be costly to install and often requires ongoing management and sensor replacement.
<In this blog we've detailed the merits of moving past measuring occupancy alone, which is just one piece of the puzzle, to capturing robust set of indoor location data.>
Desk reservations 2.0
To minimize the investment in sensors and provide a more robust dataset that can drive a variety of experiences over and above desk reservation, InnerSpace uses highly accurate WiFi analytics as its foundation.
Using Wifi as the foundation for people analytics is a highly scalable way to understand where people are working. Its <2m accuracy means InnerSpace can use the existing WiFi network to assess how many people are in key neighborhoods, collaborative spaces and meeting rooms.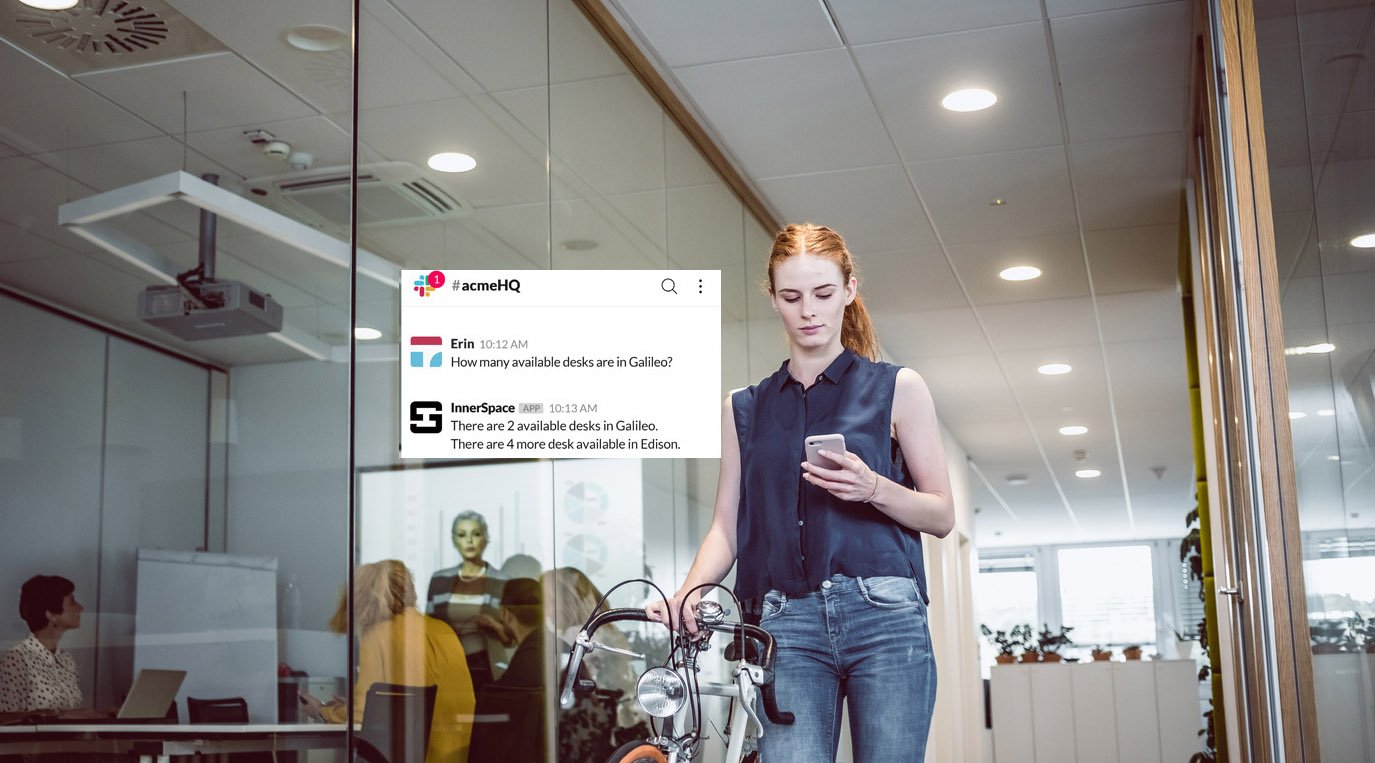 The outcomes of an employee finding a desk are the same, but the approach is slightly different. In desk reservation 1.0, an employee will book desk #532 on floor 5 in the north east corner. In desk reservation 2.0 using WiFi, an employee will see available seating on the 5th floor and find an empty desk to work from.
Let's use the example of a neighborhood with 30 desks where InnerSpace identifies 11 people working in that particular area. Employees can thus reliably conclude that there are 19 spots available and make their way to the area.
This same booking system supports meeting room reservations as well – another major hot spot for the return-to-office planning. A key challenge to reserving desks and meeting rooms is those that are booked but unused, sitting empty when employees change their schedule. An integrated indoor location data platform will release unused rooms back into the system – helping staff see what's truly available and workplace/facilities teams to capture trustworthy intel over time to see what areas are working best. This fluid automatic release/booking system supports impromptu meetings, reservations made when people arrive at the office, and helps avoid double bookings.
Key outcomes from a 2.0 desk reservations approach include:
Ability to find available workspaces including neighborhoods, collaboration spaces, and meeting rooms
Identifying and measuring employee demographics using key workspaces
Assess and allocate resources based on employee needs
Identify density hot spots and risk areas
Surfacing information to employees to make informed choices
Desk reservation systems are an important part of the return to work toolkit – but it's imperative that they fit holistically within a dynamic office plan. We can help you take a deep dive into your needs as you plan the return to work.