Q: What's the most efficient way to determine meeting room needs?
In the two months since Company X's team returned to the office in a hybrid capacity, it's already clear that the pre-pandemic office design would no longer suit employee needs.
In this new model of work, staff tend to use the office for specific purposes – primarily centred around collaboration, socialization, and creativity. As a result, management could see that the space needed to change to suit those tendencies. In particular, meeting rooms had to evolve.
The facilities team had been given a budget to change up the layout but before it was approved, finance wanted assurance that the proposed upgrades were necessary. To prove that they were, operations needed quantitative data to show why their decisions were warranted.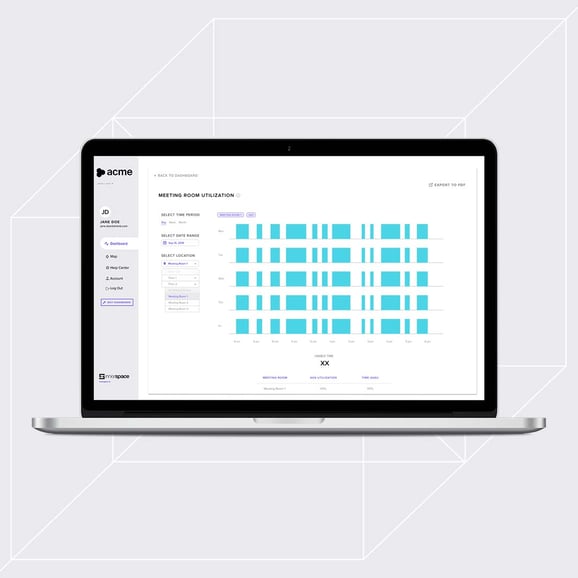 Answers found in spatial analytics data
Operations deployed the InnerSpace platform to collect indoor location data, using their existing WiFi network. They uncovered insights into how its employees had been using individual meeting rooms over the last two months.
The current layout of two large boardrooms and multiple smaller breakout rooms proved to be inefficient at meeting demand.
The large rooms were frequently occupied by only a handful of people, while several of the smaller rooms were not dynamic enough to meet the various teams' evolving needs. Furniture was frequently pushed aside to make room for creative brainstorms; seating was routinely moved from one room to another, and crowding was often seen in the kitchen areas due to staff's inability to find a space that worked.
Beyond just head counting, InnerSpace's occupancy and space analytics offered clear insights to inform the need for flexible meeting rooms that offered enhanced technology and other purposeful resources to meet the needs of Company X's new hybrid workforce.
It also provided team-level insights: for instance, marketing seemed to need its own dynamic meeting room arranged with light, moveable furniture and walls with an abundance of white space.
As the operations team put together their business case for the funding required to change static meeting rooms into functional collaborative spaces, they could go beyond recommending furniture options and pricing. Analytics from the inTELLO dashboard quantitatively demonstrated occupancy and utilization trends to provide definitive answers to the who, why, where, and when.
Key metrics uncovered by inTELLO:
+ Meeting Room Utilization Overview
+ Meeting Room Occupancy
+ Meeting Room Availability
Enhanced Data and Visualization Made Simple
The inTELLO analytics dashboard displays InnerSpace location intelligence data as a series of simple cards presenting answers to common questions about space usage. Its at-a-glance nature is augmented with detailed charts and graphs that present the full spectrum of historical data for reference over periods of time.