The honeymoon phase of working from home is officially over. And despite misleading headlines touting that most companies will move to permanent virtual operations, the reality is that we've learned something during this pandemic. The office is a desired destination that provides opportunities for greater team cohesion, collaboration, social connection - and yes, even actual work.
A recent CBRE survey found that 60 percent of respondents said they will return to the office for community and collaboration. Add to that, 54 percent of company leaders surveyed said they preferred a hybrid working arrangement for their team (a combination of working remotely and from the office). As employees show their fatigue of working from home, businesses are looking not to get rid of the office, but instead reconsider its purpose.
The office spaces we return to will be far more transient, service-oriented, and designed to support work when and where and how it's best performed. Our clients are shifting toward a Dynamic Office - where offices offer concierge-like experiences, hotelling, dedicated spaces, and are ever-changing to meet the varying needs of one's employees.
In order to achieve this, data is key.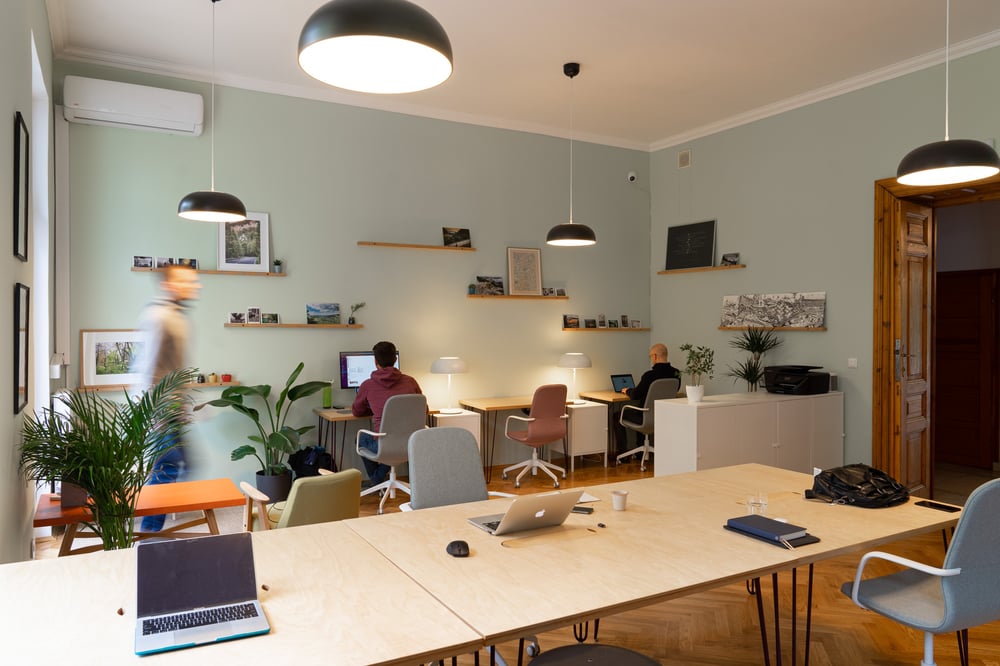 Embrace the full potential of location data
In our recent post on occupancy data, we outlined the importance of counting people in a building, or an area within a building, over a set period of time. Occupancy data measures the number of people in a space, identifies the busiest times/days people visit, and determines which places are most frequented. Its purpose is to manage occupancy for both safety and business continuity, to assess and allocate resources, and to measure general strategy performance. But occupancy is this only one piece of the puzzle.
Consider: what's the purpose of limiting how many people can be in a space, if they congregate close together? How does one department use the space versus another? How often do people visit the office as new work behaviors emerge? How long are their visits and what resources do they use while on-site?
That's where location data comes in. Indoor location data understands the movement of people and things through a building. This anonymous intel reveals trends in how people are using and interacting in the office, so businesses can implement better protocols, manage utility and optimize spaces.
Location data is used to provide metrics such as:
Time spent in building, on a floor, or in a room
The number of new people/visitors to the space, and the number of people who have frequented the space before
How often someone frequents a space
Common travel pathways
And it's these data points that can be used by organizations to strategically improve the office experience:
Contact Tracing - Understanding exposure risks, and identifying the number of people impacted in the event someone is known to have COVID19. Indoor location data can show direct interactions, as well as indirect exposure such as sharing the same meeting room at different times in the day.
Real Estate Utilization - Assessing how meeting rooms and other resources are being utilized across the employee population. Measuring the amount of underutilized office space so that it can be reconfigured. Longer term, assessing an entire portfolio to inform leasing strategies.
Dynamic Office - Incorporating this live data into room-booking, building management, security and communications platforms to keep employees informed, improve productivity, and find resources - when and where they are needed - and to do so safely based on their own preferences.
Five ways to get the best location data
To get the best possible insights from location data, it's important to choose the right technology partner. A good starting place is to ensure the technology is:
Always on: To truly get an accurate view of that big picture, it's important that the technology is running all the time. In addition, a platform managed in the cloud ensures access to the latest information and a comprehensive dataset.
Scalable:

The solution should be easy-to-scale so businesses can get data from across all their spaces, regardless of company size. Today's systems range from proprietary sensors that use PoE (power over ethernet) to avoid battery replacement and ongoing maintenance, to systems that use WiFi access points already available in the space.

Passive:

The key to capturing high-quality data that generates new insights is making it simple to implement without having to rely on people to download or use an application. Optical and WiFi-based sensors eliminate the need for people to download an application in order for it to be useful.

Anonymous:

Data privacy is critical. No personally identifiable information should be collected or stored, and it's important to select a technology partner that is

GDPR compliant.

Accessible:

The data should be easily available to leaders, whether they're accessing the information from the web or via mobile while on-the-go.
Forward thinking business leaders are continually assessing their real estate portfolios and how their buildings support their business objectives and employee productivity. A business that can facilitate opportunities for employees to come to work as they need, that can keep people safe, and can dynamically adjust to their ever-changing business strategies, is one that will have a strong foundation for success.
Haven't read the latest on occupancy data? Check it out here.