Back in the spring, many major companies were solidifying plans for an office return in September, keying in on hybrid workstyles that would give employees the flexibility to visit the office on specific days for specific purposes.
Yet with that timeframe around the corner, lingering questions remain, questions that extend far beyond just the practical side of how, where and when to return. For employees, the emotional fallout from COVID's impact and uncertainty has taken a major toll on their mental health – and it's important that companies keep this in mind as they welcome their cohorts back.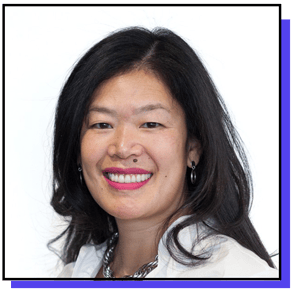 For guidance, many companies have sought the expertise of organizations that build and design plans for offices. Susan Chang, Principal, Regional Leader of Consulting for HOK in Canada, is one such expert who specializes in advocating for clients and planning and creating spaces that respond to the needs of all people. Recently, Susan chatted with us about the importance of developing a targeted change management approach and how she and her team guide organizations through the physical changes that can influence the softer side of returning to the workplace.
"We work with clients who have thousands of employees, and what we're seeing is that people are incredibly stressed from the events of the last 18 months," says Susan. "They're mentally maxed out, and it transcends industry."
Susan recommends that leaders ask actionable questions and leverage quantitative data to benchmark against what their employees need. That extends through office procedures, policies, and design.
"Issuing blanket mandates and assuming that everything will just fall back into how things used to be is a huge disconnect from what an effective return to work strategy must entail," says Susan. "People have made unbelievable changes in their personal lives. To expect them to suddenly revert back to how things were can be quite detrimental to culture and morale."
Hybrid workplaces require thoughtful design
Hybrid work models necessitate an entirely new approach to how we use the office space – shared desks, no assigned desks at all, re-configured collaboration spaces. Depending on a company's structure, this could be both transformative yet upending for employees, who just went through 18 months of uncertainty at home and are now forced to grapple with an office environment they don't recognize.
Without proper plans in place, this can exacerbate already-growing anxiety and other symptoms staff members may be experiencing.
"The planning and communications need to start now in terms of what people should start to expect upon return," says Chang. "A key tactic is to identify change ambassadors for your organization. External consultants can provide best practices and guide you through important considerations, but ultimately, the communication itself and the ideas inherent to your company need to come from your team."
Yet arriving at what people should expect is an entire task within itself (read more in our next blog post that explains more on the process!) and the reality is, not all of it will be clear right away.
Use data to drive meaningful change
Our Director of Client Success, Talia Poleski, says it's crucial to measure how people are actually operating through a workplace. "It's all about how people work within a space, and how flow and movement impact efficiency, culture and comfort levels."
Without accurate data, design changes are subject to the perceptions and biases of department heads who may have an ill-informed view on how their real estate is functioning and how their teams are using it. This is an even greater likelihood in a hybrid work model, when people are not routinely in-office to see first-hand what's happening on a consistent, daily basis.
"It's common to have employees complain that they can't find a space to work or a desk to use, but when an assessment is done, half the time it's just that the space isn't used well," says Talia. "Pre-COVID, real estate was often territorial by department. But now with a hybrid model, people are going to be in the office for specific purposes. The only way to know exactly what's going on is to measure it."
The consequences of best guesses are costly to the bottom line when it comes to real estate – but also to employee wellbeing, morale, and their trust in an employer who may not seem to understand their needs.
"Finding out the true story can even mean the difference between cutting a real estate portfolio by 10 percent vs. 40 percent," says Talia. "It also means supporting staff, building their resiliency, and setting them up with the resources and space they need to be successful, even if the office ecosystem is changing."
Indoor location technology can unlock insights about your staff and help inform thoughtful design that suits both practical and emotional needs. Capturing data can reveal not just what a company needs out of its offices, but what individual teams need from those offices. This quantitative data, in turn, can inform a design-friendly workspace for a new hybrid world.