Twenty chairs at a long horizontal boardroom table. Six more lining the back of the room, never used. A TV screen on one wall that only half the attendees can easily see. Arteries of cords running from two speaker phones pumping a handful of expansion mics across the table. Soon, this will be a distant memory. As companies look to return to the office, flexibility will be a primary focus that transforms meeting spaces.
Collaboration, as we recently wrote, will be why offices remain essential to businesses, and the primary driver of why employees visit the workplace. Now as we rethink the role the office plays, meeting spaces will need to evolve to support collaboration, socialization and creativity.
Whatever one's office is going to look like in coming months and years, a huge factor to contemplate is what meeting rooms will look like when business needs evolve fast and half the staff is off-site at any given time. The answer is to make each such space dynamic.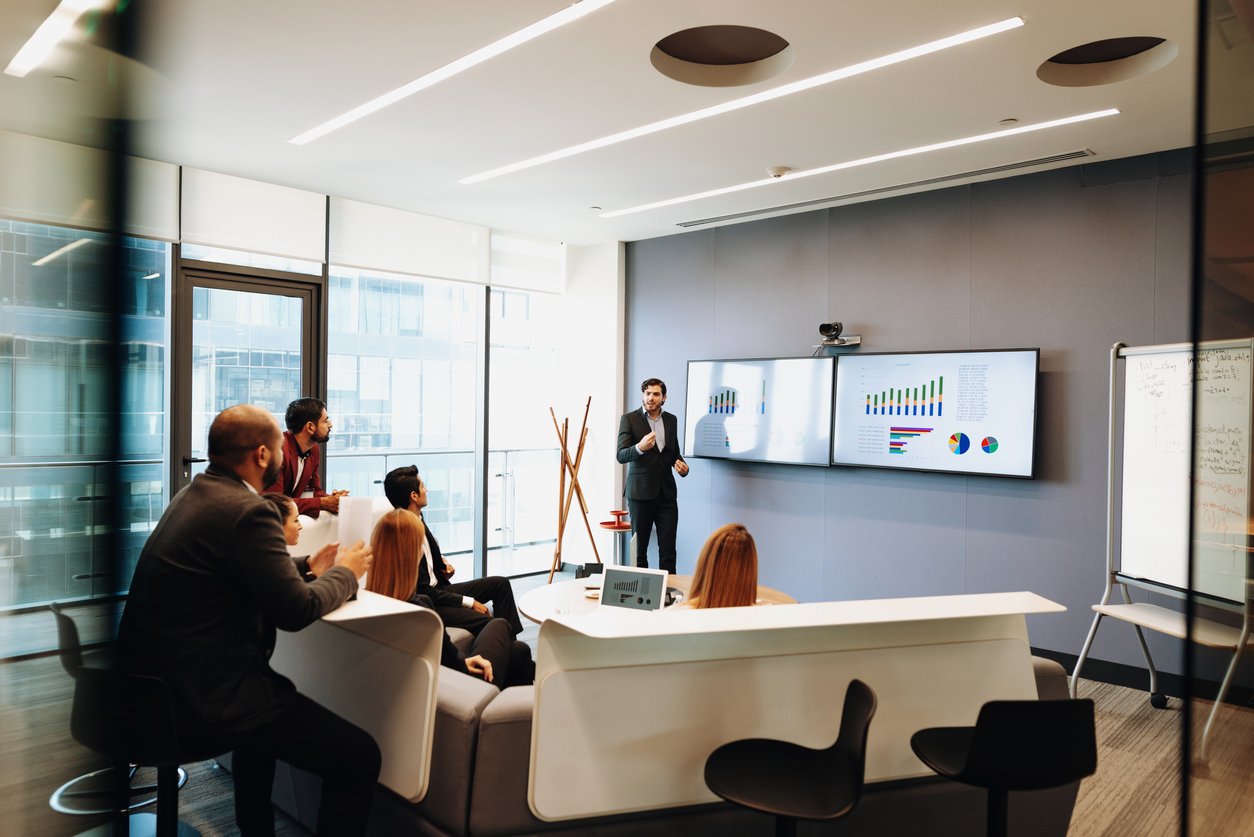 Consider the physical layout...
Traditionally large conference rooms take up a lot of real estate – but may not be needed much anymore.
Dynamic meeting rooms are those that can be flexible enough to serve diverse needs. They can be configured easily into any desired layout. At a more rudimentary level, these rooms are able to accommodate different seating layouts, such as lecture, theatre, classroom, or rounds. But more importantly, each room should enable meeting participants to arrange it as needed both before and during the meeting, if necessary.
These spaces, equipped with light, moveable furniture and walls, are able to house collaborative sessions of all sizes. Begin by assessing what meeting space you already have, how it can be reconfigured, and then what other spaces could evolve into meeting hubs if a fraction of staff is expected to be in-person at any given time. Indoor location technology can deliver this intel – more on that in a moment. If it turns out that most include about four people, multiple 10-person meeting rooms should be reconfigured to maximize the space.
Companies like ROOM, for one, are investing heavily into creating purpose-built meeting space for companies, with new modular meeting rooms that are fully adaptable. In a recent Propmodo article, ROOM's co-founder described how Lego inspired their team to create a product that was universally compatible and endlessly expandable – key qualities of the dynamic meeting room.
Another example of a company that is putting collaboration first in design is Unispace, which is testing its "Propeller" approach to collaborative workplaces with clients around the world. It is redirecting the purpose of the office away from individual work stations – instead leaving that to the home office – toward meeting rooms and spaces that foster collaboration, problem-solving and social networking while reinforcing culture and innovation.
Now, in step with redesigned physical layouts, it's important to consider what technology they will house.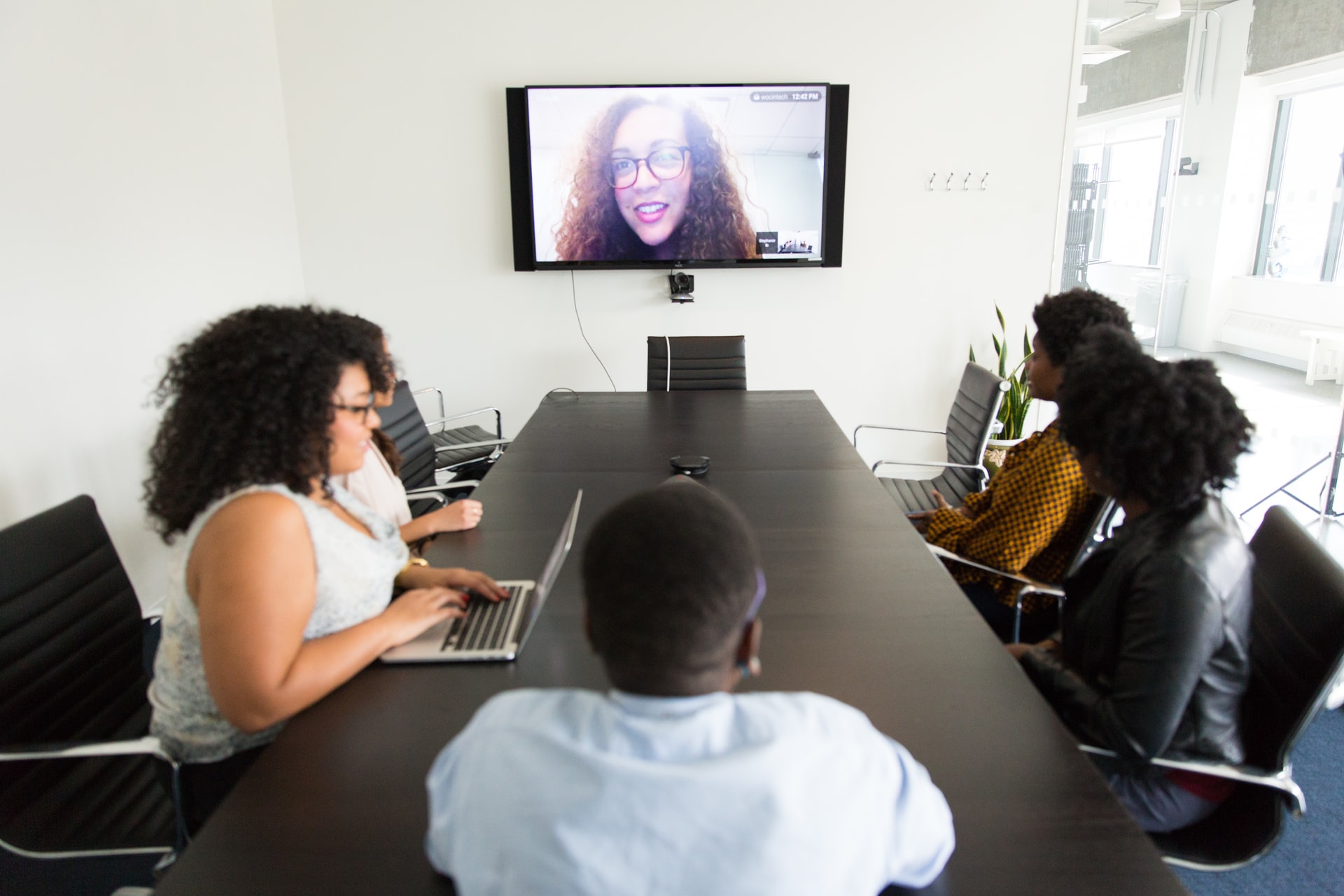 ...Implement collaborative technology
Of course any dynamic meeting room will be tech-forward. These spaces must not only foster collaboration among in-person and virtual attendees, but ensure that those working off-site don't feel like outsiders.
Fortunately, collaborative software is emerging into view that will ensure meetings are truly inclusive. Leading the pack is Microsoft. Their "Teams Rooms" integrates physical hardware with its video conferencing software. On-site teammates can select a layout for how they want to see all off-site colleagues on screen. And tech like Smart cameras and mics that highlight presenters, follow the presenter around the room, and even feed a real-time transcript of what's being said, are new ways to engage remote participants in the action.
Meanwhile, companies can upgrade hardware in a technology-outfitted dynamic office via high definition video and audio solutions, WiFi-based connectivity (including wireless charging pads), and digital interactive whiteboards where anyone in a meeting can draw or write on the screen that everyone sees. Variable light settings are also now a coveted add-on, as we all need to think a little more like film directors if video conferencing is here to stay.
Mix this technology with a flexible meeting room layout and you have the recipe for a dynamic office, one that supports genuine collaboration amidst teams inside and outside the physical office.
… And use data to measure performance
A vital step is to make sure your dynamic offices are working as intended, and be able to tweak them as needed. Here, it's all about show vs. tell, using quantitative data that can demonstrate if the changes are effective and used as intended.
When using InnerSpace, you can not only monitor occupancy levels, but our API can generate improved experiences for your Smart meeting rooms such as automated booking and releasing, and initiating technology before someone has even sat down.
Beyond just head counting, our occupancy and indoor location data can deliver richer insights into patterns and trends that can inform the best possible, perhaps most flexible meeting rooms. We can measure new and returning participants, how long people used the space, how the room is being reconfigured most often, and how the fancy new whiteboards are being used.
This rich data helps HR and workplace experience leaders evolve these collaborative spaces to suit how they are being used – even perhaps flagging that one particular team requires its own specific dynamic meeting room arranged in a particular fashion.
The way we work is changing. And the way we meet is changing. Collaboration is the main driver for business moving forward, and dynamic meeting rooms will underpin those efforts, and serve as a base on which to add any new technologies as they become available.