Insights from RETCON2023
The InnerSpace team was at RETCON 2023 this week, and we picked up a lot of valuable information on the future of space in tech, and we came away with a variety of fresh insights and ways to think about a new workplace. Here are some key insights from some of our favourite sessions.
Who is responsible for making an office desirable, and what does it have to do with a modern tech stack?
Jeff Thompson, Head of Global PM Technology Product Management at JLL Technologies stated that hybrid work is here to stay, and that corporate real estate (CRE) leaders need to understand the new landscape, in order to best support their clients.
What does this have to do with a modern tech stack?
To have a modern tech stack, you need your teams in the office, and to do that, you need an office worth coming into. But who is responsible for making these types of digital workplaces? Is it the company owner? HR? The landlord or owner of the building? This may vary, but to ensure you're able to compete at a high level as a tech company, you need your teams collaborating, and at least part of time, that needs to be in the office.
Making return to work work means working together
That's a lot of work! But it is a lot of work, ensuring teams can bring their best selves to the office and maintain a strong work life balance. That can mean including the landlord in the conversation around amenities and working closely to market the space to employees, a skill that wasn't required pre-Covid 19.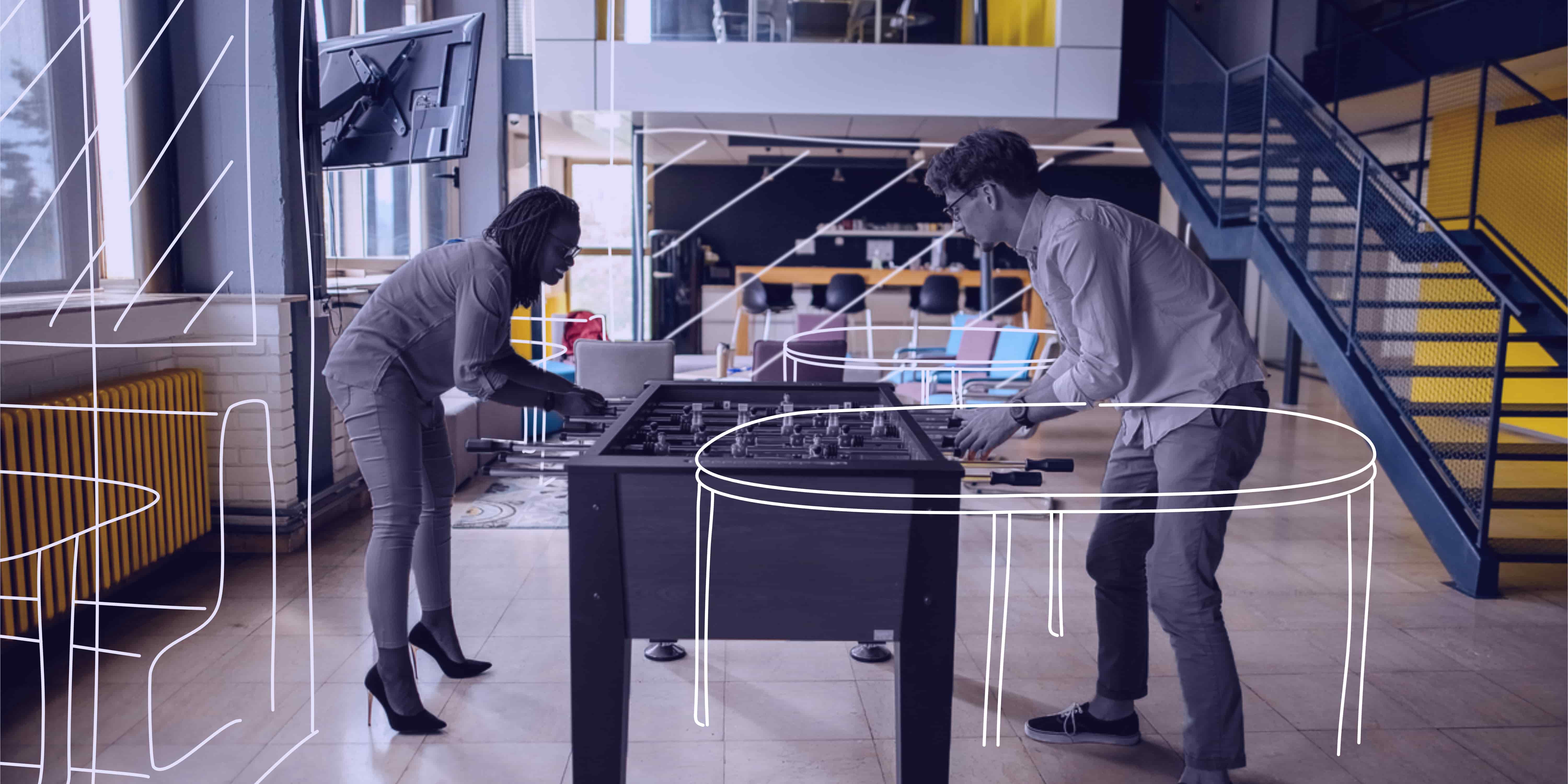 We heard from Caroline Frith, Chief Strategy Officer of COVE in conversation with Kevin Smith, Executive Managing Director, Asset Services at Cushman Wakefield and Brian Wallick, Director, Asset Management, Office, Retail and Life Science at Nuveen and explored how the role of landlords has changed post pandemic.
Our team came away with a few key questions to take back to InnerSpace, including:
How can we know which amenities work best for individual companies, for individual teams, for individuals?

What role can a tenant app, like

HqO

play in adding value to a space in terms of communication around challenges, feedback, and tenant experience?

How can landlords ensure their larger space has a community vibe, even if it is a space with many tenants? What types of shared spaces within building common areas can foster collaboration and relaxation?
Smart buildings: An opportunity to make work better through innovation
This session featured John Mako, global director of operations at Wiredscore and Bill Moten, smart buildings practice leader at Leading Edge Design Group (LEDG).
As underutilized office space grows, rising costs, and the urgent need to reach decarbonization continue to soar, there's never been more pressure on owners and developers to a deliver high quality, sustainable office space.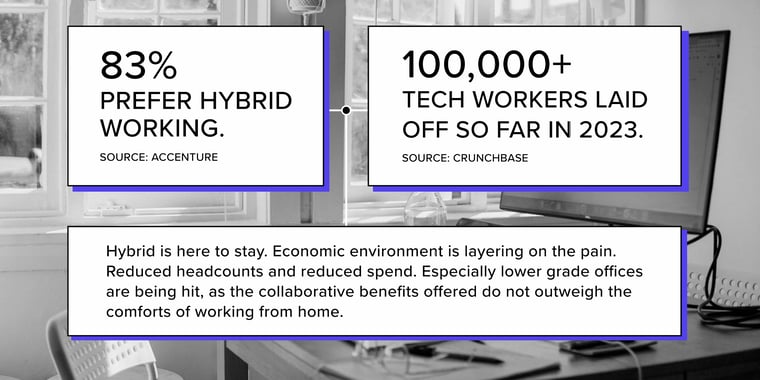 Considerations for owners:
Utilize a smart framework/strategy

- Outcomes driven use cases that will define required integrations and technology to deliver

Focus on procurement execution -

Consider interoperability between solutions, functionality overlap, framework ensures a link between procurement and outcomes

Showcase -

Translating your building's smart infrastructure and capabilities to occupiers is key to effectively delivering ROI
We were interested in their perspectives on best practices for smart buildings, how they fit in a time of economic decline, and how lower quality office spaces aren't giving companies the value they need, as well as the value in showcasing your space's amenities and features to increase ROI.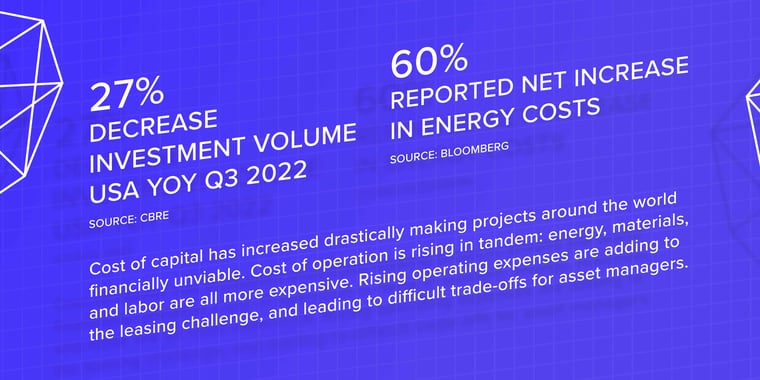 How workplace intelligence can give businesses the competitive advantage in real estate decision-making
This session from Brian Lichtenberger, CEO & Founder, Markerr, Inc. explored the potential of data intelligence in real estate, including machine learning and predictive analytics for rent forecasting and extracting value from internal data.
He discussed how to overcome challenges such as data quality, privacy and regulatory concerns, and how to extract value from internal data sources to gain insights into the performance of properties and make data-driven decisions. By embracing data intelligence, real estate professionals can differentiate themselves from competitors and make decisions with greater confidence and efficiency.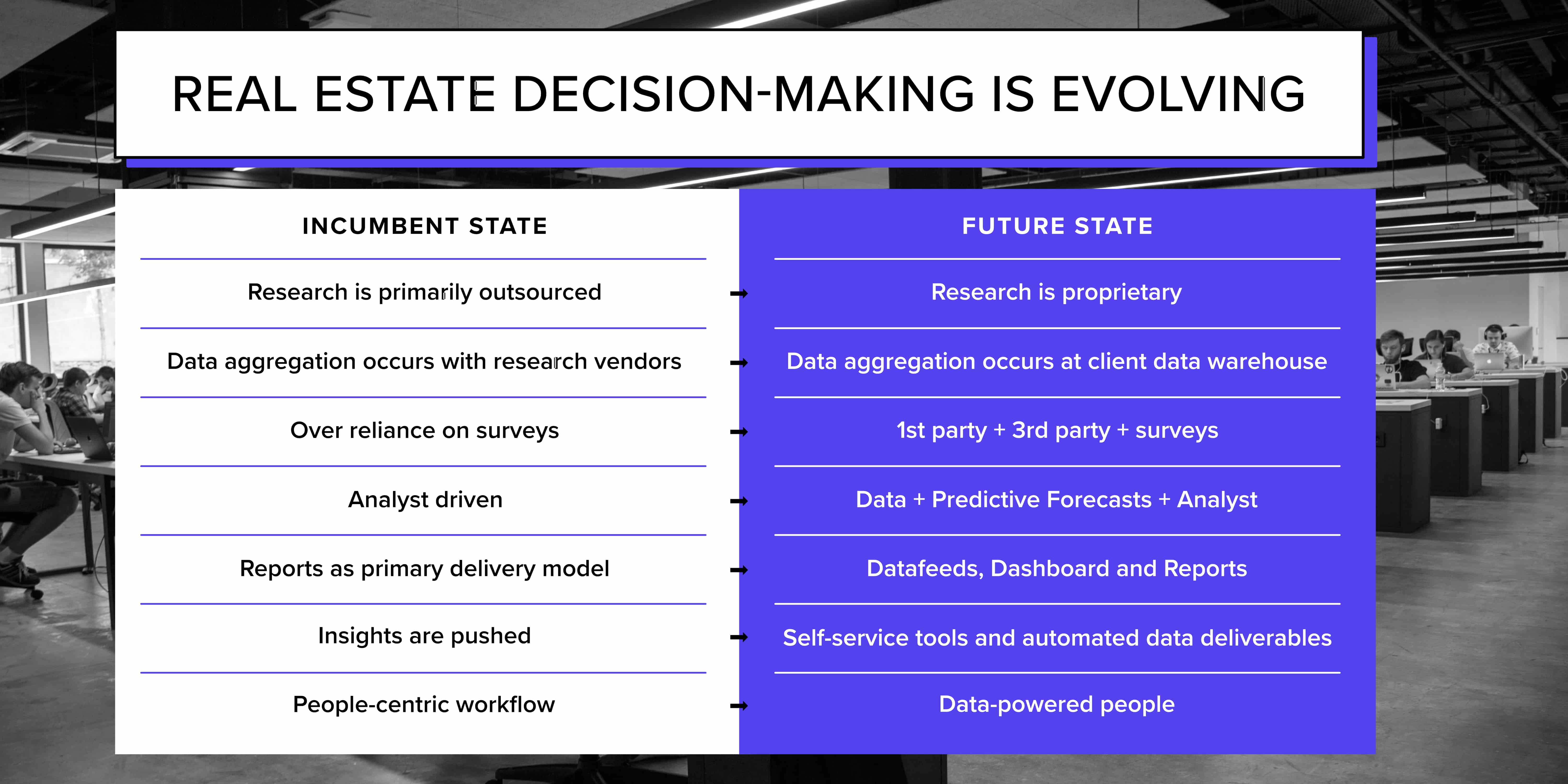 Our team took away from the session that automated data collection and self-service data tools are essential for keeping up the accelerating pace of real estate decision making. You can't afford to wait for the results of a survey or a study or an analyst report. Always on data collection means you are making decisions based on the most up-to-date information available.
When is your organization ready for a big data project?
Ilan Zachar, Senior Vice President and Chief Technology Officer, Carr Properties believes each building has a central nervous system which includes dozens of data sets including occupancy, and that collecting this data is useful at every stage.
The InnerSpace team agrees, and has seen many positive outcomes from organizations of all sizes collecting data to improve their work environment and improve quality of life for their people. We have seen first hand that data has insights that stakeholders aren't aware of in order to better their workplace. And in some cases we have seen hidden money/value inside the data for particular clients.
The State of the Market For Proptech VC
Aaron Ru, Principal, RET Ventures discussed that, even as macro factors make entrepreneurship increasingly difficult, many proptech tools — especially those that help real estate owners and operators in a down market — are primed for success. We got an update on the state of the market, and he shared his insight on where capital is flowing and the sorts of technology companies whose future remains particularly bright.
The InnerSpace team took value from the RET Ventures LP survey, which shared that centralization, productivity and cost reduction are top 3 operational priorities when it comes to technology investments for owners/operators.
Wrapping it up
Understanding and prioritizing employee engagement, space utilization, and the value of an office that's designed in a way to foster collaboration, creativity, and business goals are more important than ever, as workplaces move forward within a hybrid work environment. The traditional workplaces we knew in 2019 are no longer the goal; spaces need to bring value both to teams and companies, and making decisions on what that value is requires data.
InnerSpace can support your employee experience with #indoorology, and help you make the right decisions around your real estate investments. We'd love to talk to you about how you're breaking free of traditional workplaces to best support your teams and grow your business.
Want more insights?
Sign up to the InnerCircle about the hybrid workforce, what's new in smart tech, innovative workplace strategies. Sent straight to your inbox, monthly!