Managing disruption, maintaining productivity, and encouraging empathy were top themes last year as the world's office towers emptied and employees moved to a work-from-home model. Leaders watched the pandemic for signals that we could return to the office as they recognized fatigue in their employees and decline in productivity. The news of the vaccine gives us a glimmer of hope, and means we can now start creating the workplace of the future. So what does that look like, when will it happen, and what will it take to get there? We predict these top 5 trends for 2021 with innovation, distributed working, and workplace leadership major themes for the year.
1.

The return to the office will begin
Our clients have shared a consistent and strong message: offices will reopen. The reasons? Productivity, culture and retention. Work from home was attractive prior to the pandemic in a flex-work model, but now that many have experienced it full-time, the realization that an all-and-nothing strategy isn't favourable. Zoom calls dominate the day with actual work happening around them. Colleague relationships suffer with lack of natural exchanges. And with nearly everyone having a similar experience, company's struggle to differentiate beyond salary in meaningful ways. The office is more than a destination, it plays a significant role in the company experience, culture, values, and services. The desire to return is near-universal.
2.

The return will be gradual – and pick up as the calendar flips to 2022
The introduction of a vaccine has some expecting a return to 2019-normalcy, but nothing could be further from that vision. The office is forever changed, and the virus is one that regardless of vaccine will continue to be present and need managing. We predict the earliest we'll see people getting back to the office in any significant way will be the third quarter of 2021. It'll be low, 25 percent or so of the workforce, and it will slowly ramp up from there.
Working in the office will be designed as an as-needed destination and for those people who need the office for productivity - the Dynamic Office. Service-based firms like agencies, consultancies and law firms will be first to bring people back to support their revenue and delivery models. Technology companies will be next, investing in virtualized office solutions to enable work-from-anywhere experiences in the office.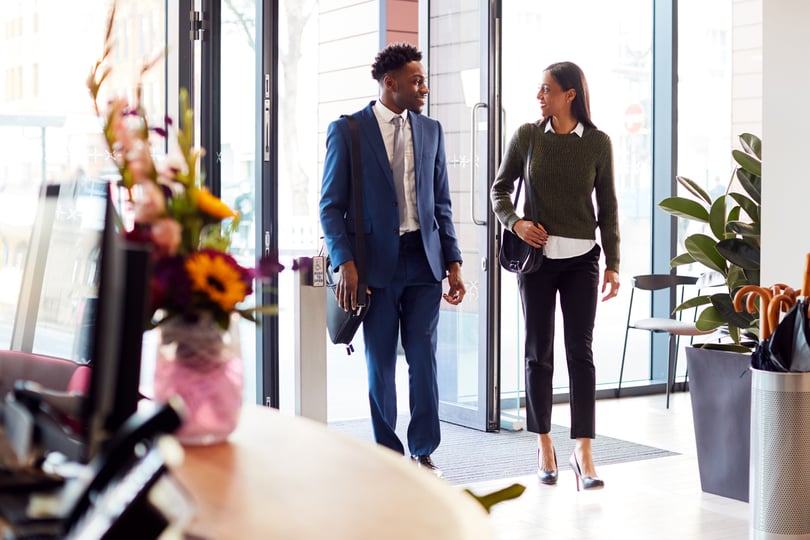 3.

The spotlight will be on workplace experience managers
A role that was once seen only at larger companies with huge real estate portfolios, will now emerge as a strategic role that increasingly informs technology and operations decisions for companies of any size. Prior to the pandemic, this role walked a fine line between raising the employee:desk ratio while balancing the employee experience. Now, this role will increasingly leverage emerging data and technology to redesign the office experience, support employee productivity, and rationalize the real estate portfolio under a never-beforehand set of workplace behaviors.
4.

Filling productivity gaps will be a technology imperative
The new normal of an office, will be entirely abnormal. With flexible schedules, and most employees only returning 2-3 days/week, the requirements of an office will change with every combination of people in it - every day. It will be like rolling the dice. Data, that understands how people use the office, and can predict behaviors, will be the thread that ties resources to employee productivity together. Companies that don't invest, will be unable to accurately understand how their investment in the office space and facilities maps to their projected growth and employee needs.
5.

Interconnected & Distributed offices will emerge
The tools to build smart office buildings are already here but have not been integrated into complete suites. This will change. Technologies including meeting room solutions, virtualized office, security, and location data will converge to create a digital experience for employees no matter where or when they are working. The office will be available at any time, resources can be booked and found at any location, and companies will see a natural redistribution of employee behaviors as a result. Companies that can look beyond their legacy systems that often don't interconnect, will out compete in terms of productivity, employee satisfaction, and competitiveness. Traditional ways of operating are receding as a younger generation of leaders bring a tech-focused mindset to the forefront. Expect greater creativity in operations than ever before, particularly if it boosts the bottom line.