By leveraging the power of their existing Wi-Fi network, employers have data-driven tools at their disposal to optimize office layout and use
Employee expectations of the office have changed. Conversations about when to return have turned into questions about the very purpose of an office. Future-forward businesses are implementing hybrid workplaces and redesigning offices to serve specific needs, feature collaborative spaces, arrange resources efficiently, promote wellness, and inspire a sense of culture and productivity.
As the purpose of an office has emerged to be more service-oriented, many businesses are seeking to right-size their total real estate portfolios. They are deciding on expanding their real estate footprints into new cities, navigating the need to expand existing office space to account for new hires and growth forecasts, or deciding the best use of unused space in a hybrid structure. These critical decisions and any subsequent changes should be data-driven, and designed to support work when, where, and how it is best performed.
SPATIAL INTELLIGENCE PROVIDES TRUE DECISION-MAKING POWER
When it comes to understanding how people use a space, the surface-level solution is to look at how many people are in a given area at any given time. This is what is considered "occupancy data," or "people counting." Tracking occupancy means counting people in a building or area within a building over time to measure the number of people in a space, identify the busiest times/days people visit, and which areas are most frequented.
A people counting system alone, however, is not enough to build, manage and measure an effective workspace.
There is so much more to measuring your office space usage than knowing "how many". There are far more useful questions to be asked, such as who was at the office? How long did they stay? Where did they go next? How often do they return?
Answering these questions helps inform strategic decisions about how to manage office real estate, and can help companies save money by re-allocating unused space, address security concerns and bolster employee productivity with a more efficient design.
But it requires InnerSpace's spatial intelligence platform, which gathers space utilization data that helps employers understand how many people enter a space, where they spend time, for how long, and how often. These "people analytics" reveal how employees actually use an office, pointing to trends that help businesses implement better protocols, manage utility and optimize their operation.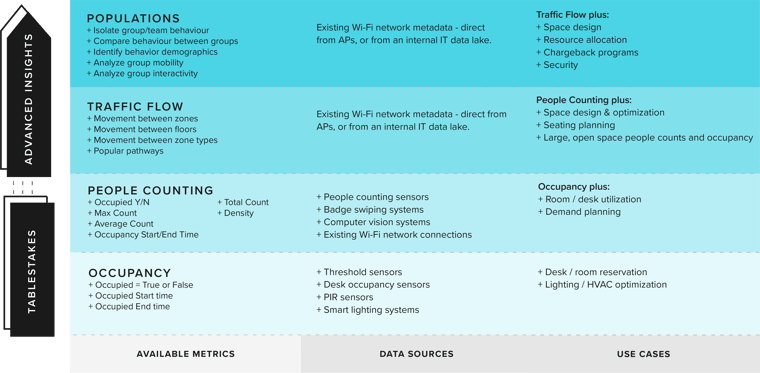 InnerSpace offers a side-by-side comparison of the value and limitations between occupancy data and the more comprehensive space utilization data and behavioral analytics unique to InnerSpace. Our latest whitepaper offers practical examples of how spatial intelligence, including real time data visualized as heat maps and conference room usage. It is only by accessing and analyzing comprehensive data that employers have the ability to rethink their existing office spaces and implement ambitious, data-driven ideas.
CAPTURING DATA USING AN EXISTING WI-FI NETWORK
The insights generated by InnerSpace's proprietary technology platform leverages your existing Wi-Fi network. Wi-Fi has evolved into a highly effective option enabling a high degree of accuracy for location-based spatial intelligence technologies.
Data captured by our leading Wi-Fi-based platform enable companies to take advantage of two key resources: people and property. Wi-Fi-based analytics can help leadership understand how a workspace is being used and who is using it. These are vital insights to transforming the office from a destination to a value-added company resource.
Our solution revolves around Wi-Fi because it is not only omnipresent, easily accessible, and affordable, but can create data-rich user stories to underpin business decisions around resourcing, colocation, and flex work strategies. Our new whitepaper details the steps needed to start leveraging your existing Wi-Fi network and visualizing collected data using our analytics portal, inTELLO.
WI-FI IS MORE FLEXIBLE THAN OCCUPANCY SENSORS
Using Wi-Fi, InnerSpace can collect data with a high degree of accuracy. It determines location within 6 ft no matter the office size and covers at least 1,800 sq ft from each Wi-Fi access point. Using any available Wi-Fi signal leads to more indoor coverage, as platforms that use occupancy sensors are limited to ranges where sensors are installed. Companies may rearrange a workspace and still keep collected spatial intelligence through a software change, as opposed to moving sensors and constantly replacing their batteries.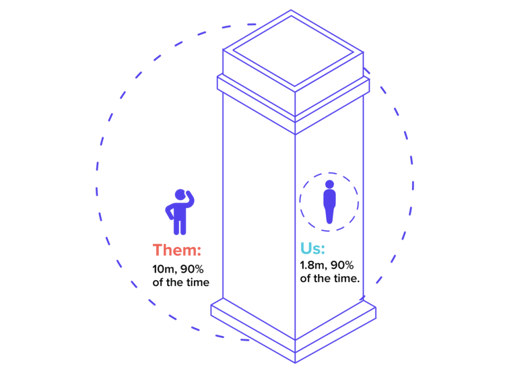 Because of Wi-Fi's ubiquity, spatial intelligence technology can be quickly deployed and needs little, if any, hardware to be installed in an office, saving the time and money it would take to install occupancy sensors. Wi-Fi is a passive means to spatial intelligence solutions —high-quality data is captured and insights can be acted upon without having to rely on employees adopting additional applications.
Unlike an external sensor which needs to be turned on and off, Wi-Fi is always on, which lets you get a more accurate, real-time view. All that data is managed in the cloud, which ensures access to the most up-to-date information and a comprehensive dataset. Spatial intelligence solutions are also easily scalable, so data can be collected across workspaces with Wi-Fi access points regardless of company size.
AS WORK CHANGES, OFFICES NEED TO BE PROACTIVE, NOT REACTIVE
The changing nature of work means companies have to respond to the temperature of the job market. Offices have become more than a workspace, emerging as a tool to attract and retain talent that demand flexibility, diverse needs, and are vocal about expectations of their workplace.
Employers that do not take full advantage of the decision-making data at their fingertips, risk the cost of remaining reactive to changes in the external environment. Indoor location technology benefits businesses by proactively measuring employees in a space to help uncover present and emerging trends and insights that are crucial to future resourcing, employee satisfaction and productivity.
A more proactive approach takes into account that hybrid work environments are now the default for many companies. Service-oriented workplaces focus on the way employees and teams actually operate in an office: where they choose to sit, which conference rooms are preferred, what pathways they typically follow en route through the space. Designing for actual employee use patterns helps optimize for performance, but these are factors that require spatial location intelligence to gain critical insight necessary for informed decision-making.
Ready to start rethinking your office space?
Our Redesigning Corporate Real Estate: The Science of Indoor Space whitepaper takes you through the benefits of leveraging a Wi-Fi-based spatial intelligence solution to optimize your office.
Want more insights?
Sign up to the InnerCircle about the hybrid workforce, what's new in smart tech, innovative workplace strategies. Sent straight to your inbox, monthly!