After two plus years of fluctuation between in person work and hybrid work, combined with a changing work environment, C-suite leaders are struggling to make decisions around office space.
The future of work seems unclear and full of challenging questions; how does one make good decisions around the future of work for their employees? Is a hybrid workplace the future? What does the split between remote and hybrid work look like? How do teams stay connected? What do employees prefer? How do we ensure all employees have the same opportunities? What does this do for company culture?
What is everyone else doing?
Some are opting for the wait it out plan, until things become clearer, which for some means signing shorter leases, or waiting on renovations to their current spaces. Some are also sending mixed messages to staff around return to the office, leaving staff concerned about what work life balance may look like for them in the short and medium term.
While this may be cost efficient, it may not be the right way to motivate teams and support employees, whether they work remotely or in person, or have opted for a hybrid model.
How do we create a successful hybrid workplace today?
Most C-suite leaders don't want to do what everyone else is doing, but when it comes to creating a successful hybrid workplace, knowing what's worked for others is helpful in decision-making, and most agree that it is better to do something and consider what a hybrid work environment might look like for their team. It's important to break out of the analysis paralysis and find ways to move forward to a resilient workplace.
One of the most important qualities of a leader is a willingness to act, and in the case of a hybrid workplace, breaking inertia and making decision for your company can help you put productivity first and support a better work life balance for your team.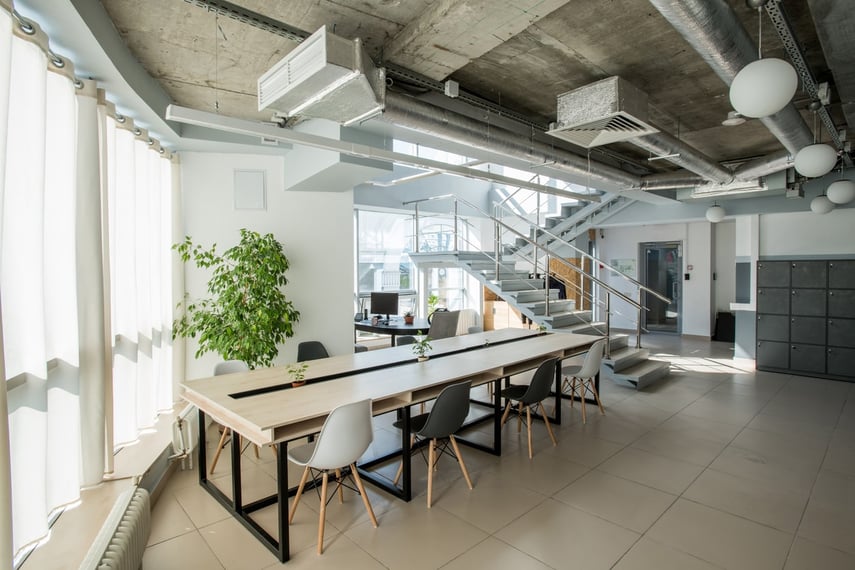 Where do we start?
When creating a well-executed hybrid workplace, there are a lot of considerations to ensure a positive impact for your employees, whether they work remotely or in the office. Here are five considerations that will help you break inertia and put decisions into action for your employees.
First: collect robust, detailed data to help refine your hybrid workplace model
It's important to collect a variety of data to make decisions when refining your hybrid work model. It's important to consider what people are saying around whether they feel isolated, worrying about work life balance, their ability to focus, and the future of work, and what they're actually doing when it comes to work. What technology are they using? How is their productivity? When they are in the office, are they using standing desks? How about meeting rooms? Is in person collaboration up? How many days a week are they in the physical space?
Having a variety of types of data will help you weigh employees' feelings about a changing work world and the reality of your hybrid work model and how it can be improved.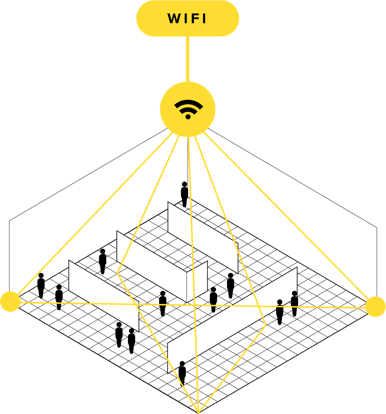 Differing quality of data
There are vast differences in the quality of data you can gather on your workplace usage. We'd love to chat about how InnerSpace gathers our data and why it leads to great workplace decision making.
Put a stake in the ground
Once you make a decision on your hybrid workplace model based on data and employee feedback, stick with it. Consistency is important and communicating plans to your team will help them make decisions around whether your office environment is the one for them. Don't be afraid to lose people; others will appreciate the consistency and how their feedback has been executed into a tangible plan that teams can work towards.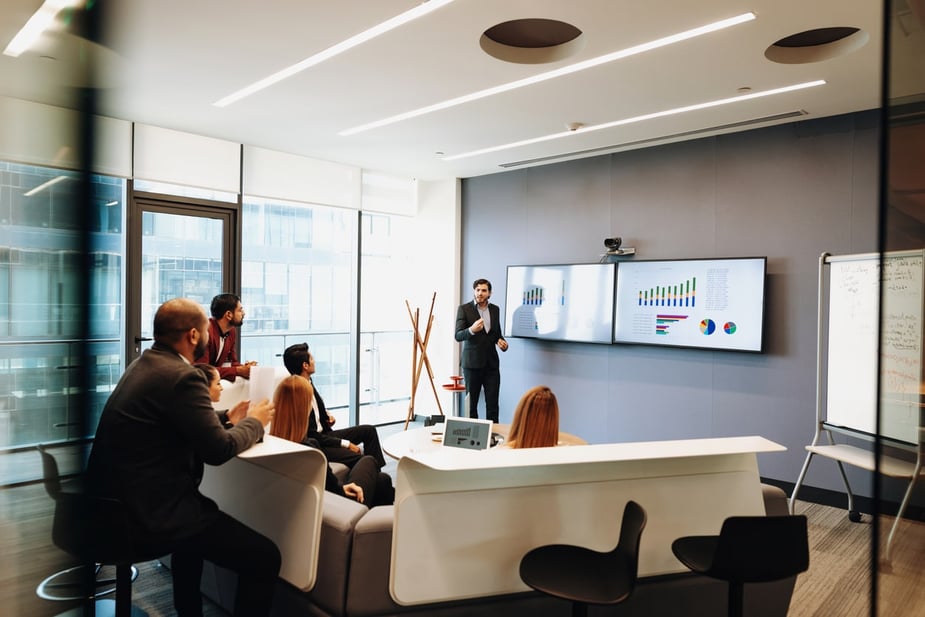 Build a cushion for things to change
When considering a hybrid environment, it is important to meet your staff where they are. We don't know if they'll be telling you the same thing about working remotely in a month, or six months, or a year. Change is the only constant, and if COVID has taught us anything, it's that we can't predict the future.
Make sure whatever your plan for your hybrid workplace is has space for adaptability, and that you've considered that the future of work is ever evolving.
Also, remember that your teams are people, and have personal lives. While it is important to move forward with a plan for space usage and a hybrid workplace model, it is also important to build relationships with your team, prioritize employee communication, and consider individual circumstances when making any decision. Ensure that everyone has equal access to the benefits of your company culture, whether they're remote colleagues or come into the office regularly.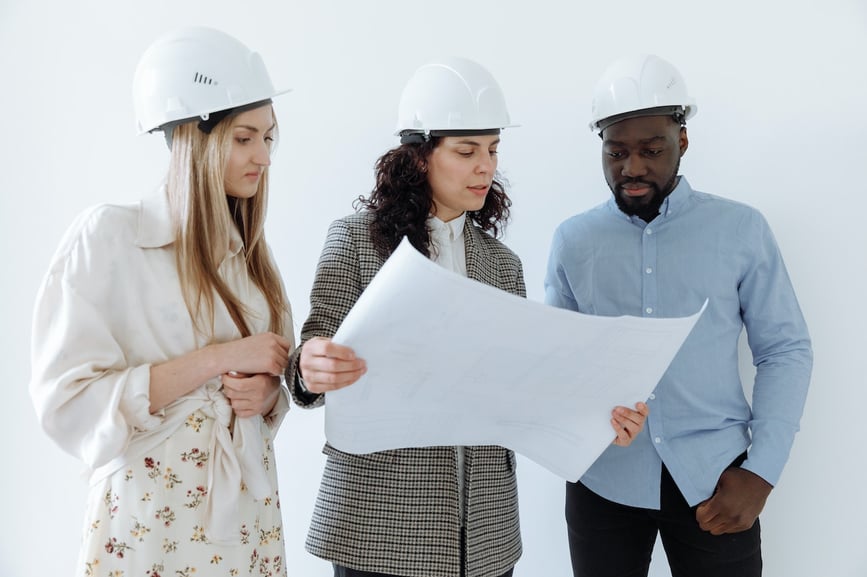 Measure, Repeat
Once you've gathered your data and decided on a hybrid workplace model, pause to give yourself a pat on the back for working through your analysis paralysis, and then keep going. Applying a solution is a way of collecting data, and it's important to keep checking in with qualitative and quantitative data to ensure you understand where your office and teams are as you move forward through and post implementation. It's important to check in frequently, both with data and on a human level to ensure the changes you've made are working for the people who you made them for.
Bold leadership embraces trial and error, and workplaces are well suited to experimentation right now. Moving away from the old ways of doing things to where we'll end up in future work environments is not a straightforward path. There may be twists and turns to come, and you'll want to make sure you have information and data to make the best decisions for your teams every step of the way.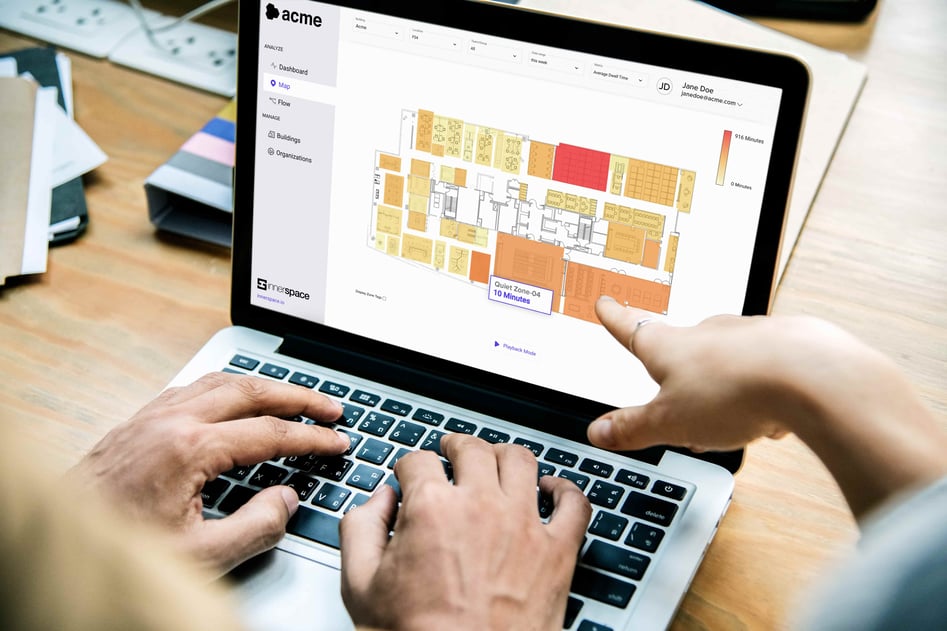 Looking to take that next step?
What a coincidence! We should talk. We at InnerSpace are obsessed with meaningful data and helping you make the best decisions on your hybrid workplace. We want to share how we can work with you to support employee engagement, boost productivity, and ensure your office space is working hard for your office based and hybrid employees. We love supporting companies who are looking to level the playing field for their teams, no matter how they work best, whether that means fewer employees in the office, or more standing desks. Let us support you as we move into the future of flexible work with #indoorology.
Find out more about how we can collaborate on a hybrid workplace here.
Want more insights?
Sign up to the InnerCircle about the hybrid workforce, what's new in smart tech, innovative workplace strategies. Sent straight to your inbox, monthly!