An InnerSpace Analysis: How InnerSpace helped a large technology client figure out a meeting room conundrum
Best-in-class insights at work
The challenge
A tech client in San Francisco was experiencing resource allocation challenges, particularly around meeting room availability. It seemed like teams were scrambling for meeting room space, even though the client had what they imagined were enough meeting rooms. Searching and sourcing meeting space was taking up a lot of valuable time, so they came to InnerSpace for help understanding how their space was being used and if efficiencies were possible.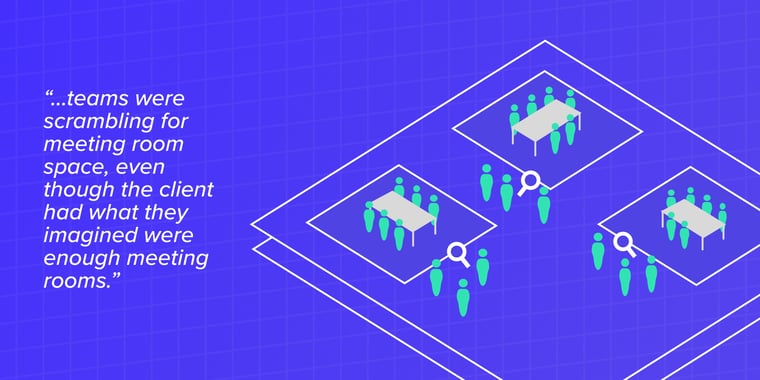 The big (you need data to answer) questions:
What are the challenges around meeting room usage? Is it a booking or policy issue, or do we need to increase our meeting room spaces?
Are the meeting room space types that we currently have the best fit for our teams?
Do we have enough meeting rooms?
The answers (with InnerSpace's deeper insights and fulsome data)
When we really dug into the problem, we found that there were two main issues.
The first was related to the way employees booked meeting rooms; we found that many employees were using the rooms for less time than they were booking them for. We discovered this challenge by analyzing historical booking records with the occupancy and utilization data that our workplace intelligence generated.
Analysing this data showed that, on average, nearly 25% of booked time across all meeting room types was underutilized, as the rooms were unoccupied. We also found that the rooms that were in use weren't being used efficiently; often an 8-person board room was booked by groups of 4-5.
This indicated that there was a significant amount of unused meeting room time, and that a more efficient booking policy could be implemented to reduce wasted space and improve overall meeting room availability.
The second issue we found was connected to meeting room type and functionality. Teams with specific meeting room needs based on their collaborative work styles didn't have access to the rooms they needed.
In one example, our data showed that a team working on a specific project required a particular kind of project room on a daily basis for the duration of the project. However, the room booking policies did not allow for long-term bookings of a specific meeting space, making scheduling time in the right spaces a daily challenge that took up a lot of time. The team had to travel a considerable distance to make use of the nearest available rooms with the size and amenities they needed for the project, which was sometimes as far as five floors away. This meant that the team had to spend valuable time traveling to and from meetings, reducing their overall productivity.
We also calculated the cost of travel time, and we estimated that employees were spending an average of 30 minutes per week searching for meeting rooms before the changes, resulting in $30 per employee per week in wasted time based on their hourly rates.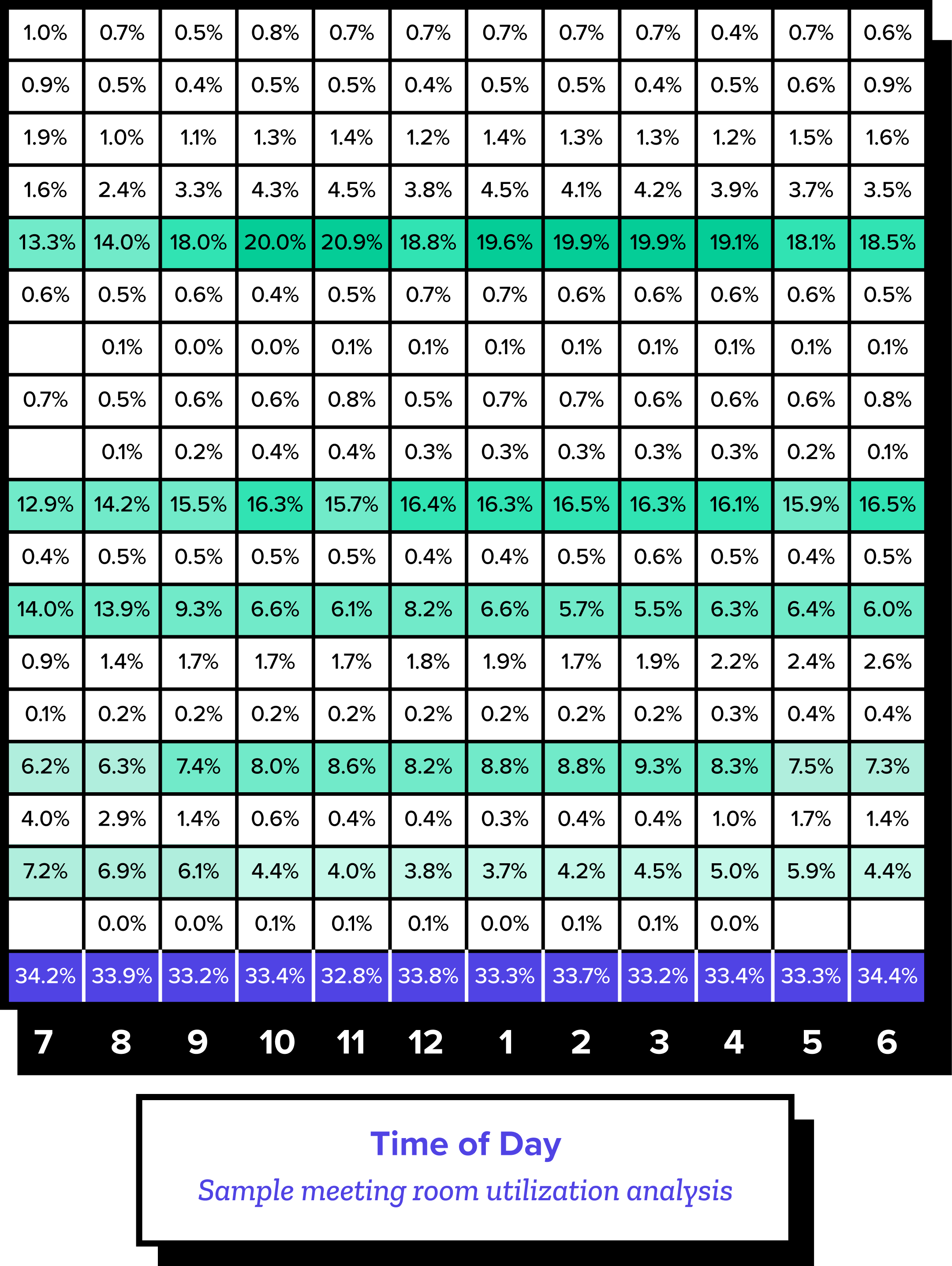 The result
Working with our client, we came up with a number of recommendations. These included:
Redesigning certain meeting rooms to ensure a more even distribution of meeting space types throughout the office to meet team needs and collaboration styles

Distributing teams with similar collaboration style more uniformly around the office
Implementing an automatic release of a room booking if that room was not being used, and adjusting meeting room booking policies to encourage more fair and equitable booking practices
Employee experience and satisfaction:
Instead of spending their time in the office looking for places to meet, the changes implemented with InnerSpace data allowed employees to spend their time doing what they came to do, which was collaborate with their teammates!
The changes in meeting room bookings, and the addition of more appropriate shared spaces allowed for greater access to the spaces teams needed to get down to business and work productively, instead of getting bogged down with space logistics.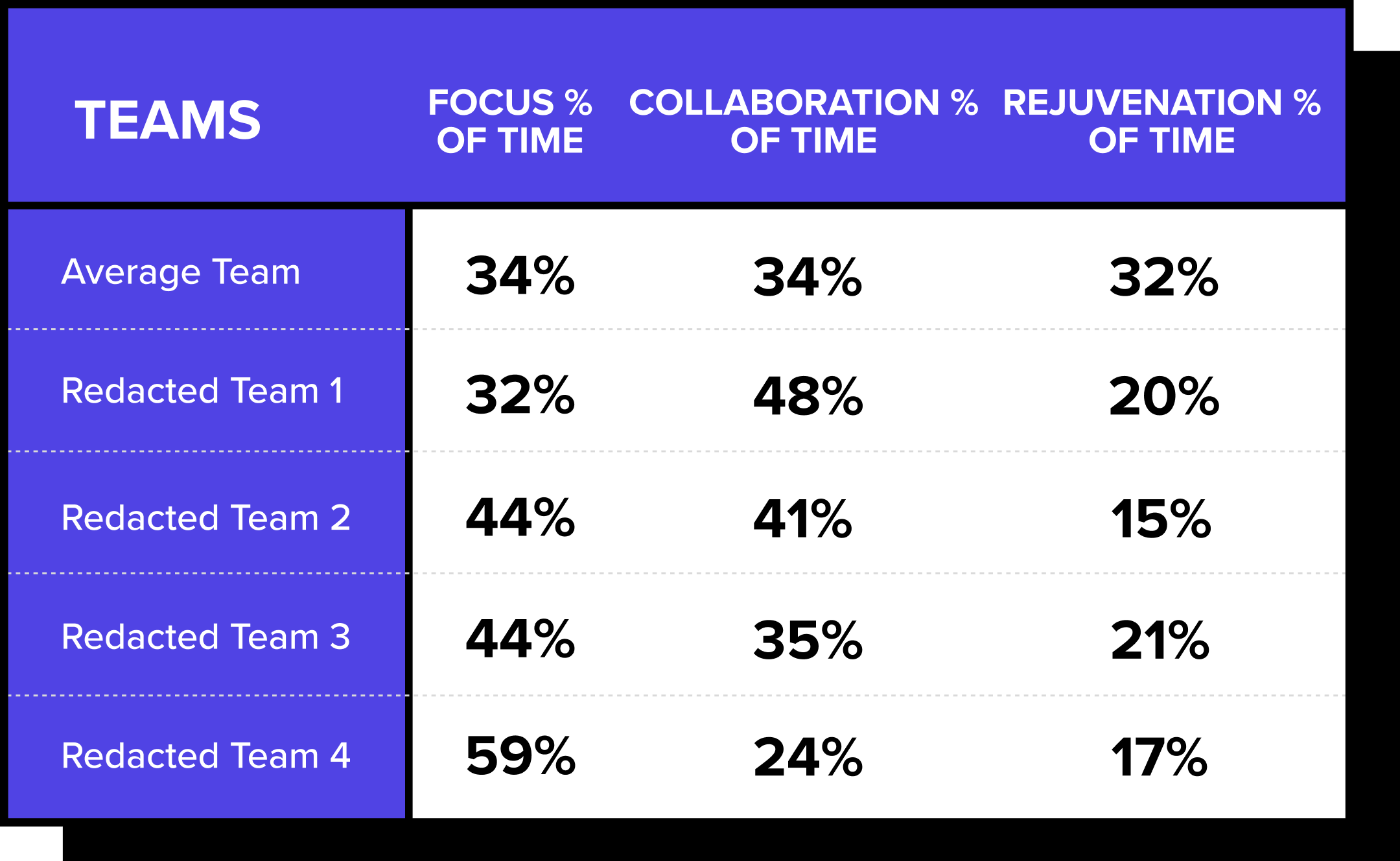 Cost savings:
After the changes were implemented, we conducted a follow-up survey to determine how much time employees were spending searching for meeting rooms and the results were amazing!
The 30 minutes a week spent looking for space was cut to 15, which resulted in an annual cost savings of $390,000 in employee time
The automatic release of bookings, combined with the new 'fair play' booking policy, reduced the amount of time employees wasted trying to find a meeting space resulted in annual productivity gains of approximately $720,000
We estimated that the changes made to the distribution of meeting rooms resulted in additional cost savings of $150,000 per year by increasing utilization rates and reducing the need for off-site flex space booking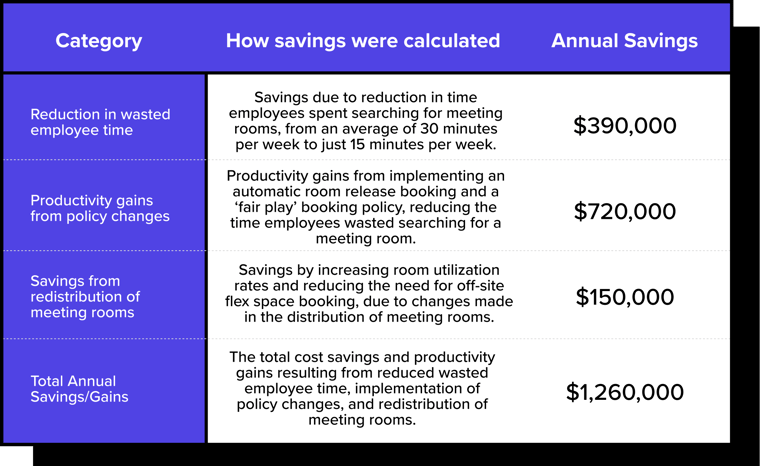 The wrap up
Overall, the changes recommended and implemented by InnerSpace resulted in $1,260,000 in cost savings and increased employee productivity for the client. The combination of redistributing meeting rooms, implementing a new booking policy, and analyzing utilization data allowed the client to maximize the use of their existing real estate, resulting in a more efficient and productive workplace.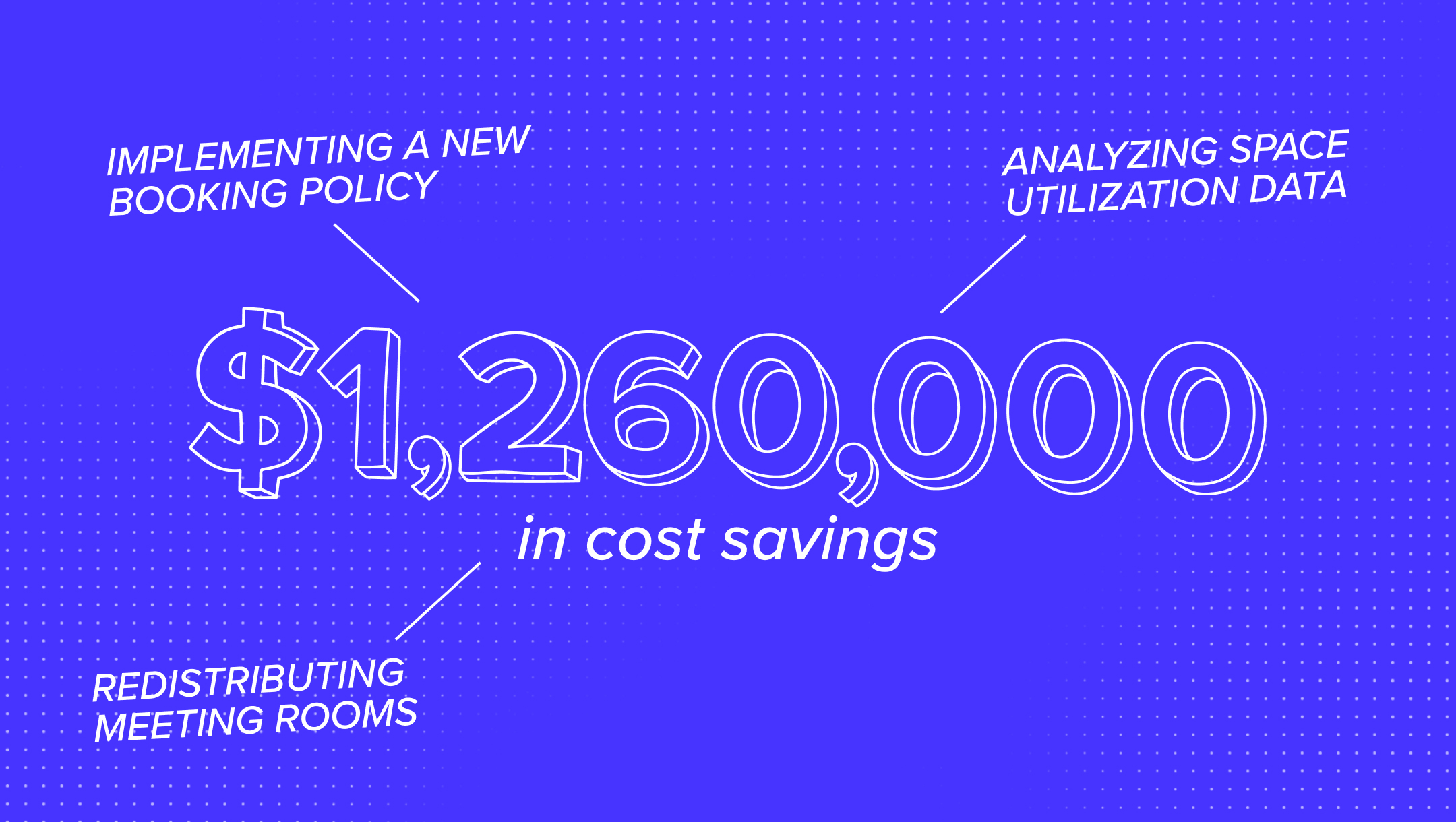 If you're looking for cost savings, increases in productivity, and a better employee experience, we'd love to chat about how we can help you transform your office with data.
Want more insights?
Sign up to the InnerCircle about the hybrid workforce, what's new in smart tech, innovative workplace strategies. Sent straight to your inbox, monthly!